Ms. Sun Guozhong Repeatedly Arrested and Tortured
January 03, 2015 | By a Minghui correspondent from Hebei Province, China
(Minghui.org) Ms. Sun Guozhong (孙国中) mentally and physically collapsed after years of being persecuted for practicing her belief in Falun Gong. She was recovering at home, when officers from the Qinhuangdao Police Department broke into her residence and arrested her on June 10, 2014.
She was sentenced to 20 months in prison in September 2014. However, the authorities kept torturing her in the Qinhuangdao First Detention Center. She was left chained in a strenuous position on December 15, 2014, and had another mental breakdown as a result.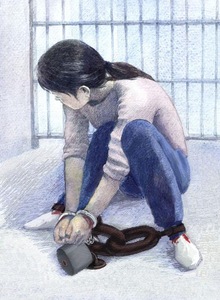 Torture illustration: Handcuffed and shackled
Persecution History
Ms. Sun has been harassed and illegally detained off and on since 1999. Officers from the Qian'an City Police Department arrested her and her husband, Mr. Jing Dapeng (景大鹏), on April 21, 2004. The couple had been talking to people about the persecution of Falun Gong. Ms. Sun was taken to Kaiping Forced Labor Camp for one year and Mr. Jing was held in Hehuakeng Forced Labor Camp for three years.
Ms. Sun was arrested again in a market on March 8, 2006, for telling people about the persecution. She was beaten and shocked with electric batons at Qian'an Police Department. After 15 days of torture, the police took her to the Qian'an Brainwashing Center.
Ms. Sun was put in solitary confinement. The guards forced her listen to broadcasts slandering Falun Gong every day. She managed to escape from the camp on April 8, 2006, and became destitute for about a year to avoid further persecution.
After Mr. Jing was released from Hehuakeng Forced Labor Camp, his employer fired him due to pressure from the authorities, and the couple were left without an income. The police and Party officials continued to harass them, so they left home to avoid the harassment and threats.
Ms. Sun was seven months pregnant at the time and had no other family members around to care for her.
Her son is seven years old now, and they haven't spent many days together because Ms. Sun has either been incarcerated or hiding from the authorities.
Officers from the Haigang Domestic Security Division pried Ms. Sun's door open and broke into her residence in early June 2013. They arrested her and 16 other practitioners and held them in the Qinhuangdao First Detention Center.
The Haigang District Court judge sentenced 15 of the practitioners to prison. Ms. Sun was given a term of 20 months and is still incarcerated.
In the detention center, she was given stale bread and watered-down soup. She had to do hard labor, including gluing paper cups for Master Kong's Muffins and paper containers for Beijing Daoxiangcun's pastries.
She developed severe anemia as a result. The tremendous physical and mental stress triggered her mental instability. She often cries for her son. The guards force her to sit on the cold concrete floor, so she often has diarrhea.
Summary of Key Persecution Facts: Name: Sun Guozhong (孙国中)Gender: FemaleAge: 44 Address: Qianan City, Hebei ProvinceOccupation: Worker
Date of Most Recent Arrest: June 10, 2013
Most Recent Place of Detention: Qinhuangdao City First Detention Center (秦皇岛市第一看守所)City: Qinhuangdao
Province: Hebei
Persecution Suffered: Detention, illegal sentencing, forced labor, prolonged sitting, handcuffed and shackled, home ransacked, forced re-education through labor, beatings, use of electric batons to extract confessions, brainwashing
Party Involved in Persecuting Ms. Sun:Li Huaxing (李化兴), director of the First Detention Center in Qinhuangdao: + 86-335-7827597, +86-15903396969 (Cell), +86-335-7827593