Rally at the U.S. Capitol: "Our Collective Voices Can Make a Difference" – Speech by Congresswoman Ileana Ros-Lehtinen
July 21, 2014 | By Congresswoman Ileana Ros-Lehtinen
(Minghui.org) Editor's note: Below is Congresswoman Ileana Ros-Lehtinen's speech delivered in person at the west lawn of the U.S. Capitol on July 17, 2014, at the rally marking 15 years of the persecution of Falun Gong.
Congresswoman Ros-Lehtinen is the Chairman emeritus of the House Committee on Foreign Affairs and Chairman of the Subcommittee on the Middle East and North Africa. She also serves on the House Committee on Rules.
Congresswoman Ileana Ros-Lehtinen shakes hands with a practitioner right before her speech.
***
Thank you, friends of Falun Gong, for inviting me to speak at this 15th annual rally to raise awareness of the continued mistreatment, oppression, and violation of the basic human rights of the Falun Gong.
It has been 15 years since the Chinese Communist Party began its campaign of persecution of the Falun Gong and it is time we finally put an end to the unjust treatment of these peaceful and tolerant individuals.
Falun Gong practitioners deserve the basic human right of freedom of belief – the ability to practice their spiritual beliefs openly and without fear of harassment or persecution.
Tragically, the Communist regime in Beijing is determined not to allow the Falun Gong this freedom.
The Chinese Communist Party continues to abuse and oppress Falun Gong practitioners with a systematic campaign of propaganda, imprisonment, and violence.
We are here today because our collective voices can make a difference by informing others about the atrocities committed by the Chinese Communist Party.
It sends a message to the Communist regime in Beijing that we are watching and we condemn their human rights violations.
We know Communist China is spreading false information through the state media to slander the Falun Gong.
We know about the heinous human rights abuses that it is committing, particularly against the Falun Gong.
We know the Communist regime is imprisoning Falun Gong practitioners and subjecting them to "re-education" and brainwashing in forced labor camps and its institutions.
And that we know about its gruesome illegal practice of harvesting organs of Falun Gong practitioners, prisoners of conscience, and other unwilling individuals.
As a Cuban refugee who escaped from a Communist regime to this land of freedom, my heart goes out to those who have been silenced and whose dignities have been ripped away simply because of what they believe.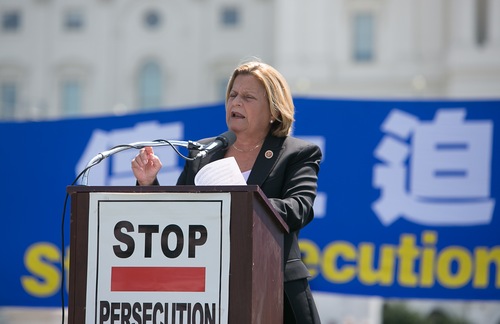 Congresswoman Ros-Lehtinen, initiator of the H. Res. 281 that condemns the crimes of organ harvesting in China, is pleased by the significant bipartisan support it has received.
As I am blessed to be an American where we have the freedom to practice our religions without persecution, it is the duty of my colleagues and me to speak out for the millions who cannot.
This is why, with my colleague Congressman Andrews, I introduced a resolution last year which has garnered significant bipartisan support thanks to your efforts – at last count it had 182 co-sponsors.
This is a huge achievement and you should all be very proud.
This resolution, H. Res. 281:
• Calls for China to immediately end its cruel practice of organ harvesting from all prisoners, particularly the Falun Gong;
• Calls for a full and transparent investigation by the State Department on China's practice of organ harvesting;
• Recommends that the Administration publicly condemn organ transplantation abuses in China and ban the entry of any individual who is involved in such practices.
• And finally, demands an immediate end to Beijing's 15-year persecution of the Falun Gong and the immediate release of all Falun Gong practitioners and other prisoners of conscience;
As we gather here today at the Capitol – the symbol of America's voice and freedom – we again call on the Chinese communist regime to cease its gross human rights violations, its horrific treatment of the Falun Gong, and allow these peaceful people their basic human rights.
I will continue to work with my colleagues here in the House to pass H. Res. 281 and make sure the United States is doing everything it can to work with its allies to force China to stop its persecution of the Falun Gong.
All people – regardless of status like religion, race, or creed – have the inherent human right to life and liberty and it is my honor to be with you here today fighting for these fundamental freedoms.
Thank you.