Falun Gong Practitioners Tortured in Jinzhou Detention Center
March 26, 2014 | By a Minghui correspondent from Liaoning Province, China
(Minghui.org) Family members of Falun Gong practitioner Ms. Wang Yanqiu received two phone calls from the Jinzhou Detention Center on March 11, 2014. They were told that Ms. Wang was leaking spinal fluid and that they would have to pay for the surgery.
For years, many practitioners have been severely tortured in the Jinzhou Detention Center, and it is not letting up.
Prison head Ma Ming actively carries out the Chinese Communist Party's (CCP) persecution policy. Under his orders, the guards torture practitioners with labor, solitary confinement, the death bed, and beatings.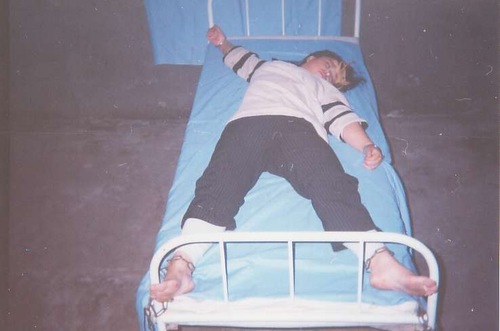 Torture re-enactment: Death bed
Arrested for Distributing Shen Yun DVDs
Ms. Wang Yanqiu was arrested on the evening of July 23, 2013, by police from the Guta District for distributing Shen Yun Performing Arts DVDs.
She was sentenced to a four-year prison term. The torture took a heavy toll on her health. Her blood pressure surged to 270, she contracted anemia, she was leaking fluid from her cervical vertebrae, and she had a uterine tumor, all life threatening conditions.
Other Practitioners Tortured
Ms. Wang Guixia, 70, was tortured in October 2013. Ma told guards to restrain her arms and legs to a board for three days and nights. She was unable to walk when she was finally released. A family member had to carry her. The elderly woman was assaulted repeatedly by guard Shi Hong.
Mr. Wang Lin was incarcerated for more than four months. He was tied in a bed for many days and not allowed to bath or go to the restroom. Ma told inmates to give him a plastic bag to urinate in. Guard Wang Hong beat him.
Ms. Xu Huiping was not accepted in any prison due to poor health, but she is still being held in the detention center.
Whenever practitioners were taken to the hospital, Ma told guards to shackle their feet.
Related Article:
Ms. Wang Yanqiu in Critical Condition at Jinzhou City Detention Center
Party Involved in the Persecution:
Ma Ming, head of Jinzhou City Detention Center: +86-13840678866 (Office), +86-416-3708079 (Office)