Practitioners and Attorneys File Complaints against Government Agencies for Dereliction of Duty
(Minghui.org) On the morning of January 2, 2014, more than two dozen petitioners gathered outside Heilongjiang Province People's Procuratorate Land Reclamation Region Branch Office to file complaints against one of its subordinate agencies, the Jiansanjiang Procuratorate, for dereliction of duty.
Most of the petitioners were Falun Gong practitioners who were once illegally detained and abused in Qinglongshan Brainwashing Center, an agency affiliated with Heilongjiang Province Land Reclamation Bureau. When their families and attorneys requested their unconditional release, the brainwashing center refused. For earlier reports, see
Family Members and Attorneys Protest Outside One of China's Black Jails: "Release Falun Gong Practitioners Immediately!"
Lawyers Publicly Call on Brainwashing Center to Release Falun Gong Practitioners (Photos)
Attorneys Liang Xiaojun, Zhao Yonglin, Li Xiongbing, Wang Quanzhang, and Dong Qianyong then appealed to the Jiansanjiang Land Reclamation Region Procuratorate for their release, but the procuratorate did nothing to address their request.
Though the practitioners were eventually released, they were outraged by the lower procuratorate's inaction and decided to exercise their constitutional right to report a government agency's failure to perform its duties and to request compensation for the harm caused by such negligence. They also demanded that those responsible be brought to justice.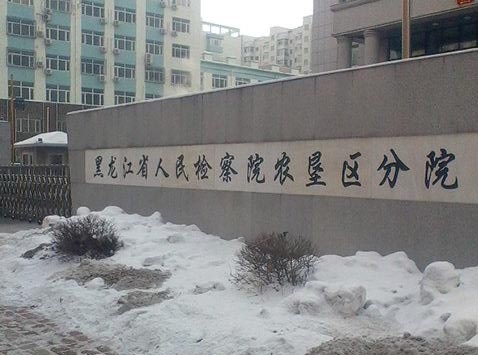 Heilongjiang Province People's Procuratorate Land Reclamation Region Branch Office (located at 80 Hanshui Rd., Nangang District, Harbin City, Heilongjiang Province, zip code: 150090)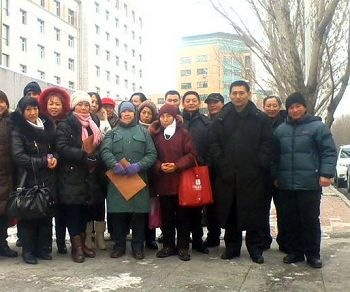 Petitioners in front of the branch office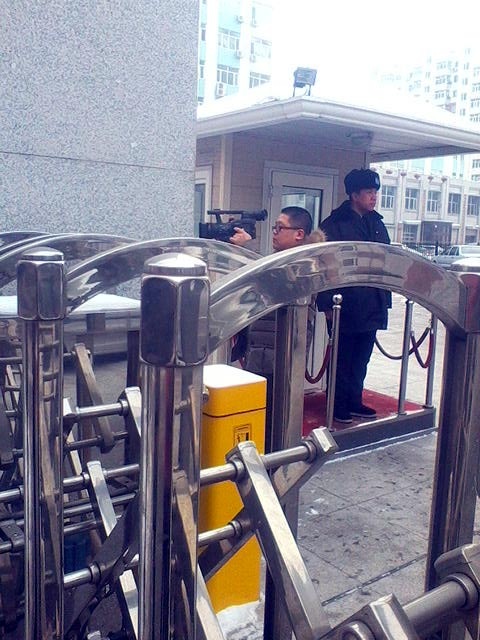 An officer videotaped the petitioners.
Accompanied by their families and their attorneys, practitioners Wu Dongsheng, Huo Jinping, Liu Rangying, Jiang Xinbo, Chen Dongmei, Li Yanxiang, Shi Xiuying, Meng Fanli, Meng Xianjie, Pan Shurong, Wang Pingzhong, Shi Mengchang, Han Shujuan, and Yu Songjiang arrived in Harbin on January 1, 2014.
They gathered in front of the Land Reclamation Region Branch Office the very next morning. Attorneys Zhao Yonglin and Wang Quanzhang went inside first to submit their complaints, followed by attorneys Liang Xiaojun and Li Xiongbing, who also turned in their appeal letters on behalf of their clients.
Deputy Procurator-General Qian Yuming (office phone: 86-451-55195807, cell phone: 86-13845188880) received them and promised to investigate the wrongdoings of Jiansanjiang Procuratorate as alleged in the complaints.
In the afternoon, the practitioners and their families went to the Branch Office again to submit their individual complaints against Qinglongshan Brainwashing Center and Jiansanjiang Procuratorate.
Since only up to two people were allowed in at a time, the practitioners filed appeals in the following order: Huo Jinping; Jiang Xinpo and Pan Shurong; Chen Dongmei and the mother of practitioner Yu Songjiang; Shi Xioying and Li Yanxiang; and lastly, Shi Mengchang and his wife Han Shuyuan.
The practitioners recounted their experiences from different angles. Some shared the tremendous benefits of their Falun Gong practice while others described how they were tortured in Qinglongshan Brainwashing Center.
Procurator Hu accepted the complaint letters and took notes of the conversations. He promised to report everything to his superiors, but he did not address when a formal response to the complaints would be issued.
The practitioners are keeping a close eye on the development of their cases, and they plan to appeal to higher judicial offices should the Land Reclamation Region Branch Office fail to take action.