Chinese Classical Dance Competition Showcases Top Young Talent
October 16, 2014 | By Minghui correspondent Cai Ju
(Minghui.org) The 6th International Chinese Classical Dance Competition concluded at the Tribeca Performing Arts Center in Manhattan on October 12, 2014. The event, organized by New Tang Dynasty Television, presented some of the world's best young talent in the field.
The judges praised the dancers' form and bearing, on top of their excellent technique.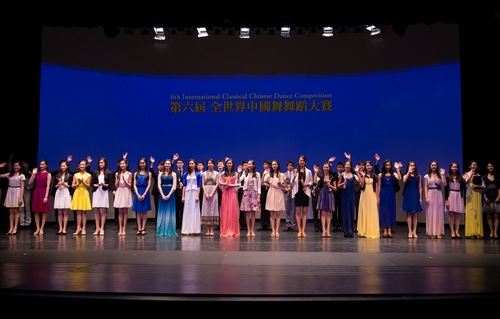 The 6th International Chinese Classical Dance Competition was held at Manhattan's Tribeca Performing Arts Center during October 12 and 14, 2014.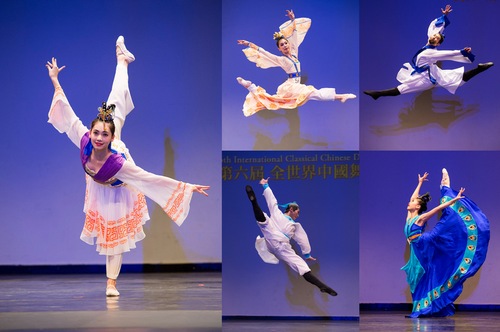 A common feedback from the contestants and audience is how Chinese classical dance demands effort from the heart.
Zheng Daoyong, one of the four top prize winners in the female adult division, performed a Chinese legendary story: Zhu Yingtai wanted to go to school, but school in ancient times was exclusively for men. She had to dress like a young man and act like one, yet in private her feminine side might reveal itself.
Ms. Zheng Daoyong
Speaking of her performance of transition between a young man and woman, Ms. Zheng shared, "The change comes from the heart first. My body performs the change following a change of heart. We have to dance with our heart and be able to sense our performance first. Then the audience will be able to get a feel for what we would like to convey. Even though it's dancing, it's also about speaking to the audience with our heart and body, and telling a story for them."
Chinese traditional culture emphasizes the marriage of mind and technique. The pursuit of inner beauty and purity was considered a must by artists in ancient times.
Ms. Zheng currently dances at Shen Yun Performing Arts, a Chinese classical dance and music art troupe independent from the Chinese regime. "We have to attain inner purity in order to perform purely kind and beautiful dances. I was a tomboy before I joined Shen Yun. I have gone through a change myself."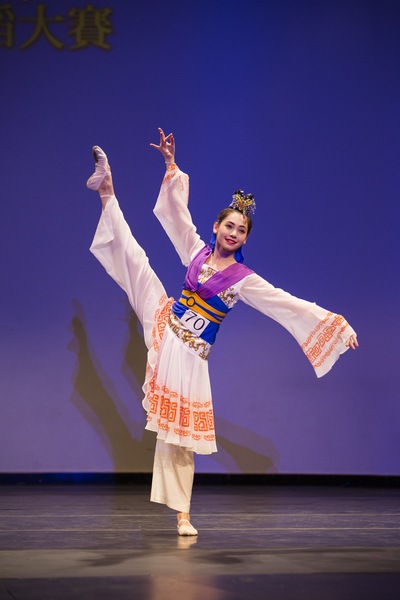 Ms. Zhou Xiao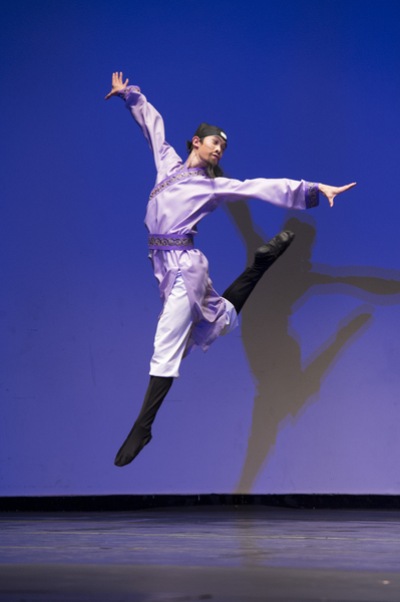 Mr. Peter Huang
Peter Huang's piece was based on one of poet Li Bai's best known poems: "Drinking Alone Under the Moon." He won top prize in the male adult division.
He used tumbling techniques to depict the poet's temperament: he was alone, yet not lonely. He was playful with the moon and his shadow, and demanded a friendship with the moon and invited it for a date to view the Milky Way together.
Li Yuxian won top prize in the male junior division, depicting a poem by Su Shi, another renowned poet. The poem is about the Battle of Red Cliff, where legendary General Cao Cao was dealt a devastating defeat during the Period of Three Kingdoms in the 3rd century.
"I feel fortunate to have the opportunity to present Chinese classical dance on stage and promote Chinese traditional culture," he said.
Ms. Li in the audience said that Mr. Huang Jingzhou's piece was her favorite, "His movements are clean, with very good footwork. They showcase a cultivated balance of masculinity and gentleness, and offer him precise power of expression. He carries a bearing that comes from his innate personality. Remarkable!"
Mr. Chen, 82, commented, "Authentic depiction of the characters. An art that was lost is reborn."
Business executive John Petallides said that the contestants were "amazing," and lauded the young talents' contribution in promoting Chinese traditional culture.
He also said that while the economy is down, culture is living and the way to make the world better and connect different people. This is something that mankind can rely on. He praised NTD for organizing the event.
Ms. Zhang Kaishan, an entrepreneur in education, said, "It's amazing that each piece has a story. The form of expression is so beautiful. I like the precision of their movements and the seamless flow as well. The co-existence of inner strength and fluidity is what makes man great. What the dancers have achieved is simply amazing."
Over 90 contestants from multiple continents joined this competition.
Winners of the 2014 NTD Television International Classical Chinese Dance Competition
Adult Division (Male)Gold: Peter Huang, Fei Tian Academy of the ArtsSilver: Jim Chen, Shen Yun Performing ArtsSilver: Albert Yang, Fei Tian CollegeBronze: Benjamin Li, Fei Tian CollegeBronze: Jeff Sun, Fei Tian CollegeBronze: Alvin Song, Shen Yun Performing ArtsBronze: William Li, Fei Tian CollegeHonorable Mention: Victor Li, Fei Tian Academy of the ArtsHonorable Mention: Rick Li, Fei Tian CollegeHonorable Mention: Tim Lin, Fei Tian Academy of the ArtsHonorable Mention: Jay Huang, Fei Tian Academy of the ArtsHonorable Mention: Sun Hungwei, Fei Tian Academy of the Arts
Adult Division (Female)Gold: Lin Hsiao Hung, Shen Yun Performing ArtsGold: Miranda Zhou-Galati, Shen Yun Performing ArtsGold: Chen Chialin, Shen Yun Performing ArtsGold: Zheng Daoyong, Shen Yun Performing ArtsSilver: Wu Kaidi, Shen Yun Performing ArtsSilver: Lin Gueiyu, TaiwanSilver: Daisy Wang, Fei Tian Academy of the ArtsBronze: Alison Chen, Fei Tian CollegeBronze: Cheryl Lin, Fei Tian CollegeHonorable Mention: Huang Linjieh, Fei Tian CollegeHonorable Mention: Li Kexin, Fei Tian College
Junior Division (Male)Gold: Kenji Kobeyashi, Fei Tian Academy of the ArtsGold: Danny Li, Fei Tian Academy of the ArtsSilver: Monty Mou, Fei Tian Academy of the ArtsSilver: Eric Wang, Fei Tian Academy of the ArtsBronze: Roy Chen, Fei Tian Academy of the ArtsBronze: Jason Pan, Fei Tian Academy of the ArtsBronze: Yan Yong Liao, TaiwanHonorable Mention: Aaron Huynh, Australia
Junior Division (Female)Gold: Lian Xu, Fei Tian Academy of the ArtsGold: Eden Zhu, Fei Tian Academy of the ArtsSilver: Susan Zhou, New ZealandSilver: Ellie Rao, Fei Tian Academy of the ArtsBronze: Elisabeth Baumann, GermanyBronze: Tien Chen, Fei Tian Academy of the ArtsBronze: Cherrie Zhou, Fei Tian Academy of the ArtsBronze: Chen Chu-Chen, TaiwanHonorable Mention: Shih Yi-Chien, Fei Tian Academy of the ArtsHonorable Mention: Claudia Yang, USAHonorable Mention: Su Yufang, Fei Tian Academy of the ArtsHonorable Mention: Angela Xiao, Canada