China: Thousands of People Sign Two Petitions to Rescue Falun Gong Practitioners Tortured in Binhai Prison
January 10, 2014 | By a Minghui correspondent from Tianjin, China
(Minghui.org) Binhai Prison in Tianjin (formerly known as Gangbei Prison) has tortured practitioners Zhu Wenhua and Li Xiwang to death, Ren Dongsheng into mental collapse, Wu Dianzhong into disability, and Zhou Xiangyang and Hua Lianyou to the brink of death. Ms. Li Shanshan has been persecuted twice for her attempt to rescue her husband, Mr. Zhou.
More and more practitioners have begun suing Binhai Prison for its criminal behavior. A large number of people showed their support by signing two petitions. The petitions demand that Falun Gong practitioners Zhou Xiangyang and Hua Lianyou be rescued and that Binhai Prison's torture of Falun Gong practitioners be investigated.
An Open Letter Supported by 2300 Signatures
Binhai Prison in Tianjin has tortured several Falun Gong practitioners to death or disability. They use the notorious "Anchor torture" for those practitioners who refuse to denounce their faith in Truthfulness-Compassion-Forbearance.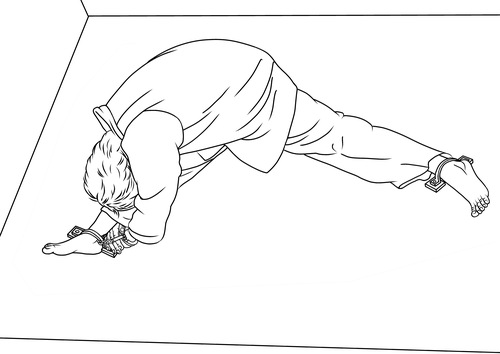 Torture illustration: Anchor torture
In the "anchor torture," the victim's hands and feet are anchored to metal rings in the floor. The victim's legs are split apart at a 130-degree angle, and both hands are pinned to another ring under a foot. This position causes the victim extreme pain.
Mr. Zhou, an engineer at the Third Survey and Design Institute of Tianjin, was illegally sentenced to nine years because of his belief in Falun Dafa. He was incarcerated in Binhai Prison and tortured, including being shocked with electric batons for an entire evening and put on the "anchor torture" for four months. He was bailed out for medical treatment after an 18-month hunger strike. Two years later, in 2011, he was incarcerated in Binhai Prison once again.
Mr. Zhou's family were not allowed to visit him, so they hired a lawyer to sue Binhai Prison for torturing him. Soon afterward, several websites outside of China published articles on how Binhai Prison brutally tortured practitioners. More than 12 practitioners sued Binhai Prison, demanding that guards Zhang Shilin, Li Guoyu and Song Xuesen who have tortured practitioners, be put on trial. A public signature drive was started to collect signatures to rescue Falun Gong practitioners.
After his mother submitted her plea to the court, Mr. Zhou's wife, Li Shanshan, published an open letter, " A Young Couple's Journey: Zhou Xiangyang's Fiancee Appeals Seven Years for His Release. " The letter describes how Mr. Zhou was brutally tortured, and the miseries the family has suffered. The letter also exposes the criminal acts being carried out in Binhai Prison.
Her letter was soon widely read in their hometown, and it touched many people's hearts. Villagers were very sympathetic and signed their names on the petition to rescue their fellow villager Mr. Zhou, and to punish prison authorities for their illegal conduct.
The story quickly brought out the goodness and compassion of over 3,000 people in more than a dozen townships who signed the petition. Indignant at the unlawful persecution, many people wished to help Falun Gong practitioners but did not know how. They said they feel happy that they can help by participating in the signature drive.
2300 people in Qinhuangdao City signed the petition to rescue Zhou Xiangyang (partial)
Personal Comments One young couple said, "Falun Gong practitioners are all nice people. If all villagers practiced Falun Gong, nobody would steal the crops in our field anymore." An older couple said, "We'll sign our names. Falun Gong practitioners are all good people. The Communist Party is bad. The government officials and their cronies can be exempted from jail terms with bribes even if they violate the law, but the good people who practice Falun Gong are being persecuted."
A villager in his 50s said, "I broke into tears when I read the couple's story. This is the first time in my life that I've ever broken down in tears. The CCP is completely dishonorable. The Party shows a convicted murderer more compassion. How can they torture a good person like that?"
One woman said she was unable to sleep after reading Ms. Li Shanshan's letter. She couldn't fathom what was going on in China and why righteousness has been replaced by evil.
Another person said, "The whole issue centers around practicing Falun Gong. How can they treat practitioners like that? I'll sign the petition, because Falun Gong is good, and good people are being persecuted. Everyone should sign the petition!"
A former Communist Party member commented, "The CCP are such a bunch of thugs. They are the opposite of what they claim to be. We've all been deceived by it for decades. The CCP is evil, and Falun Gong is good. I'll sign my name to rescue good people." Then, turning to the person next to him, he said, "Why don't you sign your name, too?!"
Another lady told the Sound of Hope radio reporter, "Most people who've read the open letter are deeply touched by it." In the end she exclaimed, "Being tortured like that just because they practice Falun Gong--isn't it wrong? It is so wrong! The CCP is very vicious and cruel."
More Than 5,000 people in Tianjin City Sign the Petition to Rescue Mr. Hua Lianyou
Mr. Hua was an accountant for the Tianjin CRT Plant. After he began practicing Falun Gong, all the illnesses he suffered from disappeared in three days. Mr. Hua was arrested for the second time in 2012 and sentenced to seven years of imprisonment. In Binhai Prison, he went on hunger strikes to protest the persecution. He has not eaten for one year and five months now, and is near death.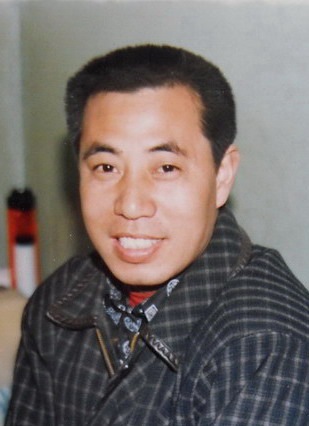 Mr. Hua Lianyou
Mr. Hua Lianyou was brutally beaten and force fed. The guards purposefully sharpened the ends of the force-feeding tubes into points to make it even more painful for Mr. Hua when they force fed him. His family brought their complaints to Tianjin City Bureau of Justice and the Bureau of Prisons. They also asked the public for their support. Brave people in Tianjin City signed their names and gave their fingerprints on the petition to rescue Mr. Hua. Earlier this year, his friends and family members collected 2,815 signatures from Tianjin and the surrounding areas calling for his immediate release. Recently another 2,330 people signed the petition.
The third batch of 5,145 signatures was collected by the end of September 2013. Many people bravely signed their names to rescue Mr. Hua, support Falun Gong, and show their disgust with the CCP.
Ordinary citizens are no longer intimidated by the Party. Instead, they compare the compassion of practitioners with the evil nature of the CCP, and are courageously speaking out.
Personal Comments
A man said, "I'll sign anything that helps Falun Gong. All practitioners are good people and I'm not afraid of the Communist Party." Angrily he added, "Look at those buildings! They all belong to corrupt CCP officials."
A young man said, "China is sick. It's unfathomable why the government persecutes Falun Gong practitioners. I'll sign letters to rescue practitioners, and I'll only do this for practitioners."
One young couple said, "We will sign it. We read the truth-clarification flyers quite often. We know what is going on."
An 80-year-old man who had already quit the CCP was glad to sign the petition and said, "I know that practitioners are all good people! The CCP is so evil! Nowadays none of the government officials are good! The officials and police are in league with criminal elements and are afraid of them. They only persecute good people. The CCP will not last long."
A 60-year-old man said, "I know that Falun Gong is good. Everyone knows what the CCP is about. You should be more careful--I am worried about you. I beg heaven to eliminate it every day." He then signed his name and included his fingerprint. A street vendor said while signing his name, "Life is precious. Hurry up and get Hua Lianyou out of jail."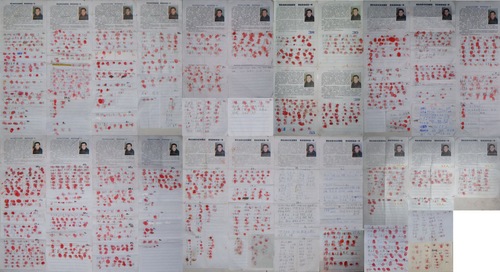 Third batch of signatures calling for the rescue of Mr. Hua Lianyou (partial)
Seeing Through the Lies
Binhai Prison is notorious and known for its criminal conduct. These two signature drives prove that people know the facts. It also shows that more and more people are waking up. Since Tianjin City is so close to Beijing, the signature drives have drawn the Party's attention. The mayor of Tianjin ordered the arrest of a few Falun Gong practitioners in the Beichen District.
If good people have no fear, the vicious forces will be powerless. The Jianjin Municipal authority still has not released the practitioners. According to the report on Minghui at the end of November 2013, over 8,048 people, including people from nearby provinces, have signed their names to rescue Hua Lianyou. The list is still growing. People are increasingly seeing through the lies and standing up for justice.
Related Articles:
Defying CCP Tyranny 5,145 Chinese Have Signed Petition to Rescue Practitioner Hua Lianyou