Helsinki, Finland: Practitioners Expose the CCP's Organ Harvesting Crimes During International Surgical Week 2013 (Photo)
September 11, 2013 | By a practitioner in Finland
(Minghui.org) Falun Gong practitioners' non-stop efforts to expose the Chinese Communist Party's (CCP) practice of forced organ harvesting have been sending shock waves around the world. Growing numbers of people are standing up to the Party and condemning its crimes against humanity.
For years, Falun Gong practitioners have been clarifying the truth in Finland and initiating signature drives to call for an end to the Chinese regime's 14-year-long persecution in China.
Surgeons shocked by the CCP's total disregard for human life
On August 25-29, 2013, the International Association of Endocrine Surgeons held their biennial International Surgical Week ISW 2013 at the Helsinki Exhibition and Convention Centre in Finland, attracting over 2,500 surgeons from around the world.
Falun Gong practitioners stood by the entrance of the venue and exposed the CCP's crime of organ harvesting from living Falun Gong practitioners.
Many surgeons were truly shocked by the regime's abject disregard for human life, and happily signed the petition form drafted by Doctors Against Forced Organ Harvesting .
"It's unimaginable!" said a surgeon after carefully reading the practitioners' informational display boards. When he found out that some hospitals in China reel people in by promising to perform a kidney transplant within a two week window of time, he shook his head in disbelief. "I plan to tell others about this, right away!" he exclaimed.
"I am increasingly aware that morality is the most important thing in a society," said a Russian businessman attending the conference. "I want my children to live in a world where they don't always feel like their lives are being threatened." After he signed the petition he said, "I wish you all good luck!"
A Ukrainian surgeon signed the petition then asked the practitioners for a stack of fliers to hand out to his colleagues in Ukraine. He said he would encourage them to sign the online petition, condemning the Party's inhumane atrocities.
"On the first day of the conference, many surgeons stopped by our booth to pick up some informational materials," said a practitioner. "The next day, they came over to our booth, one after another to sign the petition. Apparently, they read the fliers we gave them and came over to show their support for Falun Gong and their condemnation of the CCP.
"Actually, these surgeons didn't just do something for Falun Gong when they signed the petition forms. They also secured a bright future for themselves, as heaven will bless those who side with goodness."
North Finland residents rebuke the CCP for its evil-to-the-core nature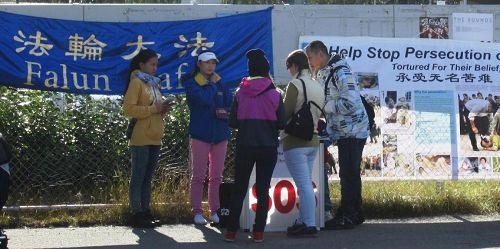 Passersby in North Finland carefully read the practitioners' fliers
On August 31, Falun Gong practitioners held a petition drive in Rovaniemi, the largest provincial capital city in northern Finland.
Many locals and tourists signed the petition after finding out about the persecution. Sometimes, it only took a few words to move their hearts.
A Finnish woman found it "incomprehensible" that the CCP's crimes against humanity were still allowed to exist in society. "You must be strong and never give up," she told a practitioner after signing the petition. "People need to know about these awful things that are happening in the world!"