Taichung, Taiwan: Demonstrating Falun Gong Exercises at Taichung City Hall (Photo)
September 11, 2013 | By Minghui correspondent Xia Yun in Taichung, Taiwan
(Minghui.org) More than a hundred Taiwanese Falun Gong practitioners gathered at Taichung City Hall on the afternoon of September 7, 2013 to demonstrated the Falun Gong exercises.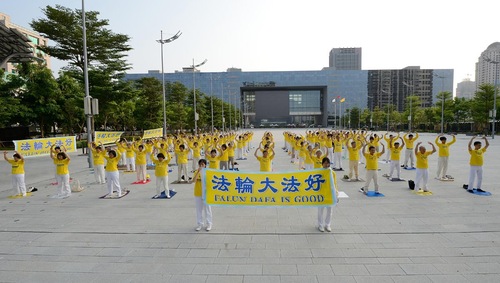 Practitioners demonstrate the exercises at Taichung City Hall
The majority of Falun Gong practitioners in Taiwan do the exercises early every morning. However, in order to introduce Falun Gong to the public, practitioners in Taichung chose Saturday afternoon to get together at the Taichung City Hall to demonstrate the exercises for passersby.
As the city hall is located on the main roads in the city center, the eight-lane road is always busy on weekdays, there is even more traffic on Saturday afternoon.
Such a large group performing the peaceful movements in unison in the hustle-bustle environment attracted the attention of many passersby. Some motorcyclists even stopped to watch and tourists found it to be a good photo opportunity.
Mr. Zhou and his wife came from Kaohsiung, in the south-western part of Taiwan, to attend a wedding. While waiting for their friends, they were drawn to the peaceful scene. In order to learn the exercises, Mr. Zhou followed along and imitated practitioners' movements. He said that he had seen Falun Gong activities overseas. Mrs. Zhou was also aware of a group that practices Falun Gong in their neighborhood.
The couple believes that the practice is very healthy, but they were puzzled as to why the Chinese Communist regime persecutes Falun Gong. After hearing a practitioner's explanation, Mr. Zhou said that he hopes the persecution will end right away.
A university student passed by on her bicycle. When found it was a Falun Gong activity, she sent a text message to her friend who practices Falun Gong and asked if he was among the practitioners. She was amazed to see so many people doing the exercises together.
Among the practitioners were people of all age groups and professions. Doctor Cai began practicing Falun Gong in 2011. He said he tries his best to participate in group activities. He arranges his schedule to allow himself sufficient time to participate in such events.
A few parents also brought along their children. Mr. Wang who has practiced for six years brought his son who just began elementary school and had also just begun to learn the practice. The young boy did the exercises attentively.
As it grew dark, vehicles continued to slowly pass by as the group sat in meditation.