Toronto: Falun Gong Practitioners Perform at Local Charity Event (Photos)
(Minghui.org) Lotus Flower Performing Arts, comprised of Falun Gong practitioners in Toronto, Canada, was invited to perform at a charity event on June 8 at Cherokee Public School in North York, Toronto. The traditional Chinese dances and the demonstration of Falun Gong exercises were warmly welcomed by the children, teachers, and parents.
Demonstrating the exercises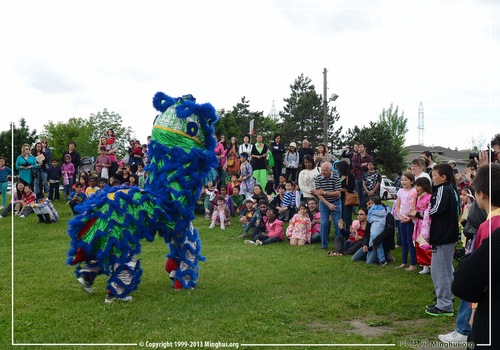 Performing the lion dance
Many students learned the exercises, while many parents took Falun Gong flyers to learn more. Some Chinese parents talked to practitioners, and after learning the truth about the persecution of Falun Gong, they quit the communist party.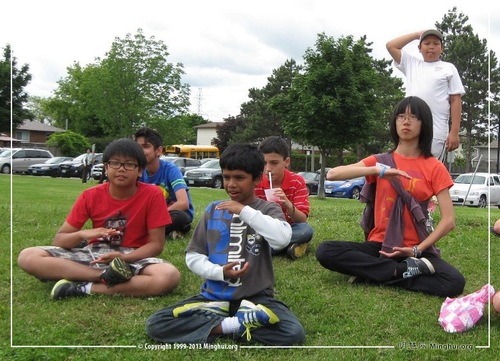 Students learning the exercises.
Faoien, a fifth-grader, enjoyed the meditation. She said: "I really like it. It made me relaxed. I feel great after doing it for a while." She pointed at the Falun Gong flyer, and said: "I want to do this."
"I feel the same as Faoien," added Melissa, a sixth-grader who learned the exercises too. "It made me feel calm. I will do the exercises every day," she said.
Faoien (left) and Melissa (right) like Falun Gong exercises
A parent at the event named Bulent was pleased to see traditional Chinese dances, and said, "It is great that parents and children can learn some Chinese culture from the dances. Children will benefit from the cultural communication."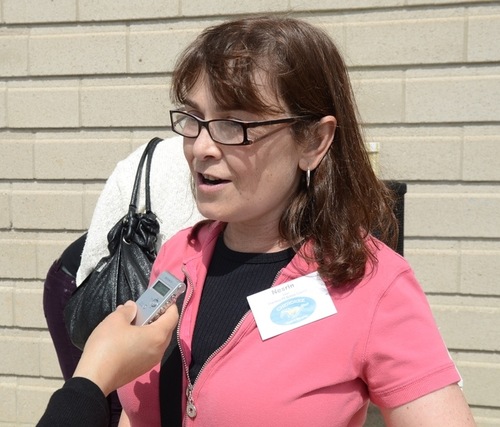 The organizer, Nesrin Berrak
The organizer, Nesrin Berrak, was glad to see the Lotus Flower performances. "I've seen them perform at a community event, so I invited them to this event," she said.
Ms. Berrak is interested in Chinese culture. She attended the Shen Yun Performing Arts show with her family last year at Sony Theater in Toronto. "It was splendid. I was touched by the Chinese culture," she said.
The members of Lotus Flower Arts talked to a few parents about the persecution of Falun Gong in China. Peter and his mother Annie, both Falun Gong practitioners, talked to a Chinese father. He was shocked by the brutality of the persecution. Annie helped him to renounce his membership to the communist party.
A young member of Lotus Flower Arts named Cathy talked to a volunteer at the event, who is from Xi'an, China. The volunteer had a lot of questions about Falun Gong. The conversation clarified many misunderstandings of his about Falun Gong. He was happy and said, "I've seen Falun Gong in many events, but didn't know the truth about them until today."
At the end of the event, another organization invited Lotus Flower Performing Arts to perform at their event. Tanya, the contact person for the troupe, said: "We are going to be really busy this summer. We have already received many invitations."