Four Falun Gong Practitioners Tortured in Shandong Second Forced Labor Camp
March 01, 2013 | By a Minghui correspondent from Shandong Province, China
(Minghui.org) Shandong Second Forced Labor Camp is located in Guanzhuang Township, Zhangqiu, Shandong Province. About 50 Falun Gong practitioners are being detained in the 7th and 8th divisions. There are about 40 practitioners in the 7th division. There are no monitoring cameras installed in the rooms in the 8th division where practitioners are tortured, including the chief's office, guards' restrooms, the "psychological counseling room," the quilt room, storage rooms, and library.
Mr. Yu Shuliang from Rushan Town, Weihai, Shandong Province, was sent to the camp in 2011 for a term of three years. He is in the 8th Division. He did not succumb to the guards' brainwashing. The guards forced him to sit on a small stool until late at night every day. He then had to sleep in the hall. The guards opened the windows in winter to freeze him and opened the door to the restroom in summer to make him smell it. Guards Li Gongming and Zhang Yuhua and detainee Li Qiang from Yishui are among those who tortured Mr. Yu.

Torture reenactment: Sitting on a small stool for great lengths of time
Ms. Liu Shengzhu from Weihai was sent to the 8th Division of the camp in March 2012. She has refused to be "transformed" and is often tortured by Li Gongming and Zhang Yuhua. One day, Li E, female, director of Shandong Forced Labor Bureau (who used to be a guard in the Wangcun Women's Forced Labor Camp) headed up a group of people to inspect the 8th Division. In the workshop, Ms. Liu shouted, "Falun Dafa is good!" She did this three times. Li E later called the division to ask what was going on. After dinner, Li Gongming handcuffed Ms. Liu in a restroom. She was transferred to the quilt room after 10 p.m. Her arms and legs were stretched out and cuffed to the headboards of two bunk beds.
Ms. Wang Shenghua from Huangye, Hebei Province, was sent to the 8th Division in March or April 2012. In order to support Ms. Liu Shengzhu and alleviate the persecution she was enduring, Ms. Wang went on a hunger strike to protest. The guards force fed her every day, which caused her to become very weak.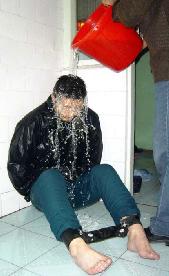 Torture reenactment: Doused with cold water
Mr. Yu Yingzuo from Rushanzhai Village, Rushan Town, was sent to the 8th Division in March 2012. The first night, Zhang Yuhua handcuffed Mr. Yu in a restroom and poured the water left from washing his feet over Mr. Yu's neck. Mr. Yu's clothes were soaked. It was very cold in early spring. Nie Shuzhong, who was on duty at that time, also poured his dirty water over Mr. Yu.