Officers Trump Up Charges Against Ms. Qiu Liying
August 15, 2012 | By a Minghui correspondent from Hebei Province, China
(Minghui.org) Ms. Qiu Liying was taken from a brainwashing center to the Sifang Police Station around May 4, 2012, where she was videotaped and recorded. She was then taken back to the brainwashing center. Officers confiscated from Ms. Qiu's home a desktop computer and a laptop computer, which her friends had stored there temporarily. Intending to trump up charges against Ms. Qiu, the officers claimed that the confiscated computers contained secret documents about the police department. To make things worse for her, they charged her with "leaking state secrets."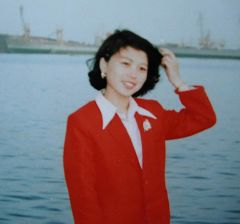 Ms. Qiu Liying
Ms. Qiu was arrested on February 25, 2012, when the Hebei Provincial 610 Office organized and ordered officers from the State Security Bureau and the Domestic Security Division to arrest over 50 practitioners in almost 10 cities and counties in Hebei Province between 6 and 7 a.m. Many practitioners are still detained.
Ms. Qiu went to work on the morning of February 25, 2012, after a sleepless night caring her sick mother. Officers from the Sifang Police Station in the Changan District of Shijiazhuang City arrested her in front of the building where she worked. She was taken to the Shijiazhuang City No.2 Detention Center, charged with suspicion of "using a cult organization to undermine law enforcement." On April 10, she was taken to the Hebei Provincial Law Education and Training Center (a brainwashing center) and has been held there ever since.
Ms. Qiu, 48, worked for the Shijiazhuang City Petrol Refinery. She began practicing Falun Gong in 1996. She used to suffer from neurosis, arthritis, heart disease, and breast cancer. She recovered from all these health problems after she began to practice Falun Gong. Not only that, her character improved. She worked diligently without thought of personal gain or loss. She always considered others in all matters and tried to help others. The good deeds that she did and the people that she helped are uncountable. She inspired many people.
However, Ms. Qiu has experienced great hardship, more than most people can imagine, since Jiang's regime launched the cruel persecution of Falun Gong, complete with slanderous propaganda and lies, in July 1999.
In Beijing in October 1999, Ms. Qiu acknowledged that she practiced Falun Gong. As a result, she was sent to a forced labor camp and held there for four and a half years. In 2007, she heard that the court was going to try a practitioner that she knew, so she went to the courthouse to hear the trial. She was arrested there and sent to a forced labor camp. Later, when she and a few friends started a business, she was arrested again under the pretense that some of her partners practiced Falun Gong. Every time she underwent tortures that put her through living hell during her detention. The authorities simply wanted to force her to give up her belief.
Ms. Qiu was detained in the Shijiazhuang City Forced Labor Camp; the Kaiping Forced Labor Camp in Tangshan City; Ankang Hospital in Tangshan City (a drug rehabilitation center); Tangshan City No.5 Mental Hospital (formerly known as the Tangshan City Mental Rehabilitation Center), where she was held with male drug addicts and mental patients; the Baoding City Forced Labor Camp; and Gaoyao Forced Labor Camp in Hebei Province. She was tortured, cruelly beaten, put into solitary confinement, injected with unknown drugs in mental hospitals, and was shocked with a high current electrical needle that can damage the brain. The authorities used a variety of inhuman tactics to brainwash her.
After suffering physical and mental trauma, Ms. Qiu was released from the labor camp. She was fired from her job simply because she chose not to give up her right to believe in Truthfulness-Compassion-Forbearance. She had to make a living by doing temporary work here and there ever since. Her name was put on a blacklist, and she could have been picked up again at any time. Neither her life nor her belongings were safe.
This is the eighth time that Ms. Qiu has been arrested. Her paralyzed 80-year-old mother was originally improving. After hearing of Ms. Qui's arrest, the mother's health worsened. She cried daily, "My daughter, please come home." She asked everyone, "Did you see Liying? Was she beaten or not?" It was already difficult for Ms. Qiu and her three sisters to take care of their paralyzed mother. Now, with Ms. Qiu incarcerated, the family is in chaos.
In Chinese only: Download phone number of parties involved in the persecution of Ms. Qiu (74 KB)