Reports on Falun Gong by Media Outlets Around the World (Part 2)
August 14, 2012 | By Hai Lou
(Minghui.org) (Continued from Part 1): http://en.minghui.org/html/articles/2012/8/13/134930.html
"Pia-Maria Sandas, a young Finnish lady based in New York and Madrid, has discovered a system of relaxation that improves physical wellness and that has, according to her (testimony), changed her life. Sandas is certain that Falun Dafa (also known as Falun Gong) is what made her allergies and other physical and emotional problems that bothered her for years disappear." This was from a report in La Opinion, a Spanish language newspaper in the US, in 2005 titled, "The Art of Cultivation."
The report continued: "Sandas, an ex-model who is now dedicated to promoting a cosmetic line as well as practicing Falun Gong in her free time explains: 'For many years I read self help books and even went to therapy to try to resolve some emotional problems, but without satisfying results.
"'I was also unable to cure myself of severe allergies until five years ago, when I was living in Sweden. My karate professor there presented me to a group of Falun Dafa practitioners that I saw in one of the local parks.'
"'They looked so calm and peaceful that I decided to join the group. After that I started discovering the solution to my emotional and physical problems. I also found a true peace that helps me analyze myself and to do better every day.'"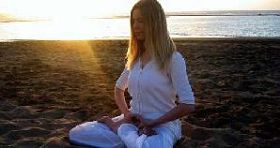 La Opinion, a Spanish language newspaper in the US: Pia-Maria Sandas has discovered a system (Falun Dafa) of relaxation that improves physical wellness
Falun Gong's marvelous effect on mind and body improvement is also frequently reported.
In the United States, Tom Bailey's experience was similar to Sandas'. The Huntsville Times reported on April 3, 2005: "Bailey, 57, learned about Falun Dafa about two years ago after discovering a book about it. He had been looking for a way to deal with the post-traumatic stress he has had as a Vietnam veteran."
"'This is some of the best help I've ever had in some of the things I've had to deal with,' Bailey told the group.
"Bailey now often practices Falun Dafa on his own, finding the exercises help make him feel calmer. Two to three weeks after he began to learn the controlled and steady movements of Falun Dafa, he said he found he was sleeping better and had more energy. He also has found the philosophy of the practice - Truthfulness, Compassion and Tolerance - makes him feel more peaceful."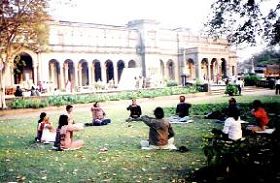 New India News: Falun Gong practice site in Pune, India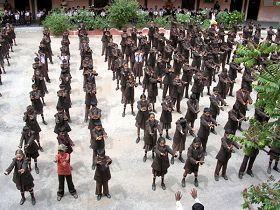 Indian Express: Group practice in Jyothi School
From a report in the New India News on May 14, 2005: "Principal Sri Baireshwara Vidyaniketan, Srinivaspura, Sriram Reddy encouraged the practice in his school, which he says has transformed the students.

"'This year we got a 100 percent first class result in SSLC examinations. Students have become more focused now,' he says. Reddy, who was on medication for asthma for the past 40 years now claims to have been cured by Falun Gong."
The Baltimore Sun article "Immigrants Turn to Falun Gong to Help Kids Behave" from July 9, 2001, said: "The meditation and exercise practice called Falun Gong can lead to arrest and prison in China. But it is said to have quite the opposite result in the United States, where a small but growing number of immigrant parents say it's helping kids stay out of trouble.
"Concerned about violence, casual sex and drugs in American culture, they see Falun Gong as a way to keep their sons and daughters on the straight and narrow.
"Children are receiving instruction in small, informal groups at a Howard County park, in a rented Silver Spring elementary school cafeteria and elsewhere. About 30 students, ages 3 to 17, attend a new Falun Gong school in Rockville, said to be the first of its kind in the world.
"'[The majority of] people try to introduce Falun Gong to adults. Because I'm a mother, I'm thinking differently,' said Judy Chao of Columbia, who helped establish the school and believes the practice has improved the behavior of her own children.
"'If we start them young, we probably won't need police anymore,' she said."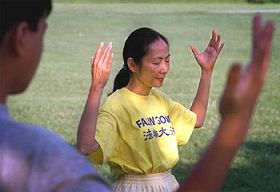 Baltimore Sun: 48-old Judy Chao and 15-year-old Kekui Chen (front)
The reports stated, "Kokuei Chen, 15, of Columbia has been practicing Falun Gong with his mother since last summer.
"'It teaches higher moral values for everyone,' said Chen, a Taiwanese native.
"He said Falun Gong has led him to stop watching violent TV shows and has helped him turn away from potential fights with classmates at Long Reach High School, where he will be a sophomore in the fall. 'My friends were goading me into fights and stuff,' he said. 'I just ignored them until they cooled off.'"
Falun Gong expects its practitioners to upgrade morality, leading to a better lifestyle. David Crumm, a columnist with the Detroit Free Press, reported on August 27, 2003, that several engineers from Ford Motor Co. and MSX International gather each week and practice Falun Gong together: "All of them say that the weekly break really helps. A couple of bad backs are less painful now. A cancer survivor feels fewer anxieties.
"'We're all less likely to rip off someone's head from stress,' Mumaw [one of the engineers] said.
"They say they're discovering things about themselves in that empty conference room once a week that are helping to free up their human potential. The bottom line, they say, is this: They're designing better cars, because this spiritual oasis is helping them to design better lives."
The Sofia Echo, a major English newspaper in Bulgaria, ran a story on October 8, 2007, titled: "Falun Gong - a Better Lifestyle." It said, in part, "Followers of the Chinese system for self-refinement recently met in Sofia's Borissova Gradina wearing yellow t-shirts.
"'Falun Gong makes us better people, more tolerant, more truthful, and completely healthy. It is a way of living,' they say, having just finished meditating for an hour."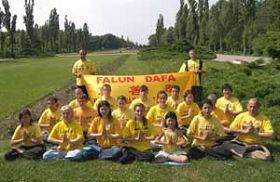 Sofia Echo: Borissovata Gradina in Sofia is where Falun Gong meet to meditate and do the exercises, following the principles of Truthfulness-Compassion-Forbearance.
The New Statesman in the UK carried an article on Leeshai Lemish on August 18, 2008. Leeshai said, "Not long before, I applied for ordination at a remote Buddhist temple. Instead, with Falun Dafa I found a way to bring a monk's sacred commitment to spiritual perfection to daily life in the secular world.
"This balancing act is both challenging and rewarding. All the things we are deeply attached to – what we desire and what upsets us – are right before us. From nude advertisements to obnoxious colleagues – daily tests pop up to see whether we can sever the strings of attachments and emotions that tug at our hearts. While maintaining a job and raising a family, we seek to abandon selfishness and orient our hearts toward a greater good. We try to embrace hardships that come along as opportunities for spiritual growth."
Falun Gong teaches people to be kind, benefiting society. Some media call it the hope and future of human being.
Police Officer Roby of Indonesia thinks it as the hope of humanity. The Jakarta Post of Indonesia reported on May 28, 2009: "Falun Dafa is a series of gentle movements and meditation aimed at helping people become more calm and generous of spirit, according to Denpasar Police officer and Falun Dafa convert, Roby, who goes by one name only.
"'I've been following Falun Dafa since 2003. I started when I saw that it increased people's moral, mental and intellectual abilities. I felt if I followed the laws of this philosophy it would make me better able to serve the public in my role as a police officer and also as a citizen,' says Roby, adding that there are several other practicing Falun Dafa followers within the Denpasar Police force.
"'There are five active followers and many others have read the books about this form of exercise and meditation. I believe it makes us more willing to help people and reduces egoism and selfishness—it makes us more patient in our work with the public. We are not arrogant and know we are here to help society.'
"'Touching on allegations of corruption within Indonesia's police force, Roby pointed out that, if more police and other civil servants followed Falun Dafa, those allegations would be crushed overnight. "If every police officer followed the laws of honesty, they would never take the wrong road.'"
On June 15, 2012, Danish TV Station TV2 interviewed Danish Falun Gong spokesperson Benny Brix. Mr. Brix pointed to the practitioners meditating and said, "Such peacefulness comes from the practitioners' depth of heart. No matter what problems or trouble we face, we will arrive at a good solution. We don't look externally to blame others." The TV reporter was moved and said sincerely, "You're the hope for the future of mankind."
When Falun Gong appears in media reports across the world, Falun Gong's moral power is always a point of interest. Actually, this point was covered by newspapers in China in 1990s.
On March 17, 1997, Dalian Daily ran a story titled: "An Anonymous Older Man Makes Contributions." The report related how Falun Gong practitioner Sheng Lijian voluntarily set up roads of 1100 meters long for fellow villagers.
On February 21, 1998, Dalian Daily reported that Falun Gong practitioner Yuan Hongcun of Dalian Navy Academy rescued a child from an ice-covered river three meters deep.
On March 30, 1998, Beijing Daily reported a Falun Gong practitioner donated 180,000 yuan (about $29,000) to the field of science anonymously.
Falun Gong, also known as Falun Dafa, is based on Truth-Compassion-Forbearance. Since Master Li made it public in May 1992, more than one hundred million people have benefited from it. It improves people's morality and physical health and has an immense impact on society.
(To be continued)