Australia: Falun Dafa Cultivation Experience Sharing Conference Held in Perth (Photo)
(Clearwisdom.net) On February 4, the Falun Dafa Cultivation Experience Sharing Conference in Western Australia was held in Perth. Twelve practitioners presented experience sharing reports.
One practitioner, Jiana, talked about her experiences in organizing "The Art of Truthfulness-Compassion-Tolerance" Exhibition in Western Australia. She said: "I frequently sent forth righteous thoughts and asked Master to bring predestined people to the art exhibition. When I sent forth righteous thoughts well, many people came. When I didn't have help from other practitioners, I asked Master to reduce the population flow so that I would have enough time to talk to all of the visitors. I have found that Master always makes the best arrangements."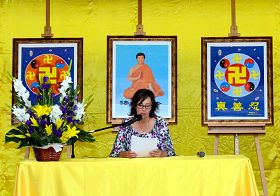 A practitioner presents her experience sharing paper
John, a Western practitioner, talked about how he harmonized the environment in his family and gained respect and support from his family members who had previously held misconceptions about Falun Gong. Ms. Yang shared her experiences of selling advertisements for the Epoch Times. Ms. Yang said: "Sometimes I encountered [Chinese] people who had been deceived about Falun Gong and cursed me. It is very important to have the right mindset at that moment. I can usually handle it well if I follow Master's teaching in the "Fa Teaching Given at the Epoch Times Meeting"--'Don't take any such things to be a big deal, for with something as significant as saving sentient beings you should just do what you are supposed to do, going about it in a composed manner. When you encounter things that don't sound so good or that aren't what you hoped for, don't take it to heart, and just nobly and confidently do what you are supposed to.'"
After the conference, practitioners shared experiences in small groups.