United Nations General Assembly Convenes in New York, Falun Gong Practitioners Call for an End to the Persecution (Photos)
September 29, 2011 | By a practitioner in New York
(Clearwisdom.net) September 19-26, 2011, world leaders converged in New York as the United Nations General Assembly held its 66th session of high-level meetings. During this time, Falun Gong practitioners in New York gathered outside the United Nations to expose the brutal persecution of Falun Gong practitioners by the Chinese Communist Party (CCP), to call upon the international community to show concern over the human rights conditions of the practitioners in China, and to work with concerted effort to put an end to the 12-year-long persecution.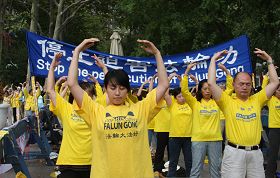 During the U.N. Summit, practitioners in New York gather outside the United Nations to call for an end to the 12-year persecution
Practitioners arrived at the gathering area at 9:00 a.m. every day. They hung up banners and began doing the exercises. Banners reading "Falun Dafa Is Great," "Stop Persecuting Falun Gong," "People Believing in Truthfulness-Compassion-Forbearance Are Subjected to Brutal Persecution in China" in both Chinese and English conveyed messages to the passersby that Falun Gong practitioners are being persecuted in China. Practitioners in yellow T-shirts performed the exercises and sat in mediation to the accompaniment of peaceful exercise music.
On September 20, practitioners held a press conference drawing attention to South Korea's recent deportations of Chinese Falun Gong practitioners back to China. They called on President Lee to halt these life-threatening deportations of practitioners from South Korea to China. The deportations violate the U.N. Convention Against Torture and the U.N. Refugee Convention. South Korea is a signatory of both.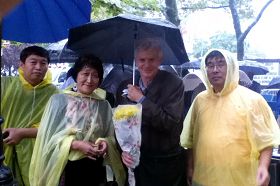 Former Canadian Secretary of State for Asia-Pacific David Kilgour arrives at the Falun Gong practitioners' protest area, presenting a bouquet of flowers to the practitioners and expressing his support for practitioners' efforts to work against the persecution
On September 23, former Canadian Secretary of State for Asia-Pacific David Kilgour arrived at the practitioners' protest area to present them with a bouquet of flowers and make a speech to express his support for Falun Gong.
On the afternoon of September 26, practitioners held another press conference to expose the CCP's genocidal persecution of Falun Gong practitioners and call upon the international community to show concern, to stand with the righteous, and to work together to stop the ongoing brutal persecution.
Practitioner Dr. Wang Wenyi explained at the press conference what Falun Gong is and told about the popularity of Falun Gong in China and the CCP's persecution of Falun Gong.
Ms. Ma Chunmei, who came to the United States from China more than two years ago, recounted how she was arrested, subjected to forced labor, and tortured in China.
While she was speaking of her ordeal, a nearby protest group from Eritrea, East Africa, became quiet, and took Falun Gong flyers. A police officer told a practitioner, "I wish every group would be like you, quiet and peaceful."
Falun Gong practitioners' peacefulness also attracted three staff members working at the U.S. Presidential Office who came to attend the United Nations' summit from Washington, DC. They stopped to speak with practitioners to learn more about Falun Gong. They praised the practitioners, saying, "This is the best protest group that we have ever seen."
During the summit, practitioners distributed a great deal of informational materials about Falun Gong and the CCP's brutal persecution of Falun Gong practitioners to officials from countries who came to attend the summit.
Background
Falun Gong, also known as Falun Dafa, is a traditional Chinese spiritual discipline for mind and body. The practice involves slow, gentle movements and meditation. It is easy to learn, enjoyable to practice, and free of charge. Its principles are based on Truthfulness-Compassion-Forbearance. The practice was first introduced by Master Li Hongzhi in China in 1992 and quickly spread by word of mouth throughout China and then beyond. Its beneficial effects in uplifting an individual's physical health, spiritual well-being, and moral character, not to mention its positive influence in the community and society as a whole, have been undeniable. Today, Falun Gong is practiced by over 100 million people worldwide. The main works of Falun Gong are available in over 30 languages.
On July 20, 1999, the Chinese Communist Party launched a brutal persecution of Falun Gong. Since the start of the persecution, practitioners throughout the world have been speaking out about the facts of Falun Gong and exposing the CCP's crimes in a tireless effort to end the persecution. The persecution has not only targeted Falun Gong practitioners' belief in Truthfulness-Compassion-Forbearance, but is also an attempt to destroy society's moral principles and spiritual values.