Dafa Practitioner Li Changfeng Persecuted in Brainwashing Center
August 11, 2011 | By a Clearwisdom correspondent from Sichuan Province, China
Name: Li Changfeng (李昌凤)
Gender: Female
Age: 61
Address: Yangjia Town, Jingyang District, Deyang City, Sichuan Province
Occupation: Unknown
Date of Most Recent Arrest: July 10, 2011
Most Recent Place of Detention: Jingyang District Hexing Town Brainwashing Center (旌阳区合兴镇洗脑班 )
City: Deyang
Province: Sichuan
Persecution Suffered: Detention, interrogation, body-folding, "carrying a sword in the back" torture, food & drink deprivation, brainwashing, beatings, solitary confinement, sun overexposure, extreme exposure to mosquitoes.
(Clearwisdom.net) Falun Gong practitioner Ms. Li Changfeng was arrested by Zhang Jianbo (Yangjia Town administrator, a member of the 610 Office), Gaoping Village director Yang Qigui, Chinese Communist Party (CCP) secretary Yang Maosheng, Yangjia Police Station director Liu Min and officers from the Jingyang District Domestic Security Division on July 10, 2011.
Yang Maosheng ordered four women to carry Li Changfeng to the police car and take her to Jingyang District Hexing Town Brainwashing Center. The town 610 Office official attempted to find three women to closely monitor Li, but because they knew that Li was a good person, the women refused to do this.
Li Changfeng passed out after three hours of intense persecution in a brainwashing session. The guards called Zhang Jianpo and stated that they could not bear responsibility if something happened to Li. After five hours of detention, Li Changfeng was released.
Li Changfeng firmly believes in Truthfulness-Compassion-Forbearance. She has been persecuted numerous times by CCP members. She was once persecuted to the point of critical condition.
Ms. Li had numerous diseases before practicing Falun Gong, including hepatitis, diabetes, Meniere's Syndrome, and gynecologic disease. After she began practicing the exercises and abiding by the principles, her moral standard elevated and she regained her health.
After the persecution began, she went to Beijing twice in 2000 to appeal for Falun Gong. The first time, she sold corn to gather enough money for the trip. She walked along the railroad to Mianyang and took the train to Beijing. She went to Tiananmen Square on foot in order to save money. She did the meditation exercise in front of the Qianmen and was subsequently arrested by the police. She refused to tell them her name and address. The police tortured her, and forcibly bent her body at a 90 degree angle, hands behind her back, head against the wall; and they kicked her whenever she moved. They handcuffed her hands together, with one over the shoulder, the other behind the back (a torture method called Suqinbeijian). The police searched her body and found the train ticket, and notified police from Mianyang. During the three-day trip to Mianyang, she was handcuffed and given no water or food. She was transferred directly to Deyang Detention Center and held for 15 days. This second time she was held in a police station on the third floor. They tortured her again. She was forced to jump out of a third floor window and was near-mortally wounded. She suffered internal injuries, and her leg, ankles, arms, and wrists were all fractured. In addition, she had been on a hunger strike for five days. The hospital's prognosis was that she would only live for about one more week. The 610 Office official ordered her family to bring ten thousand yuan for medical expenses, but since her family had no money, the office just took her to her hometown. (Qi Jiucai, the CCP secretary of Deyang City, went to take her home.)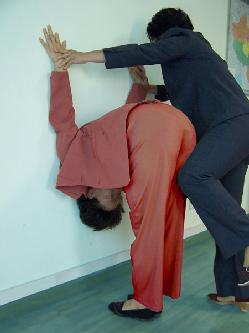 Torture re-enactment: Flying an airplane torture
Torture re-enactment: Suqinbeijian torture
Mianyang Police
The town hospital determined that Ms. Li would only live for three more days, so they notified her family to come to see her for the last time. The 610 Office officials did not want her to die in the hospital nor pay any medical bills for her, so they carried Ms. Li to her home, left her on the ground and then ran away. Her family did not want to take her in such a condition and carried her back to the local government. The authorities once again took her to her home and left her there. Li Changfeng told her husband to put her on the bed, as she could not move and was in pain all over. She listened to Master's Fa, and repeated, "Falun Dafa is good! Truthfulness-Compassion-Forbearance are good!" She improved day by day, and after a month, she could move on the bed. Two months later she could sit on a chair to study the Fa and exercise. She went to the town government with a cane during the third month, looking for her Dafa books. She happened to see the CCP secretary Qi Jiucai from Deyang City. Qi was shocked because he knew very well about her extensive injuries and the conclusion of her hospital stay. He asked her some questions, and she told him she recovered by just studying the Fa and doing the exercises. It was Master Li Hongzhi who saved her.
Ms. Li Changfeng, on whom the hospital gave up, giving her only one week to live, recovered after three to four months of Fa study and exercise. This miracle once again verified the healing effect of Falun Gong. It is beyond scientific understanding. Her story has been widely spread in Yangjia District and beyond. The 610 Offices of the city and town also know it.
After the staged self-immolation in Tiananmen Square, which was scripted and carried out by the CCP, the Deyang City 610 Office set up a secret brainwashing center, known to outsiders as Legal School. Ms. Li Changfeng was held in the brainwashing center for a total of over two hundred and forty days. She had been held in solitary confinement at least three times. The cell was dark and wet with lots of mosquitoes. She was also exposed to the baking sun for long periods of time without any protection. She was subjected to cursing and beating often.
Whenever there was an inspection from other provinces or cities, the authorities transferred her to the detention center to be held in solitary confinement, for fear of her speaking the truth about Falun Gong. She held two hunger strikes with the group on December 13 and 25, 2001. She was later released. She was arrested in 2005 and put in Dongshan Park Brainwashing Center, and released 24 hours later.