Hong Yin (3) to Be Published in Chinese Soon (Photo)
(Minghui.org) Hong Yin (3) is slated to be published soon. This book is a compilation of Master Li Hongzhi's 52 poems and 72 song lyrics, written between April 2, 2004 and May 2011, and features illustrations drawn personally by Master Li Hongzhi.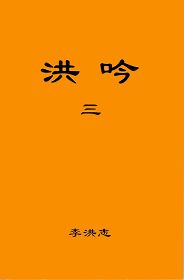 As the way it has been done in the past, practitioners will be given priority in obtaining Master's new book. Practitioners who wish to pre-order individually should contact their local Falun Dafa Association or practice site. Falun Dafa Associations not in Taiwan should submit their pre-order totals to Tianti Books. Please contact Tianti for other procedures, as well. Tianti can be reached at service@tiantibooks.org.
Minghui Editors
July 24, 2011