Brutal Persecution Suffered by Female Falun Gong Practitioners in China – Part 5: Organ Harvesting
(Clearwisdom.net)
(Continued from
Part 4: http://www.clearwisdom.net/html/articles/2011/10/28/129057.html
Part 3: http://www.clearwisdom.net/html/articles/2011/10/26/129000.html
Part 2: http://www.clearwisdom.net/html/articles/2011/10/16/128806.html
Part 1: http://www.clearwisdom.net/html/articles/2011/10/4/128512.html )
Part 5 – Organ Harvesting
In an attempt to annihilate Falun Dafa practitioners, the communist regime has systematically carried out its policy of using all means possible to "ruin their reputations, bankrupt them financially, and destroy them physically." Under this policy, beating deaths of practitioners are counted as suicides, and cremation of bodies without identifying the deceased is encouraged. The plight of practitioners is simply beyond anyone's wildest imagination.
According to Clearwisdom reports, not only have numerous practitioners been injured or even died of torture, but many had their organs harvested while they were still alive without their families' knowledge. Bloody holes or wounds of unknown origin were often found on the bodies of the deceased. Below are a few examples of female practitioners who were victims of organ harvesting.
1. Ms. Hao Runjuan Died at Age 28
Ms. Hao Runjuan, originally from Zhangjiakou City, Hebei Province, lived and worked in the Baiyun District, Guangzhou City, Guangdong Province.
Ms. Hao went to Beijing four times to appeal for Falun Gong. After her arrest on February 25, 2002, she was brutally tortured in the Baiyun District Detention Center and died on March 18.
Ms. Hao was very healthy before her arrest. After being tortured for 22 days in the Baiyun Detention Center, she died. The police authorities conducted an autopsy without her family's knowledge. When the family was called in to identify her bloodstained body, it was completely unrecognizable. There were no inner organs, no skin, and no eyes. Because the body was so disfigured, none of her family members believed that it was Ms. Hao, even after seeing her remains twice. The family finally had to take her two-year-old son for a DNA test to confirm that the body was truly his mother's. Finally it was confirmed that it was Hao Runjuan. (full story: "Give Up Illusions about the CCP after Considering the Facts: Organ Removal from Live Prisoners, Cremation of Bodies to Destroy Evidence in Sujiatun Concentration Camp, Part 1")
2. Ms. Fu Kezhu Died at Age 53
Ms. Fu Kezhu, a retired senior teacher from Kaiyang County First Elementary School in Guizhou Province, was once arrested for clarifying the facts about Falun Gong. In order to avoid further persecution, she decided to leave home.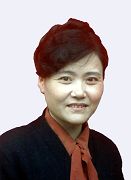 Ms. Fu Kezhu
Ms. Fu and her nephew, Xu Genli, went missing in the Jianggang Mountain area in November 2005. Their bodies were discovered on Wuzhi Peak the end of April 2006.
Ms. Fu's body was found resting against a large rock, facing down in the middle of a brook above the waterfall. Her body showed no signs of decay. Her head had been shaved; both eyeballs were missing, and the flesh around the eye-sockets had ulcerated. There were two black holes on her nose, which the police surmised to be the result of bug bites or long-term compression. Her upper body was bare; her undershirt had been pulled up and wrapped around her head. She was wearing sweatpants and socks. Her trousers were somewhat torn. Her thigh and calf muscles were somewhat dried up, and the tips of her toes were stretched out in a stiff position.
An analysis indicates that their organs might have been harvested and their bodies disposed of.
(Full story about Ms. Fu and her nephew, Xu Genli: "Organ Harvesting Suspected in the Murders of Ms. Fu Keshu and Mr. Xu Genli, Practitioners Visiting the Jinggang Mountain Area (Photos)")
3. Ms. He Xiuling Died at Age 52
Ms. He Xiuling was a practitioner from Xingfu No. 10 Village in the Zhifu District, Yantai City, Shandong Province.
Ms. He was illegally detained in the Nanjiao Detention Center in Yantai City, where 610 Office agents and guards tortured her. She died in Yuhuangding Hospital, also called Zhuangqu Hospital, in Yantai City around 7:00 p.m. on March 11, 2004.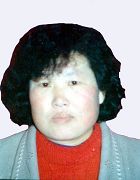 Ms. He Xiuling
When Ms. He's husband went to visit her in the hospital on March 10, 2004, he found one of her hands cuffed to the head of the bed and her lower body naked. She was too weak to utter a sound.
Ms. He's husband received a phone call around nine the next morning, informing him that his wife had died at 7:45 a.m. that morning.
When the family rushed to the hospital morgue, they saw a bandage wrapped around Ms. He's lower back and tears running out of her eyes. Realizing she was still alive, they insisted she be seen right away. A doctor arrived with an electrocardiogram instrument around 11:30 a.m. The device revealed that her heart was still beating. After the machine had produced more than 10 centimeters of paper readings, the doctor ripped up the test results and fled.
Since the doctor didn't provide any emergency treatment, Ms. He died shortly afterwards.
(Related articles: "Dafa Practitioner Ms. He Xiuling Passes Away as a Result of Torture (Photo)"
"Persecutors from the Yantai 610 Office Sent He Xiuling to the Mortuary While She Was Still Alive")
4. Ms. Li Xianmin Died at Age 51
Ms. Li Xianmin was a practitioner who used to work for the Shehong County Social Security Bureau in Suining City, Sichuan Province.
610 Office agents captured her at 11:00 a.m. on February 1, 2005, when she was on her way to attend her family New Year's banquet held in the county government-owned hotel. She was arrested and died as a result of torture on April 7 in the county detention center.
One day before her death, Ms. Li had chills, but the guards didn't get her help until two in the afternoon. They summoned a veterinarian surnamed Pu to give her an IV. Not long after, she vomited and experienced symptoms of diarrhea. Guard Yang Xiu drove her to Suining Hospital at 7:00 p.m. that night. When the doctors said that she should be hospitalized, Yang took her back to the detention center. After they gave her unknown drugs at 9 p.m. she got chills and her eyes bulged out. She died about an hour later.
The guards took her body to the county crematory where they performed an autopsy on a cement slab without her family's knowledge. By the time her family arrived, they noticed her head was opened and then sewed back together. Her intestines had been removed and placed on the ground. Surgeon Liang Haiqiao, head of the Department of Pathology at Suining Hospital, later took all her organs to the hospital. (Related article: "Falun Dafa Practitioner Ms. Li Xianmin from Shehong County, Sichuan Province Tortured to Death")
5. Ms. Duan Shiqiong Died at Age 34
Ms. Duan Shiqiong was a train attendant in the passenger section of the Chongqiong Railway Bureau before her arrest.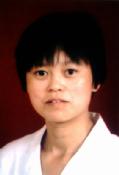 Ms. Duan Shiqiong
After Jinniu District Court officials in Chengdu City, Sichuan Province, sentenced her to 7 years of imprisonment on June 19, 2003, Ms. Duan filed an appeal with the intermediate court on June 27 and began a hunger strike on July 24 in the Chengdu City Detention Center. The guards began to force feed her on July 28, causing tremendous, multiple organ damage. On August 11 the guards transferred her to Qingyang District Hospital, where she was force-fed and injected with unknown drugs. She was in excruciating pain and couldn't stop moaning the night of September 15. She died in the hospital at 3:00 a.m. on September 16.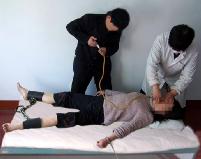 Torture Reenactment: Brutal force-feeding
When her husband saw her body, he could not recognize her. Her face looked completely different. She only weighed about 50 lbs. The 34-year-old woman looked like more like a 60-year-old. (Related article: "Additional Information About the Torture-Induced Death of Ms Duan Shiqiong")
6. Ms. Xu Zhilian Died at Age 31
Ms. Xu Zhilian graduated from the Chengdu Teacher's Institution at 19 and taught at Fuqin Elementary School in Chengdu City, Sichuan Province.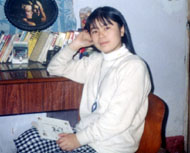 Ms. Xu Zhilian
Ms. Xu was arrested in February 2001 while teaching at school and was taken to Fuqin Police Station. She left the police station while the officers were not paying attention. In order to avoid further harassment she left home and moved from place to place. She returned home to see her child and husband on June 28, 2001, only to die that very day.
Around 11:30 p.m. that day, two police vans from the Fuqin Police Station in Jinniu District, Chengdu City, stopped outside the home of villager Liao Song. About six people burst out of the vans, banged on Liao's door, and shouted, "Liao Song, give us several thousand yuan!"
When Liao's mother came out and asked what was going on, one of the roughnecks showed her a police ID card. Suddenly, they rushed into the house. One of them grabbed Liao. At the same time, Li Xiuying, a policewoman from the Fuqin Police Station, asked a sobbing little girl where her mother, Xu Zhilian, was. Someone upstairs shouted, "She's over there!"
The police ran toward a neighboring home and broke in after pounding on the door. Ms. Xu had climbed into her neighbor's courtyard from her home and was huddled with the neighbor's wolfhound in a corner. One officer who had lost his mind aimed his gun at her. He fired and shot the neighbor's dog dead. Ms. Xu ran, and again several gunshots were heard. In that little courtyard they beat her savagely, striking her stomach and the back of her head with their fists and gun handles. She died as a result of the brutal beating that night.
On June 29 at 8:00 p.m., Ms. Xu's family finally got to see her body in a clinic. The police had already put a hospital gown on her. Her face was very oily with no apparent wounds. There was blood in her nose, and three holes on the back of her head, still bleeding. Fuqin Police Station agents did not allow the relatives to take her body for an autopsy. They also threatened to cremate her body in three days. (Related article: "Gunshots at Midnight - The Murder of an Outstanding Teacher, Xu Zhilian")
7. Ms. Bi Xiaoye Died at Age 40
Ms. Bi Xiaoye was from Xuge Township, Wanjia Town, Pingdu City, Shandong Province
Ms. Bi's ex-husband, Ma Yanming, broke into her home and knocked her unconscious with a pickaxe on July 23, 2001. His brother, Ma Yanqing, Landi Town Judicial Bureau head, soon led a mafia-style gang to the scene and invited officers from the Pingdu City Police Department to join them. Pingdu City police harvested Ms. Bi's organs while she was still breathing. Then they took her body and had it cremated.
One witness said gravely, "It's a human life! She was still breathing! Anyone would say that you should try to resuscitate her! Why did they harvest her organs first instead? Aren't they committing murder?" (Full story: "Investigation Lead: Ms. Bi Xiaoye's Organs Harvested in 2001 after She Was Knocked Unconscious with a Pickaxe")
8. Ms. Yang Lirong Died at Age 34
Ms. Yang Lirong lived on Beimen Street, Dingzhou City, Baoding, Hebei Province.
She went to Beijing in October 1999 to appeal. Police officer Xiao Fudi from Dingzhou City arrested and held her in a detention center for two months. The authorities extorted 5,000 yuan from her before releasing her, and they constantly harassed her after she returned home. Her husband was worried that he might lose his job and often physically abused her. She conducted herself according to Truthfulness-Compassion-Forbearance and treated her husband with kindness. The perpetrators later arrested her and took her to a brainwashing facility. Because she refused to give up her belief, she was taken there twice more. Her husband grew furious and blamed her for the persecution.
In the evening of February 8, 2002, the police again went to Ms. Yang's home to search for Falun Gong materials. Early the next morning, while her parents were away, her husband strangled her to death with his bare hands. She left behind their 10-year-old son. Her husband immediately called the police. The police and medical examiners soon arrived to remove many of her organs. Fresh blood kept flowing from her. Even some of the police officers present said, "This is not an autopsy of a dead body! They're cutting open a live person!" (Related article: "Falun Dafa Practitioner Ms. Yang Lirong in Dingzhou City, Hebei Province Murdered by Deceived Husband")
9. Ms. Liao Qinying Died at Age 33
Ms. Liao Qinying was a resident of Xinsheng Village, Lijia Town, the Wujin District in Changzhou City, Jiangsu Province.
At 8:30 a.m. on November 18, 2001, local village official Zhang Liang, village police officer Wang Huaxin, and two others went into Ms. Liao's home and ordered her to go to the office. They said someone wanted to talk to her and it would not take long. She did not want to be taken away without a proper reason. The four individuals then dragged her into a police vehicle where she died within the hour.
Later that day her husband was called to the police station, where police told him his wife had died in the police car at 9:35 a.m.
Ms. Liao's family saw a hole in the back of her head and that a clump of her hair had been pulled out. The skin on her forehead had also been broken and scraped.
More than 500 people from Ms. Liao's village and neighboring villages went to the township government to appeal for justice on her behalf. Wujin Police Station brought in several truckloads of police officers to hold back the crowd, with some officers brandishing semi-automatic guns to intimidate the villagers. (Related article: AFP (Agence France Press): Falungong practitioner dies within one hour of arrest in China)
(To be continued)