Taiwan: Falun Gong Practitioners File Lawsuit Against Visiting Chinese Official Huang Huahua and Ask High Court to Issue an Arrest Warrant (Photos)
August 21, 2010 | By Zhou Rong in Taiwan
(Clearwisdom.net) Falun Gong practitioners filed a lawsuit against Guangdong Provincial Governor Huang Huahua as soon as his plane landed in Taiwan on August 16, 2010. Huang is being sued for crimes of genocide and violating the Civil Rights Convention. A local Falun Gong representative and a lawyer met with a prosecutor in the Taiwan High Prosecutors Office. Having briefed him of Huang's role in the persecution of Falun Gong, the practitioner and the lawyer asked the prosecutor to issue an arrest warrant for Huang.
Media Attention on the Lawsuit
Professor Chang Ching-hsi, representing the Taiwan Falun Dafa Association and attorney Theresa Chu filed the lawsuit with the High Procurators Office. The historic moment was well attended by both local and international media, with reporters from Taiwan's Central News Agency, Germany's Deutsche Welle, Liberty Times, Apple Daily, CtiTV, Sound of Hope radio, the Epoch Times and NTDTV covering the story.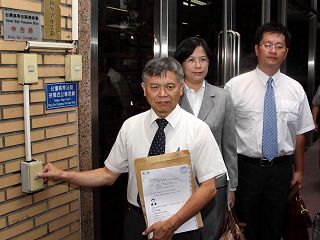 Professor Chang Ching-hsi (left), President of Taiwan Falun Dafa Association, and attorney Theresa Chu (middle) file a lawsuit at Taiwan High Prosecutors Office against China's Guangdong Province Governor Huang Huahua.
Chang and Chu met with a prosecutor and stated the facts of Huang's crimes. They directed the prosecutor to initiate an investigation of the crimes, and issue an arrest warrant. Huang is the first provincial-level official sued in Taiwan.
According to reliable sources in China, Huang, as Party secretary of Guangzhou City, was in charge of cracking down on Falun Gong. He systemically set up the 610 Office at all governmental levels. As provincial party secretary and governor, he sanctioned the police in Guangdong to torture Falun Gong practitioners, who were subjected to beatings, imprisonment, brainwashing, force-feeding with feces and boiling water, electric shock torture and group rape. In Guangdong Province alone, as of August 2010, at least 75 Falun Gong practitioners are confirmed to have died as a result of torture.
According to an annual U.S. Congressional report from the China Committee in 2009, Falun Gong practitioners are one of the largest groups held in forced labor camps by the Chinese regime. They are the primary group on the Chinese regime's list for repression. Prisons in Guangdong that are known to intensively torture Falun Gong practitioners include the following: Meizhou Prison, Guangdong Provincial Women's Prison, Sihui Prison and Shaoguan Prison.
Officials at the Sanshui Forced Labor Camp and Jiangmen Prison are reportedly involved in removing practitioners' organs while they were alive, selling them for profit, and destroying the victims' bodies.
Attorney Chu stressed that governor Huang is the most experienced individual in China in persecuting Falun Gong. He did not even spare a Chinese practitioner who was married to a Taiwanese citizen. Based on the International Criminal Court's principle of universal jurisdiction, Chu asked the prosecutor to issue an arrest warrant for Huang during his weeklong stay in Taiwan.
According to Chu, more than 30 Chinese officials worldwide are being sued for actively participating in the persecution of Falun Gong.
Huang canceled his trip to Washington, DC in 2005 after learning that he was being sued there. Chu hopes the government in Taiwan, which adopted the two UN Human Rights Conventions as municipal law in 2009, will show its resolve to support justice.
Professor Chang said that Huang has broken up many families single-handedly in the past several years. He hopes laws in Taiwan can make Huang pay for his crimes.
Practitioners Call On Huang to Stop the Persecution
When Huang arrived at the Taoyuan Airport the afternoon of August 16, practitioners received him with banners and voices crying, "Huang Huahua, stop persecuting Falun Gong! Falun Dafa is good! China needs freedom of belief!"


After Huang gets past customs, Falun Gong protestors hold up banners saying "Falun Dafa -Truth-Compassion-Forbearance."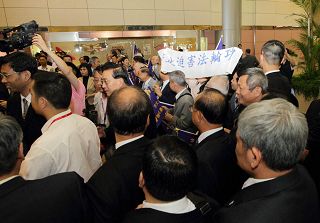 Falun Gong protesters in the airport hold banners for Huang to see saying, "Stop persecuting Falun Gong."
When asked by an Epoch Times reporter, "Can you please comment on the fact that a lawsuit was filed against you in the Taiwan High Court the minute you landed in Taiwan?" Huang's escorts quickly moved him to his car.
On his way out of the airport, when dozens of practitioners held banners yelling, "Stop persecuting Falun Gong!" Huang moved even more quickly. Before he got into his car, a practitioner attempted to hand him a copy of the pamphlet The Nine Commentaries on the Communist Party. He would not accept it and quietly got into his car.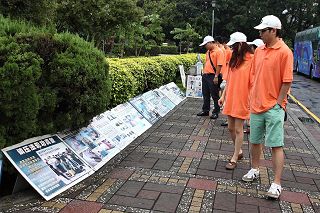 Tourists from China read posters about Falun Gong and the persecution in China.
Huang attended a "Guangdong Week in Taiwan" event at Sun Yat-Sen Memorial Hall that day, and a group of practitioners called out to Huang, "Falun Dafa is good!" "There are practitioners everywhere in Taiwan. In China, practitioners are arrested and tortured. It is wrong!"
At a banquet Huang attended later that evening, a practitioner got close to him and told him about the lawsuit and handed him the complaint. He pushed the complaint away. Practitioners say that they will continue protesting and raising awareness about the persecution of Falun Gong during Huang's weeklong visit.