Life in Mainland China is Far Different than Life in Taiwan for Practitioners of Falun Gong - The Case of Two Fa Study Groups for Senior Citizens
August 11, 2010 | By Yun Fan
(Clearwisdom.net) Two recent articles illustrate the dramatically different environments experienced by senior citizens who practice Falun Gong in Taiwan versus those in Mainland China. Respect for elders is a respected tradition in the Chinese and many other cultures around the world. Let's take a look at the differences between the lives of the elderly in Taiwan and Mainland China, and ask ourselves why they are so different.
Practitioners in Taiwan Free to Study and Enjoy the Many Benefits of Falun Gong
The title of the article about the elderly in Taiwan is "An Inspirational Fa Study Group." This article depicts a group of Falun Gong practitioners, mostly senior citizens, studying the Fa together. Originally, this Fa study group was set up for those in the Taipei metro area who were illiterate or could only speak Taiwanese. The practitioners meet every Sunday afternoon. The study group started with only a few practitioners and gradually grew to include more than 30. The oldest in the group is more than 80 years-old, while the average age is 70.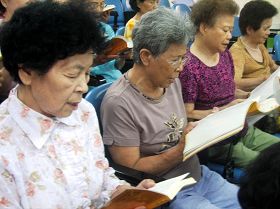 Absorbed in Fa study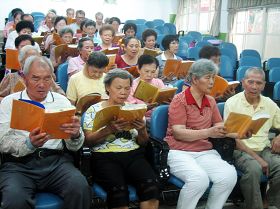 Practitioners look forward to Fa study every Sunday afternoon
The practitioners are happy to talk to people about Falun Gong and demonstrate the exercises in public. They repeatedly express how fortunate they are to have found Falun Gong and to be able to live positive new lives. However, the minds of many people, in particular those from mainland China, are still poisoned by CCP lies and do not know the truth about Falun Gong. That is why they want to come out to tell people "Falun Dafa is good," sharing their own personal experiences.
After reading this article, one can only admire the Taiwanese practitioners' lives. Falun Gong has brought them renewed health and fitness. This brings great benefits not only to them, but to their families as well.
Different Story in Mainland China - Practitioners Routinely Arrested and Jailed for Their Beliefs
The other article describes a typical experience of senior citizen practitioners in Mainland China. The title: "Twelve Elderly Practitioners Arrested When Reading Falun Gong Books."
Twelve senior citizen practitioners who live on Nan Street in Binzhou City, Hunan Province went to practitioner Jiang's house to study the Fa together on July 19, 2010. At around 3:00 p.m., police officers from the National Security Team of Binzhou City and Nanta Police Station suddenly broke in and illegally arrested them, taking them to the police station. As of July 25, six of the practitioners were still being detained.
These senior citizens all became very healthy after they started practicing Falun Gong. The oldest in the group is 85 years-old while the youngest is over 60. They study together twice a week.
A group of police officers broke into the home of Ms. Xiang Huaixiang after she went to the Fa study group. The police ransacked the house and took her computer, printer, recorder and other property. The police allegedly took away an entire truck-load of her personal possessions, in addition to stealing about 10,000 yuan in cash.
After Ms. Meng Qingliang was arrested, the police went to her house and demanded that her daughter-in-law open the door so they could search the house. Her five-year-old granddaughter Jiajia was so scared that she screamed out loud. Little Jiajia has repeatedly witnessed the violence of the CCP's police officers since she was born. She has been emotionally traumatized by all she has seen and she begins to shake with fear every time she sees a police car. She becomes nervous when she sees people in police uniforms and says, "Bad people are coming." Jiajia's grandfather Liao Songlin and her father Liao Zhijun have been arrested many times. When she saw the group of police coming once again to ransack her house, she cried aloud in fear.
Sixty-year-old Xiang Huaixiang is a retired archivist. She was detained because she practices Falun Gong and fined 12,000 yuan. She also lost her only daughter Chen Lijuan to the persecution. Chen Lijuan was expelled from college, fined, and forced into mental institutions as a form of persecution repeatedly, all because she practiced Falun Gong. She finally suffered paralysis, mental collapse and a tragic untimely death in November 2004.
Why the Difference? The Chinese Communist Party
Please observe the dramatic difference: Why in Taiwan can senior citizen practitioners study the Fa peacefully and freely and go out together to introduce Falun Gong to others, whereas in mainland China they are violently persecuted? The root cause is the Chinese Communist Party, which has pursued a relentless campaign of brutality aimed at wiping out Falun Gong for over eleven years now.
In over one hundred other countries, Falun Gong is freely practiced and embraced by millions for the great benefits it brings to health, happiness and spiritual wellbeing. Hopefully the citizens of Mainland China will soon again be free to practice Falun Gong as well.