Taiwan: An Inspirational Fa Study Group (Photos)
August 06, 2010 | By Zhou Rong, a Clearwisdom correspondent from Taipei, Taiwan
(Clearwisdom.net) "Hurry, group Fa study is about to start," Mr. Lin Shengyi said to his wife, Li Li, looking at the clock on the wall at noon on Sunday. At the same time, Wang Chai from Sanchong and Zheng Qiuwei from Nangang were also ready to attend this weekly group Fa study. More than 30 Falun Gong practitioners usually attend, with many senior citizens among them. At 1:00 p.m., the study group began on time.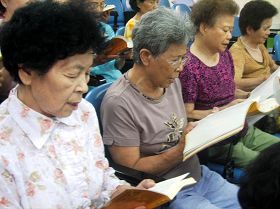 Absorbed in Fa study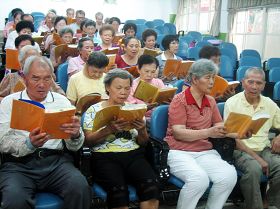 Practitioners look forward to Fa study every Sunday afternoon
Putting on their reading glasses, the practitioners opened the book with respect and read in unison. They could be heard throughout the school.
Originally, this group Fa study was set up for those in the Taipei metro area who were illiterate or could only speak Taiwanese. It started with only a few practitioners and gradually grew to more than 30. Mr. Lin Shengyi, who started attending this Fa study group right after he started to practice Falun Gong, said it was something he always looked forward to. He and his wife attended almost every week.
The coordinator of this study group is Ms. Li Xingling, 62, a retired elementary school teacher. Ms. Li said that this class has many diligent senior citizens in regular attendance. She is very touched by their purity. The oldest in the group is more than 80 years old, while the average age is 70.
Ms. Li said that at first this group slowly repeated after her one sentence at a time in Taiwanese. After a few years, 95 percent of them, even those who couldn't read before, can now read the book Zhuan Falun. Some can even recite Lunyu without looking at the book. Now they can also read the book in Mandarin.
The Elderly Find their Positive New Life in Studying
Mr. Lin Shengyi, 75, said with a smile that Falun Dafa has given him a positive new life.
Before he practiced Falun Gong, Mr. Lin suffered from diseases such as hypertension, high blood sugar, as well as liver, stomach, heart, and prostate problems. Because he also suffered from bipolar disorder, his family dared not leave him alone, and someone from his family took care of him 24 hours a day, 7 days a week. His children had to take turns driving him to the hospital 5 to 6 times a week, and he needed to take medicine every 2 hours.
Since he started to practice Falun Gong seven years ago, Mr. Lin hasn't needed any medication, with one exception last year when he had a tooth filled. Before practicing, he couldn't fall asleep, even if he took sleeping pills. After he attended a nine-day Falun Gong lecture series, he slept very well every day. In the past, he couldn't even ride a bicycle, but now he takes his wife on his motorcycle to different scenic spots to tell people the truth about Falun Gong, and to the group study site to study the Fa. He also holds banners under the hot sun for hours at a time; he does weeding and other farm work in the field, and he moves bricks at a construction site.
Seeing his positive changes, Mr. Lin's younger brother also started to practice Falun Gong. Now all the family members are Falun Gong practitioners.
Having benefited from practicing Falun Gong, Mr. Lin is now busy telling people from mainland China who visit the scenic spots in Taiwan, "Please remember that Falun Dafa is good. Quitting the Chinese Communist Party (CCP) will give you a bright future."
Given New Life, No More a Burden on the Family
Ms.Wang Chai, 75, has practiced Falun Gong for over six years. She said, "Upon first looking at the book Zhuan Falun, I loved it. Every day I would hold the book in my hands. Unfortunately I was illiterate and couldn't read it, but later I heard about this Taiwanese Fa study group. To get there I had to change buses twice. My son was worried about me and said, 'Mom, you can't even tell people the address of our family, what if you get lost?' "
After attending group Fa study, Ms. Wang said that it seemed like her wisdom had opened up. Gradually, she was not only able to read the entire book, but she has also learned how to write her name and address. Five of her siblings also started practicing Falun Gong after seeing the changes in her. Every day she goes to the practice site to do the exercises. Usually she takes care of her grandson but when there is a Falun Gong parade or an activity, she always manages to attend.
Ms. Zheng Qiuwei, 81, lives at Nangang. She went to various parks many times looking for Falun Gong practice sites. Finally she found one. She asked, "Is this Falun Gong? Can I still learn it even though I am 80 years old?" The practitioner replied, "You can learn it if you've made up your mind to do so." She was illiterate, couldn't read bus signs, and couldn't tell which direction the bus would go in. Now she can take a shuttle, and then change to a bus to the group study site. She is full of gratitude.
Mr. Chen Zhaosheng accompanied his wife to the study site. He decided to quit practicing TaiChi to practice Falun Gong after he witnessed his wife recovering from a serious illness and also getting rid of her bad temper after starting to practice. He, along with his wife, come to group Fa study every weekend.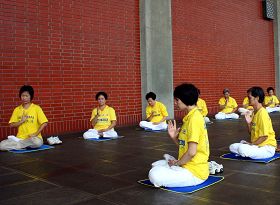 Practitioners at Dr. Sun Yat-sen Memorial Hall every week
The practitioners are happy to take the time to talk to people about Falun Gong and demonstrate the exercises at the National Palace Museum, Shilin Night Market, Dr. Sun Yat-sen Memorial Hall, Shilin official residence, Taipei 101 Tower, and other famous Taiwanese tourist attractions. They express repeatedly how fortunate they are to have found Falun Gong and to be able to live positive new lives. However, the minds of many people, in particular those from mainland China, are still poisoned by the CCP's lies and do not know the truth about Falun Gong. That is why they want to come out to tell people "Falun Gong is good," by sharing their own personal experiences.

Background
Falun Gong, also known as Falun Dafa, is a traditional Chinese spiritual discipline for mind and body. The practice involves slow, gentle movements and meditation. It is easy to learn, enjoyable to practice, and free of charge. Its principles are based on Truthfulness-Compassion-Forbearance. The practice began in China in 1992 and quickly spread by word of mouth throughout China and then beyond. Its beneficial effects in uplifting an individual's physical, mental, and spiritual health, not to mention its positive influence in the community and society as a whole, have been undeniable. In fact, Falun Gong has been practiced by over 100 million people in over 100 countries. The main works of Falun Gong are available in over 30 languages.
On July 20, 1999, the Chinese Communist Party (CCP) launched a brutal persecution of Falun Gong. Since the start of the persecution, Falun Gong practitioners throughout the world have been constantly speaking out about the truth of Falun Gong and exposing the CCP's crimes in a tireless effort to end the persecution.