Press Conference at Parliament: Canadian Government Asked to Expel Chinese Diplomat (Photos)
July 21, 2010 | By Ying Xin
(Clearwisdom.net) On July 14, 2010, more than ten groups held a press conference at the Canadian Parliament and read a joint letter to the Canadian Ministry of Foreign Affairs. The letter asked the Canadian government to declare Liu Shaohua, first-tier secretary in the Department of Education of the Chinese Embassy, as an unwelcome person. The groups charge that Liu gathered and instigated Chinese students and visiting scholars to abuse and attack peaceful demonstrators during Hu Jintao's visit to Canada last month.
Before Hu's arrival in Ottawa on June 23, Liu instigated Chinese students to join a "struggle", according to his recorded speech. He said clearly that the Chinese Embassy would pay for all relevant cost for the students to participate in the activities.
In the press conference, the groups pointed out that the Chinese Embassy, and especially Liu, went beyond their diplomatic mission. Instigating Chinese students and scholars to confront peaceful Canadian demonstrators is a typical example of Chinese Communist Party (CCP)'s interference in Canadian internal affairs.
These groups included One Free World International, Federation for Safeguarding Canadian Values, Chinese Democracy Front, China Rights Networks, Falun Dafa Association, Human Rights Committee of the Chinese Democratic Party, the Interfaith Committee on Restorative Justice, and some Tibetan and Uighur organizations.
Falun Gong practitioners: Chinese Embassy officials take advantage of Canadian democracy and Chinese people's patriotism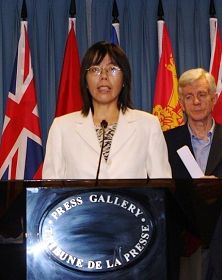 Falun Gong practitioner Gengyu Dai gives a speech in the press conference
Ms. Dai said during an interview, "Liu Shaohua and other Chinese embassy officials take advantage of Canadian democracy and freedom and Chinese people's patriotism to instigate Chinese students and communities, spread hatred and suppress different voices."
She said, "The Chinese Embassy spent lots of money to recruit Chinese students and scholars. Even local Chinese people were offered to stay in luxury hotels one day before Hu's arrival. The Chinese Embassy asked them to get up a little after midnight to occupy good positions to block different voices or messages to Hu."
Mr. Kilgour and Mr. Matas: Repressing democratic protest in Canada is an abuse of the embassy and consular functions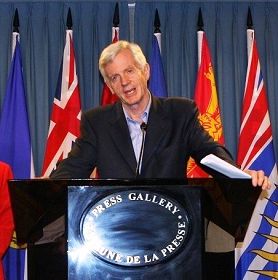 Mr. David Kilgour, a senior politician, gives a speech at the press conference
Canadian senior official David Kilgour and well-known international attorney David Matas wrote a joint letter to the Minister of Foreign Affairs which stated, "Repressing democratic protest in Canada is an abuse of the embassy and consular functions. The Government of Canada allows foreign diplomatic and consular officials into Canada in order to conduct diplomatic and consular functions. Repressing peaceful protest in Canada has nothing to do with these functions.
"The embassies and consulates of non-democratic states should not take advantage of democratic freedoms to attempt to expand their repression abroad. Canada is a democracy and China is not. Because Canada is a democracy, it has freedoms which do not exist in China. China should not be abusing Canadian freedoms to undermine Canadian democracy.
"For the embassy and consulates of China in Canada to abuse democratic freedoms to attempt to repress peaceful protest is more than just disrespect for the values of the host country. Because democracy and human rights are universal standards, this sort of misbehaviour shows disregard for universal values, values, at least in principle, the Government of China has itself accepted."
They also stated, " His [Liu's] efforts led to threats and intimidation against Falun Gong practitioners by the students and other Chinese community members."
A victim: CCP should not be allowed to interfere with Canadian democracy
Ms. Wenzhuo Hou was a Chinese human rights activist in China for 10 years. She helped farmers, laid-off workers, imprisoned human rights defenders, child laborers etc. She said, "On June 23 and 24, I held signs in Chinese to protest during Chinese President Hu Jintao's visit. My sign read, 'Do not be fooled by the Communist Party and learn the truth about China.' I walked into the crowd of students and others who were transported and paid to come to Ottawa by the Chinese embassy. I wanted to convey a message to them. On two occasions, when I showed the sign to them, some of them became very upset. Dozens of people surrounded me to insult and intimidate me. A man, clearly an organizer said, 'Now take collective immediate action.' They together blew horns at me. One young man pushed me hard even when police were around. One old woman swore at me, 'traitor, traitor'. All words were spoken in Chinese. One young man used vicious words threatening and swearing at me.
"The Chinese embassy only brought people here to spread hate and to intimidate and assault human rights activists. When I was with the Chinese embassy organized crowd, I experienced the same type of fear and hostility as when I was thrown into prison in Beijing in 2008 for doing human rights work. Canada should not allow the Communist Party to export its hate propaganda and political struggle in this land. If diplomats are allowed to abuse their power in such a way, it can only harm Canadian democracy."
Chairman of the Interfaith Committee on Restorative Justice: CCP officials are not welcome
In 2005, Mr. Chen Yonglin, the former first-tier secretary in the Department of Politics in the Chinese Consulate in Sydney, defected and exposed the CCP's orders to Chinese embassies and consulates: manipulate Chinese students and communities, control Chinese media and influence foreign country's policy to China; as well as suppress Falun Gong, Tibetans, Uighurs, Taiwanese and Chinese democratic groups.
Mr. Michael McIntyre, Chairman of the Interfaith Committee on Restorative Justice, said, "I'm an advocate for justice issues. I've been asked to speak on behalf of ordinary Canadians. The gentlemen from the Chinese embassy, Mr. Liu, referred to a number of persons as "poisonous persons", and in fact those would be all Canadians, all of us who exercise our freedoms as easily as the air we breathe, are regarded by this person in this regime as "poisonous". One of these poisonous people is Gao Zhisheng in China who had needles driven through his testicles for advocating common freedoms and common forms of justice that every Canadian enjoys. So to this gentleman I would say on behalf of all Canadians that we are very proud to be "poisonous persons" and you are not welcome in this country."