Falun Gong Favored at World Village Festival in Helsinki (Photos)
June 04, 2010 | By a Falun Gong practitioner in Finland
(Clearwisdom.net) The annual World Village Festival in Helsinki, Finland, was celebrated May 29 and 30, 2010. Falun Gong practitioners participated in the festival as in previous years.
Tens of thousands of people attend this multicultural celebration every year. It is the most popular event in Finland. Visitors to the festival were drawn to the calming exercises and beautiful music of Falun Gong. Many asked where they could learn the exercises.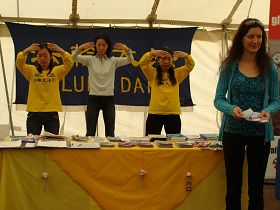 Demonstrating the Falun Gong exercises at the World Village Festival in Helsinki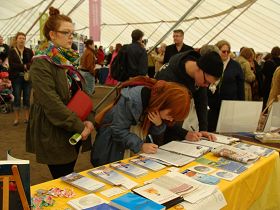 Visitors sign in support of Falun Gong
One boy was particularly fascinated by the introduction to Falun Dafa. He quietly watched the exercises and asked as soon as the demo was over, "Can I join? Can I learn it?"A practitioner gave him information about exercise site and schedule. The boy thanked the practitioner repeatedly and said he would definitely go.
A little girl has been helping at Falun Gong booth for years. She always helps fold paper lotuses and tell people about Falun Gong and the persecution in China. She brought her friends this time. They folded paper lotuses and told the true story of Falun Gong to visitors.
As soon as people found out how Falun Gong has been persecuted over the past eleven years, they signed in support of Falun Gong's campaign to end the persecution. One lady expressed her support immediately after she found out about the persecution. When her husband hesitated to sign, she said firmly, "What's to be afraid of? I'm determined to sign to support Falun Gong."