Additional Information About Ms. Shi Yingchun--Beaten to Death in Liaoning Province Women's Prison (Photo)
June 26, 2010 | By a correspondent from Liaoning Province, China
Name: Shi Yingchun (史迎春)
Gender: Female
Age: 60
Address: Bohai Street, Beining neighborhood, Lianshan District, Huludao City, Liaoning Province
Occupation: Vegetable vendor
Date of Death: March 18, 2010
Date of Most Recent Arrest: August 30, 2008
Most Recent Place of Detention: Liaoning Province Women's Prison (辽宁省女子监狱)
City: Huludao
Province: Liaoning
Persecution Suffered: Electric shocks, sleep deprivation, forced labor, brainwashing, illegal sentencing, forced drug administration, beatings, handcuffs/shackles, imprisonment, torture, force-feedings, extortion, interrogation, detention
Key Persecutors: Li Yajie (warden), Zhou Jie (prison guard), Ji Li (prison guard), Yang Yang, Sun Gang
(Clearwisdom.net) Guards at Liaoning Province Women's Prison ordered inmates to abuse imprisoned practitioner Ms. Shi Yingchun. The result was that nine prisoners beat Ms. Shi to death.
Ms. Shi, 60, from Huludao City, Liaoning Province, was imprisoned for distributing Falun Dafa fliers. Her prison number was 1910 in Liaoning Province Women's Prison.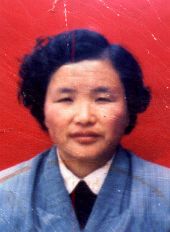 Ms. Shi Yingchun
On the morning of March 17, 2010 while prisoners were working in the workshop, Ms. Shi was called to the office by section chief Liu Qili, who tried to persuade Ms. Shi to "transform." Ms. Shi was called to the office again in the afternoon by guard Zuo Xiaoyan for the same purpose.
Ms. Shi refused to "transform," and Liu and commander Yang Yang ordered prisoner Gao Lan to strictly guard Ms. Shi and force her to do so.
Gao subsequently led prisoners Huang Yeqing, Du Xiuyun, Lu Jing, Wang Xiujuan, Li Lili, Wang Dan, Yao Yuanyuan, and Fang Lili, to beat Ms. Shi in Room 404, from 11:00 p.m. to 2:00 a.m. After the beating Ms. Shi was barely alive. They dragged her into a different room and poured water on her. At 2:30 a.m., Gao and commander Yang took Ms. Shi, who was unconscious, to the hospital inside the prison. She was rushed to an outside hospital because her situation was beyond the capabilities of the prison hospital. Ms. Shi died at the hospital. The forensic pathology report stated that she suffered internal injuries.
Prisoner Gao Lan was a tour guide before she was imprisoned. Guard Zuo appointed her as would-be executor. She verbally and physically abused other prisoners with the consent of the guards. Criminal prisoners Yao Aiqun and Liu Yalan killed themselves after Gao abused them.
On March 18, 2010, the prison administration called the Ms. Shi's family to the prison. After they arrived, the family was told that Ms. Shi had died from illness.
Officials involved in the persecution:
Zuo Xiaoyan, guard at Liaoning Province Women's Prison: 86-24-86200055 (Office), 86-13804040355 (Cell)
Yang Yang, director of Liaoning Province Women's Prison: 86-15698806333 (Cell)
Fang, first name unknown, political commissioner of Liaoning Province Women's Prison: 86-15698806599 (Cell)
Previous report: http://www.clearwisdom.net/html/articles/2010/5/5/116689.html