Mr. Li Fubin Persecuted for Eight Years in Lanzhou Prison (Photos)
May 31, 2010 | By a correspondent from Gansu Province, China
Name: Li Fubin(李福斌)
Gender: Male
Age: 60
Address: 28 Zhongshan Road, Chengguan District, Lanzhou City
Occupation: Retired
Date of Most Recent Arrest: February 10, 2002
Most recent place of detention: Lanzhou Prison ( 兰州监狱)
City: Lanzhou
Province: Gansu
Persecution Suffered: Detention, forced labor, physical restraint, solitary confinement, beatings, sleep deprivation
(Clearwisdom.net) Mr Li Fubin, retired from Donggang Food Factory in Lanzhou City, Gansu Province, continued to practice Falun Gong after the persecution began and acted in line with Truth-Compassion-Forbearance. Police arrested him in February 2002, and he still bear scars on his wrists from the handcuffs. He was sentenced to eight years imprisonment, taken to Lanzhou Prison, and suffered unrelenting persecution.
By 2007, as a result of the ill-treatment, Mr. Li suffered from high blood pressure, recurring heart problems, and varicose veins. His legs were so swollen he could not walk. On September 18, 2008, he was locked in solitary confinement again, this time for 73 days, until November 29. During that time, he was cruelly beaten, forced to wear handcuffs and shackles, refused the physical comforts of food or blankets, and not allowed any family contact. Later he was put into solitary confinement again for10 days.
The following is some of what Mr. Li Fubin experienced, especially in regard to his eight years in Lanzhou Prison: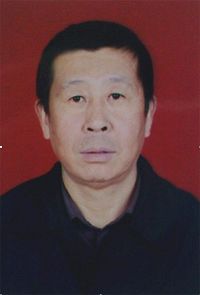 Mr. Li Fubin
1. Persecuted for Appealing for Justice
On the first day of the 2009 Chinese New Year, I went to Beijing to appeal for justice for Falun Gong. While unfolding a banner in Tiananmen Square, Beijing police arrested me and took me to Qianmen Police Station. About 50 or 60 practitioners were locked in a cage about 12 square meters and held there all day. At about 10:00 p.m., representatives from the Beijing Office of Lanzhou City picked me up, and officers of the Lanzhou City Public Security Bureau later took me to Taoshuping and detained me for seven days before I was released.
On December 26, 2000, I went to Beijing to appeal a second time. Officers from Lanzhou City Public Security Bureau arrested me as I got off the train and detained me in Longxi County Drug Rehabilitation Center, then transferred me to Taoshuping Detention Center. They did not release me for 11 days. At home, I could not live a normal life since Community Residential Committee members and local police constantly harassed me. My house was being demolished at the time, and I was to be relocated, but because I lived in a different area from my registered address, officers from the local police station refused to let me live there, using the excuse that I practiced Falun Gong. I was forced to move from one place to another for over a year.
2. Tracked, Arrested, and Sentenced to Eight Years of Imprisonment
On February 10, 2002, I was followed by police again. Officers from Chengguan and the Qilihe Branch of Lanzhou City Public Security Bureau, Lanzhou City Public Security Bureau, and Gansu Provincial Public Security Department got together and arrested me. They handcuffed me, chained my feet, and secured me against a radiator for the night. The next day I was taken to the Xiguoyuan Detention Center and held there for seven months, during which time I was forced to work 16-17 hour days, 7 days a week.
On September 17, 2002, when I was being transferred to Lanzhou City 2nd Detention Center, the guards tried to handcuff me but I would not cooperate. Several guards threw me to the ground and handcuffed me by force. While in the center, I had to pick Daban seeds for more than ten hours a day, every day. Because I resisted the persecution, a guard named Chen planned to subject me to the Chaining Torture, where a person's shackles and handcuffs are chained together at the front so they cannot straighten up and can only roll around. However, he was not able to make that a reality because of my resistance with righteous thoughts.
After been locked up for 19 months, in December 2003, they sentenced me to eight years imprisonment for "organizing to undermine law enforcement." In March 2004 when they were getting ready to take me to Lanzhou Prison, I refused to cooperate and wear handcuffs and shackles. Headed by Chen Xiaogang, about eight guards beat me to the ground and put on the shackles, which weighed about 20 pounds.
3. Tortured in Prison
Upon arriving at the prison, guards threw me into solitary confinement. Even though it was now winter, they told inmates to strip off my clothes and would not give me any new ones. They also shaved off all my hair. I was held there for 15 days. Once they demanded I fill out a psychological form. When I refused, a life-long inmate whipped me with a one-inch-thick leather strap. After beating me down to the floor, the inmate dragged me around. I was not able to walk for several days. Every day, about four or five hardened inmates followed me, constantly watched me, and forced me to peel garlic for more than ten hours each day.
Six months later, because I practiced the Falun Gong exercises in my cell, guards Wang Changlin and Zhao tried to put me back into solitary confinement. I shouted, "Falun Dafa is good, Truth-Compassion-Forbearance is good!" The guards covered my mouth and tried to keep me from shouting, but I kept on. Guards and an inmate named Ma beat me with wooden boards about my face, head, and body. After knocking me senseless, they handcuffed and shackled me, then threw me into solitary confinement. While there, the guards often beat me and cursed me. Hardened inmate Xu violently stepped on my leg, and I developed varicose veins. My leg was severely injured and has still not recovered.
After getting out of solitary confinement, I did not greet a guard as I was rushing upstairs to take care of an elderly inmate. Guard Du punched and kicked me. My toenail came off and kept bleeding as he beat me with a metal table. Guards and inmates in Lanzhou Prison often beat practitioners for no reason. According to their regulations, an inmate is first put in a prison team for two months, then moved to a prison ward. I was in a team for over eight months before being moved to a prison ward.
4. Confined in a Small, Dark Room
After being moved to the 4th ward, I was locked in a small room on the fourth floor. I was not allowed to meet other people nor allowed to go downstairs. I did not see the sun for a long time and was often harassed, tortured, and mentally abused by the inmates.
In October 2005, Lanzhou Prison began a brutal push to persecute all practitioners imprisoned there. They demanded we write the "three statements" promising to give up Falun Gong practice. Those who refused would be sleep deprived for a week or even several weeks straight. Furthermore, they would send seven or eight people to torture those practitioners, some suffering for as long as several months, some even several years. Some of them are still imprisoned in small rooms.
As the result of the physical abuse I suffered, I sustained many injuries to my heart, lower back, legs, stomach, and other internal organs. Because I did not follow the guards' demands, I spent very long periods of time in the small, dark room with no sunshine and no visitors. My physical and mental health were severely harmed. My legs swelled so much that I could not walk.
5. Tortured for 73 Days in Solitary Confinement
I was transferred from the 4th ward to the 7th ward on June 20, 2007. In the 7th ward, I had to work arduously for extended periods, weaving carpets for more than ten hours per day. They also demanded I write reports of my thoughts. When I refused to cooperate, the persecution team, led by guard Liu Dun and including guards Sun Yuhui, Sha Li, and Liu Wenzhen, launched a comprehensive persecution of practitioners in the entire 7th ward. I was kept under strict control, which meant I was followed and watched by inmates 24 hours a day and not allowed to speak to other practitioners.
When practitioner Luo Xiufeng wrote a solemn statement in March 2008, the guards handcuffed him to a concrete utility pole outside all day, everyday, for one year. Because I spoke with Luo Xiufeng, I was tortured, too. They again put me in solitary confinement on September 17, 2008. While there, I was not allowed to sleep and had to endure the Chaining Torture. Guard Liu Wenzhen specially ordered inmates to not give me any clothes or blankets and also to remove my food. No matter how cold it was at night, they did not give me any blankets. I was in there for 73 days.
When I was finally allowed out, I was a bag of bones and could not straighten up or walk. A few days afterwards, another practitioner gave me a piece of paper with one of Master's articles, so the guard handcuffed me and locked me up again. I was not allowed to sleep for ten days and was monitored until the day I was released. They took away all the clothes my family brought me and did not return them until I was about to be released.