New York: A Rally and Parade Held to Promote the Trend to Quit the Chinese Communist Party (Photos)
October 15, 2009 | By Minghui reporter Caiju
(Clearwisdom.net) On October 11, 200 people held a rally and parade in Chinatown, Brooklyn, to support the 61 million Chinese that have withdrawn from the Chinese Communist Party (CCP). Dozens of Chinese people quit the party at the rally.
The Divine Land Marching Band led the parade. Participants held banners that passed on information about quitting the party. Falun Gong practitioners played waist drums in the parade. The activities drew the attention of many Chinese people, who took photos and accepted materials.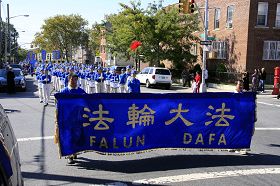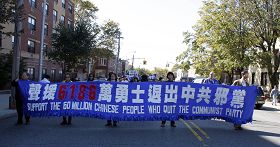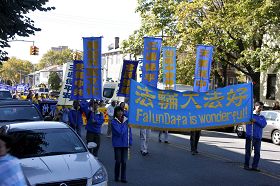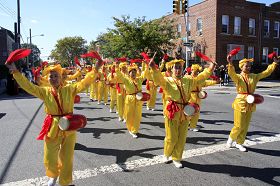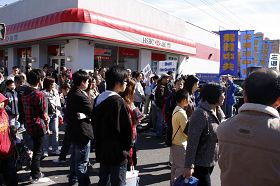 Several guests spoke at the rally, including Chen Yongming, the gold medal winner in the NTDTV Chinese Culinary Competition, and Wang Zhiyuan, the chair of the World Organization to Investigate the Persecution of Falun Gong (WOIPFG).
Mr. Chen told about his own experiences of cultivating Falun Gong and how he has benefited from it. Mr. Wang told the audience that 61 million Chinese people have already quit the CCP and called upon people to recognize the evil nature of the CCP and quit. He also warned those still involved in the persecution that the WOIPFG will eventually bring all those responsible to justice.
Many Chinese people quit the CCP at the rally. A gentleman from Mainland China equated love for his country (China) with love for the CCP. An attendee at the rally told him that the Chinese people have a long history and a rich culture, that communism came from the west, and that the CCP has enslaved the Chinese people for many years. They talked for a long time. Finally the gentlemen realized that he was wrong and he quit the Young Pioneers.
Luska from a former communist country encouraged Chinese people to quit the party and see clearly how people suffer under its rule.