Taiwanese Professor and Former Dean of College of Liberal Arts at Huafan University Anticipates the 2008 Chinese New Year Spectacular in Boston (Photo)
January 11, 2008 | By a practitioner in Boston
(Clearwisdom.net) Dr. Chou Chun-tang, former dean of the College of Liberal Arts at Huafan University, attended the 2007 Chinese New Year Spectacular at the Boston Opera House for the first time and felt strongly about the renaissance of Chinese traditional culture. He anticipated seeing the four shows of 2008 Chinese New Year Spectacular in Boston Opera House and enjoying Chinese traditional arts again.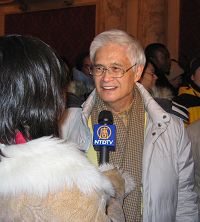 Dr. Chou Chun-tang is interviewed at the Boston Opera House
Dr. Chou said that Chinese and western culture were distinct. Western culture emphasizes the individual in performance, such as ballet, whereas Chinese traditional culture emphasizes the integrity of human beings and nature. Human beings cannot be separated from nature, but follow the principles of nature. On stage, Chinese culture is depicted with long sleeved, graceful costumes, and elegant dancing.
Dr. Chou continued by saying that the Divine Performing Arts promotes Chinese traditional culture and has audiences who enjoy the purity, grace and sincerity of Chinese traditional culture. He gave examples of last year's show "Mulan" and "The Loyalty of General Yue Fei" in the Chinese New Year Spectacular, describing them as high-caliber performances. He felt that Chinese people should be proud and that this depiction of traditional culture exemplified the Chinese peoples' confidence in facing the challenges of life.
Dr. Chou indicated that one could feel various sea tides, bird voices, and wind sounds in the ancient Chinese music. Chinese art follows nature and does not stress an individual's notions. In the Divine Performing Arts shows, one can enjoy such tunes advocating natural beauty.
In the Divine Performing Arts, Dr. Chou noticed the pure hearts and graceful gestures of the performers, and he believed that the audience could understand their performances without a deep knowledge of the arts. As the Chinese traditional culture declines in China and Taiwan, Dr. Chou said he appreciated the performers for their showing of Chinese traditional dance and arts.
Dr. Chou graduated from Department of Chinese Language, Taiwan University. He was former liberal arts editor for a couple of magazines. He obtained his Ph.D from Washington University in the US. He was a professor at Cornell University in New York and Huafan University in Taiwan, and director of the Eastern Humanities Thought Research Institute at Huafan University. He specializes in Chinese liberal arts, American poem, Confucianism, Daoism, Warring state thought, and archaeological investigation. He has more than forty published papers.