RFA: Human Rights Torch Relay Gains Support among Chinese People (Photo)
(Clearwisdom.net) The Olympic torch is a symbol of the Olympic Games. Recently, various groups around the world have launched a Human Rights Torch Relay for human rights, in an effort to raise people's awareness of the current human rights violations in China.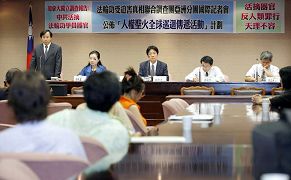 The Coalition to Investigate the Persecution of Falun Gong (CIPFG) Asia Branch held a press conference on June 14 in Taiwan's Legislative Yuan
RFA reporter Shi Shan reported on July 11, 2007, that the Human Rights Torch Relay was initiated by the CIPFG, and has gained support from human rights organizations in countries in Europe, North America, and Asia, including Hong Kong and Taiwan. The Nationwide Alignment Against Violence, established by the Chinese Freedom and Democracy Party, said that the organization will do its utmost effort to participate in this activity in order to raise people's awareness of human rights violations and persecution in China.
Many people inside China respond positively to the project
The President of the Chinese Freedom and Democracy Party, Pan Qing, who is currently living in Australia, said that they will take part in all the related activities .
"Our 'Alignment of Protecting Human Rights and Resisting Violence' officially expresses our position: we will take part in the Human Rights Torch Relay all the way, and we hope through this event to call on everyone around the world to pay attention to the human rights conditions in China."
Yang Kaiwen, who lives in Canada, said that since the relay was launched last week, many people in China have expressed their support.
"In the beginning, we only wanted to highlight the human rights issue through an overseas operation. But we have noticed that our activity has generated positive responses from many people inside China that want to be part of the Human Rights Torch Relay."
Ms. Zhou from Shanghai said that if the Chinese people's human rights cannot be guaranteed, the Olympic Games will be meaningless and not an honor for the Chinese people.
"I hope [the human rights torch] will be passed to me. Let's work hard so that the majority of people who want human rights will be able to see it."
Heilongjiang farmers say they want human rights, not the Olympics
Inside China, a group of farmers who lost their lands to the government in Fujin County, Heilongjiang Province, were the first to voice their concerns: they want human rights but not the Olympics. They were plunged into misery and destitution because their land was taken away from them without compensation. A farmer, Mr. Li, from Fujin County said that many farmers signed a public letter. "We have no interest in the Olympics. Our human rights have been trampled, why bother with the Olympics? We do not want the Olympics, but human rights."
Tang Boqiao, who is in charge of "China Peace" headquartered in New York, said that for Chinese people whose human rights have been seriously violated, it is understandable that they would want to exert pressure on the authorities for taking advantage of the Olympics. "It is a good thing for Chinese people to host the Olympics to begin with, but the CCP regime promised international organizations and the International Olympics Committee to improve human rights. Five to six years have passed since China's application for the Olympic Games, and human rights conditions have not been improved. Instead, they have gotten worse. If the authorities do not stop persecuting a group, the group can protect itself. It is not wrong to hope to change the situation, in particular in such a peaceful way. I feel it is praiseworthy."
Tang Boqiao revealed that the CCP regime is very nervous that some overseas organizations have initiated activities to boycott Beijing's Olympics. Currently, some international human rights organizations such as Reporters Without Borders have also started to join in related activities.
The CIPFG, composed of lawyers and human rights workers from many countries, said that the starting point for the Human Rights Torch Relay will be in Europe. It will cover five continents, pass through dozens of cities, and after several months will end in Asia. The route and schedule for the torch relay will be released just prior to its official launching.