Holiday Wonders Audience Members: "We all descended from Heaven" (Photos)
(Clearwisdom.net) "Immortal beings assemble in heaven to exchange greetings with one another. Winged horses suddenly interrupt the gathering however, heralding the arrival of a divine visitor from beyond the clouds. The hallowed visitor invites the multitude to descend to the earth with him. Those who accept the summons are sent off joyously in a grand farewell." This prehistoric scene is portrayed in the first piece, "Descent of the Celestial Kings" in Holiday Wonders. Many audience members said that this piece was most impressive and inspiring to them.
June Ptrozanie is a nurse from New Jersey. She said, "My favored piece was 'Descent of the Celestial Kings' because it gave me a sense of heaven and I felt that I also came from there."
"I also liked the solo performance of the singers because the lyrics were very touching and inspired me to realize that belief is very important. I also liked 'Drummers of the Tang Court' and all those dancing pieces. In fact, I liked every piece." Ptrozanie added.
David Clark is an accountant in New York City and attended the Holiday Wonders last year. He said that the show, especially the first piece "Descent of the Celestial Kings," was very inspiring. He also liked "Ladies of Manchu Court" for its splendid costume and graceful dancing movement.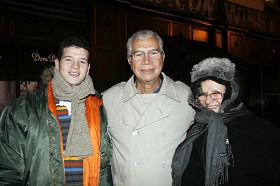 Physician Sonia Gallimore and her husband Jerry attended the show with their grandson. Sonia said that "Descent of the Celestial Kings" was her favorite piece.
Sonia Gallimore is a physician and her husband Jerry is a priest. They lived in Singapore for seven years and love Chinese culture. They came to New York City with their grandson for the Christmas holiday and heard about the show from their Singaporean friends. They said that the show was splendid. Sonia said that her favorite piece was "Descent of the Celestial Kings." "For some reason, I just liked it and I could sense the spiritual connotation of this piece." Sonia said. When they learned that the Holiday Wonders will visit Florida, the couple said that they would go to attend the show.
The couple said that they love Chinese instruments. "You can hear performances of western instruments everywhere, but only here can you hear the splendid performance of Chinese instruments. John Gallimore, the grandson, said that he loved "Drummers of the Tang Court" and would recommend the show to all his friends.