Governor General of Canada Sends Greetings to Divine Performing Arts on Eve of World Tour (Photo)
(Clearwisdom.net) The Divine Performing Arts company will start its global tour with performances in New York and Baltimore on December 18, 2007. The organization hosting the Holiday Wonders received the following congratulatory letter from Michaelle Jean, Governor General of Canada.
Michaelle Jean, Governor General of Canada
Below is the text of her letter:
"It is a pleasure to send my greetings to the organizers and guests of the New Tang Dynasty Television Chinese New Year Spectacular.
All across this country, Canadians of Chinese descent, their families and their friends will be celebrating this New Year, the Year of the Pig. It is a time of renewal, of hope and of vision. It is also a time to celebrate Chinese culture and history with all Canadians. Your story is our story, and I encourage you to share it with your fellow citizens and to take every opportunity to enliven our society with your unique contributions.
Each person--woman, man or child--can take away from this day a sense that we are creating a better Canada, where people can rejoice in their distinctiveness, while at the same time being a part of a larger community.
I share your wish for peace, prosperity and happiness in the year to come.
Michaelle Jean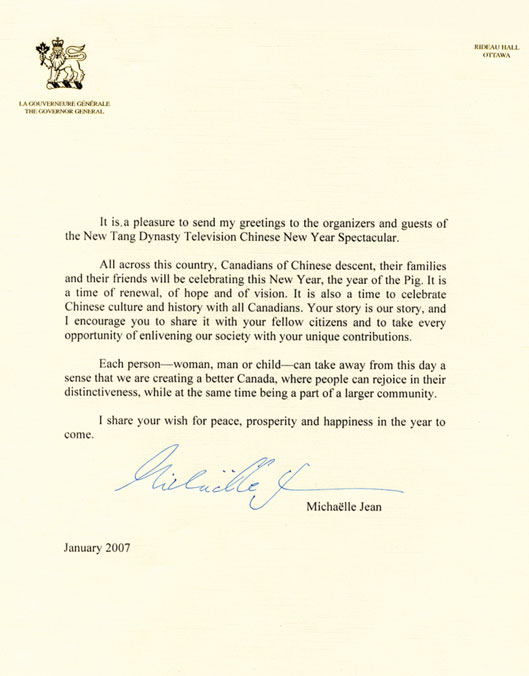 Michaelle Jean, born September 6, 1957, in Port-au-Prince, Haiti, is the current Governor General of Canada. Jean was appointed by Queen Elizabeth II, on the recommendation of Prime Minister Paul Martin, to succeed Adrienne Clarkson and become the 27th governor general of Canada since Confederation in 1867. Prior to this, Jean was a journalist and broadcaster on Radio-Canada and the CBC. She is the first person of Afro-Caribbean heritage to serve as Governor General, the third woman, and the second immigrant.