Chia-Yi, Taiwan: Practitioners Hold Relay Hunger Strike Protesting the CCP's Monstrous Acts (Photos)
March 23, 2006 | By a practitioner in Taiwan
(Clearwisdom.net) On March 21, 2006, Falun Gong practitioners from Chia-Yi Area, Taiwan staged a hunger strike in Chia-Yi Park strongly protesting the Chinese Communist Party's (CCP) brutal persecution of Falun Gong, supporting the nine million courageous people who have renounced the CCP and exposing the CCP's outrageous crimes of organ removal from living Falun Gong practitioners in the Sujiatun Concentration Camp. Reporters from many media outlets came to conduct interviews. Falun Gong practitioner Professor Ai, from National Chungcheng University exposed to a radiovision TV station the CCP's brutality.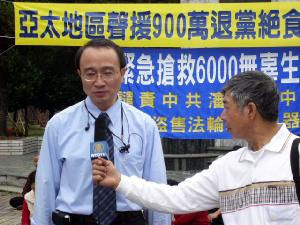 Professor Ai from National Chungcheng University recounts the CCP's atrocities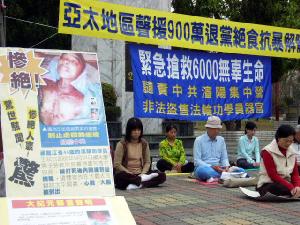 Practitioners in Chia-Yi area protest the CCP's murderous and barbarous acts
At 8:00a.m., Falun Gong practitioners came to the park to make preparations. Practitioners a sit-in protest, sitting on the ground, silently sending out their strongest protest toward the CCP. The activity started at 9:00 a.m. and ended at 9:00 p.m. The police station dispatched officers to keep order all along.
The coordinator of the activity, Mr. Chen, expressed that since the spread of the Nine Commentaries on the Communist Party, the CCP's wicked nature has been thoroughly exposed. As of today, it has inspired nine million people to withdraw from the CCP and its affiliated organizations. During its rein, this evil regime has caused the unnatural deaths of 80 million Chinese people. In each of its political movements, it has brazenly killed, especially Falun Gong practitioners, using all means imaginable. Recently, its internal personnel could not bear the torment of their conscience, and stood up to expose the incident of killing Falun Gong practitioners, removing their organs and cremating their bodies to destroy the evidence at the Sujiatun Concentration Camp in Shenyang City. This even more clearly shows that the CCP has been running rampant in its actions. Falun Gong practitioners and all righteous people around the world continue sit-in activities to resist the tyranny. The purpose is to awaken the world's people to see through the CCP's true nature, and call upon the international community to take immediate action to investigate and stop the CCP's mass killing, and urgently rescue the innocent practitioners whose lives face imminent danger.