United Kingdom: Introducing Falun Gong at the Birmingham Art Festival (Photos)
(Clearwisdom.net) From the 9th to the 11th of September, Birmingham ArtsFest 2005 was held in the Birmingham city centre, UK. Hundreds of professional art groups in the UK participated in various performances such as music, dance, arts and crafts. The world famous Birmingham Royal Ballet and the Birmingham Symphony Orchestra were also among the entertainers. About one hundred thousand people were estimated to have attended the festival. For the fourth year in a row, the UK Falun Gong group was invited to perform at the annual arts festival.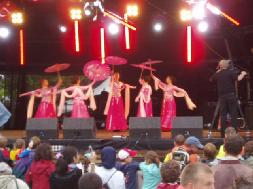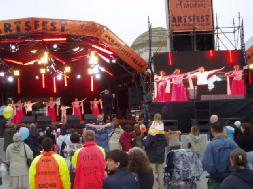 The practitioners' dances and exercise demonstration were very popular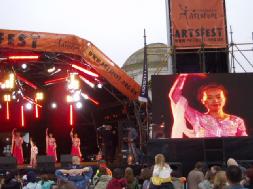 The practitioners' on-stage exercise demonstration
Considering the large number of artists participating, the organizing committee set up a few side stages aside from the main stage at Centenary Square in the city centre. At 4 pm on Saturday the 10th of September, seven female Falun Gong practitioners in traditional Chinese costumes demonstrated the five sets of exercises on the main stage, followed by their self-created dance "Flying Law Wheels." When Falun Gong music played, the whole square seemed to be immersed in an atmosphere of peace and harmony. The crowd watched intently. The special charm of oriental art touched the audience. Lasting nearly half an hour, the performance won warm applause.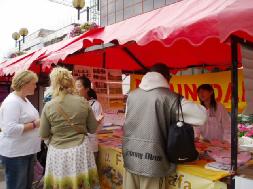 People come to the Falun Gong stand in succession for more information
The ArtsFest provided participating artists with free stands. For two days from the 10th to the 11th of September, Falun Gong practitioners distributed leaflets to introduce Falun Gong to tourists. While passing the stand, some people commended the practitioners' performance, and some inquired about where to get the Falun Gong music. Numerous local residents asked for details of practice sites, hoping to learn the Falun Gong exercises.
Source http://clearharmony.net/articles/200509/28806.html