BOOK INTRODUCTION
Since the persecution of Falun Dafa began on July 20, 1999, practitioners in China have remained unmoved and resolute on their path of cultivation. For the past five years, while opposing the persecution, they have legitimized and safeguarded the reputation of Falun Dafa and allowed millions of Chinese people to understand the true nature of the persecution. Since the publication of Falun Dafa founder, Mr. Li Hongzhi's Lecture at the U.S. Falun Dafa Experience Sharing Conference in Florida on Dec. 29, 2001, Falun Dafa practitioners in China have joined their fellow practitioners in more than 60 countries to fulfill the three tasks of studying the Fa, sending forth righteous thoughts, and clarifying the facts about Falun Dafa to the world. In this process, they have gained innumerable valuable experiences in improving their moral character, exposing the truth about the persecution, introducing people to Falun Dafa, and establishing great virtue.
(Clearwisdom.net) Bo Xilai, Minister of Commerce of the People's Republic of China (PRC), is accompanying the Chairman of the PRC to visit Canada; Xia Deren, Mayor of Dalian and Deputy Governor of Liaoning Province, is expected to visit Canada on a separate trip next month. Both Bo Xilai's and Xia Deren's names are on the list of 45 perpetrators of torture and other crimes against humanity against Falun Gong practitioners in China, submitted to the War Crimes and Crimes Against Humanity Program in September 2003 and January, 2004. On August 26, the Falun Dafa Association of Canada held a press conference and called for the Canadian government to deny Bo and Xia entry into the country. Mr. David Kilgour, Canadian senior Member of Parliament and former Chairman of Foreign Human Rights Committee in Parliament participated in the press conference.
(Clearwisdom.net)
On August 13, 2005, tourists from all over the world were stunned by the anti-torture exhibition on Frankfurt's Roman Square on International Youth Day, which exposed the Chinese Communist Party's (CCP's) persecution of Falun Gong practitioners.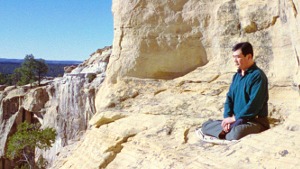 Master Li quietly watching the world from amidst the mountains after leaving New York following July 20th, 1999. (Published January 19, 2000)