(Clearwisdom.net) On June 16, 2005, after enduring brutal persecution, Ms. Gao Rongrong, 37, died in the emergency room of China Medical University Hospital, located in Shenyang City, Liaoning Province. According to Clearwisdom website statistics, Ms. Gao Rongrong is the fifty-fourth Falun Dafa practitioner to be tortured to death in Shenyang City.
(Clearwisdom.net) Recently, former Chinese police officer Hao Fengjun defected to Australia with a large amount of smuggled secret documents. The secret files indicate that Chinese communist regime operates espionage network to spy on Falun Gong practitioners outside China. After media revealed these documents, high-ranking officials of the Canadian government have expressed their concerns. The media in Canada are paying close attention to the situation, and to the persecution encountered by the Falun Gong group.
(Clearwisdom.net) On June 13 2005, the Falun Dafa Association of Taiwan held a press conference at the Legislative Yuan to "Call Upon the Singapore Government to Not become Accomplices of the CCP." The practitioners were protesting the Singapore government's unreasonable barring of Taiwanese Falun Gong practitioner Nie Shu-wen from entering its territory. After the press conference, the association went to the Ministry of Foreign Affairs to deliver an appeal letter which urged the Ministry to safeguard Taiwanese citizen's rights and send a grave protest to the Singapore government.
(Clearwisdom.net) On June 11, 2005, the day before the 2005 European Falun Dafa Experience Sharing Conference, practitioners from all over Europe came to Stockholm to participate in various activities promoting Falun Gong, and let people know more about the peaceful practice and the vicious persecution taking place in China.
~ Other Community Events ~
~ Falun Dafa in the Media ~
~ News & Events ~
~ Falun Dafa in the Media ~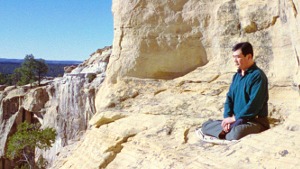 Master Li quietly watching the world from amidst the mountains after leaving New York following July 20th, 1999. (Published January 19, 2000)