Epoch Times: The Falun Gong Phenomenon (Photos)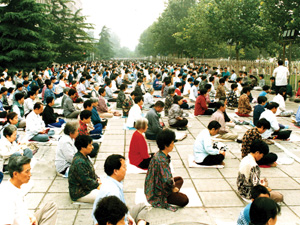 1998: 2,000 people at a typical morning practice site in Beijing (www.faluninfo.net)
The spiritual practice Falun Gong has found itself at the center of the defection of Chinese diplomat, Mr. Chen Yonglin, the former Chinese "610" security officer, Mr. Hao Fengjun, and a third unnamed Chinese policeman. All three men state they gave up their positions because they could no longer support the Chinese Government's unwarranted persecution of peaceful Falun Gong practitioners inside and outside of China. The question remains: what is this practice that has been so harshly persecuted by the Chinese Communist Party (CCP)?
Practitioners of Falun Gong categorize it using the Chinese term "xiulian", or "cultivation practice"- the traditional Chinese method of refining the body and mind through slow-moving exercises and adherence to a particular moral code.
In 1949, when the CCP took control of China, it violently enforced its atheist ideology and sought to bring an abrupt end to ancient traditions, including the various forms of "xiulian". Slapped with the label of "superstition", the suppression of these ancient practices was brutal, and they eventually disappeared.
However, the 1970s saw a re-emergence of such practices under the banner of "qigong", which can be seen in many varied forms in Chinese parks in the early morning. Due to its health benefits, qigong quickly became popular, while at the same time being accepted or even practiced by communist officials.
It was in this environment that the founder of Falun Gong, Mr. Li Hongzhi, introduced the practice of Falun Gong to the Chinese public in 1992. Mr. Li explains in his lectures that the term "qigong" merely covers the physical aspect of "xiulian", and that the real benefits come only when an individual pays attention to improving his or her character and becoming a less selfish person. This is achieved by adherence to the principles of Truth, Compassion and Forbearance, the central tenets of Falun Gong. It is the moral teachings of Falun Gong that practitioners claim set it apart from other qigong practices.
Mr. John Deller, who works for a Sydney environmental company, says he felt inner peace through practicing Tai Chi for twenty years, but he found that Falun Gong had a greater impact on his life. "I actually found Falun Dafa exercises and looking within with those three principles... much more transforming- especially in following forbearance," said Mr. Deller. "[I] can't experience life where everything happens to me just how I want it. So that ability to endure calmly and to look within myself and not react against others when difficult things occur has been very beneficial."
Since it was released to the public in 1992, Falun Gong rapidly gained popularity in China, reaching up to 100 million practitioners within five years according to government estimates at the time. The practice has since spread to over 60 countries.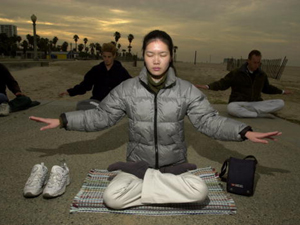 Cindy Lee and others practices early morning Falun Dafa exercises at Santa Monica State Beach. (David McNew/Newsmakers)
Practitioners describe Falun Gong as a spiritual practice that does not have the formalities and institutions of orthodox religion. They also stress they live completely normal lives within society, that no membership lists are kept and that the group is only loosely coordinated, without any form of central organizational structure.
"It is organized enough so people have somewhere to learn, like I learned in Darling Harbour," says Mr. Deller. "I'd go and somebody would bring the exercise music and someone would obviously manage for us to be there- so that level of organization," he said.
"In my understanding, in China it was also loosely organized just enough to get people together so they could learn and share their understandings in reading Mr. Li Hongzhi's teachings."
However, with the persecution in China, Mr. Deller says practitioners have the common goal of seeking a peaceful end to their fellow practitioners' suffering for their beliefs. "From the persecution onwards practitioners have really come together in a very loose cooperative manner really to help people understand what's happening to Falun Gong practitioners in China."
According to the Falun Dafa website, the main principles of Falun Dafa are explained entirely in the book Zhuan Falun, and in the beginner's text, Falun Gong, both written by Mr. Li. The exercises are taught for free by volunteers, and there is no cost to download the books from the Internet.
Practitioners report significant health benefits and inner peace from doing Falun Gong, and talk of unique energy sensations while performing the exercises.
Falun Gong literature often cites research by Dr. Lili Feng, Associate Professor at the Baylor College of Medicine in Houston, who has published scientific findings that Falun Gong exercises significantly boost the immune system. Her paper concludes: "Our studies suggest that Falun Gong practice alters immunity, cell death, and protein metabolic rate in a systemic fashion. Our findings further suggest that a new paradigm is urgently needed to understand the holistic link between human mind, body and spirit."
Professor Feng cites independent health surveys by five medical institutions in China. One conducted in Beijing concluded that Falun Gong delivered significant health benefits to 98% of its practitioners.
For health benefits or peace of mind, Falun Gong practitioners come to the practice for a wide range of reasons and from many diverse backgrounds. While the teachings of Falun Gong are rooted in Chinese culture, practitioners say its principles are universal.
Source http://www.theepochtimes.com/news/5-6-18/29565.html