Richmond Times Dispatch Reports on Free Falun Gong Sessions Offered in Monroe Park (Photo)
(Clearwisdom.net) Richmond Times Dispatch published an article entitled, "Giving thought to meditation" authored by Maria Howard on June 15, 2005. The article introduced free Falun Gong sessions offered in Monroe Park.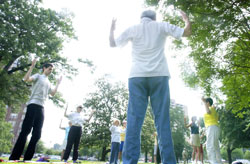 Participants gain peace of mind in a quiet setting during an introduction to Falun Gong at Monroe Park. The sessions are part of an effort to bring positive activities back to the downtown park.