(Clearwisdom.net) On September 23, 2005, Mr. Li Yequan, a Dafa practitioner from Daqing City, Heilongjiang Province was illegally arrested. Li Yequan immediately began a hunger strike, demanding to be released without any charges. However, he was brutally persecuted through forced-feeding. His esophagus was ruptured from repeated forced-feeding, and he frequently loses consciousness from the unbearable pain. His health is in a critical state.
(Clearwisdom.net) Falun Gong practitioner Mr. Gong Xinan, 66 years old, lived in Liuhe Village, Liuhe Town, Qichun County in Hebei Province. In October 1999, after the persecution started, he went to Beijing to appeal for the right to practice Falun Gong. He was illegally arrested and held at the Wuzhuang Detention Center in Qichun County for six months. He was released after the authorities extorted 1,500 yuan from him. Late at night on January 25, 2001, police officers Chen Hanjiang and Zhang Sheng arrested him at home and tortured him savagely at the police department. They stripped him naked in the freezing winter. Then they forced him to take a cold shower and turned an electric fan on him. He was later sent to the county detention center and detained for another six months. The brutal persecution and abuse by the Chinese Communist Party mentally and physically traumatized Mr. Gong. He passed away on June 28, 2003.
(Clearwisdom.net) I had an unsuccessful marriage. I also experienced the pain of being separated from my son. It was very hard for me to raise my daughter alone, especially in view of her eccentric and irritable personality. On top of all this, my body was tormented by numerous diseases, and I lost all hope toward life. Many times I thought of ending my life, but for the sake of my daughter, I felt I had to continue living in this human world.
~ Deaths ~
~ Rallies & Protests ~
~ April 25 Events ~
~ Other Community Events ~
~ April 25 Events ~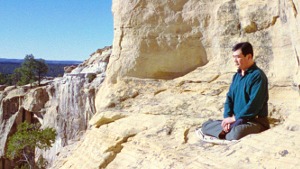 Master Li quietly watching the world from amidst the mountains after leaving New York following July 20th, 1999. (Published January 19, 2000)