Current Situation of He Wei, Son of Practitioner He Huajiang, Who Was Tortured to Death (Photo)
(Clearwisdom.net) He Wei's mother Li Chuanqi was a driver at the Sixth Oil Refinery in Daqing City, Heilongjiang Province. She died of intestinal cancer in June 2000 at the age of 42. Her husband He Huajiang was a Falun Dafa practitioner. On September 16, 2002, the police arrested him and sent him to Daqing Labor Camp on December 23, 2002. That very night he was tortured to death. At that time the couple's son, He Wei, was only 14 years old.
The now 16-year-old orphan is a student at the Daqing City Vocational School. The Street Committee Office gave him a lump sum of 4,000 yuan for his educational expenses. In addition, the office gives him 143 yuan in living expenses every month. He also gets 160 yuan from the social security office. His aunt, Li Chuanbin, takes care of the little savings his parents had. But since she's over 50 years old and lives far away, she can come to visit him at most once a year.
He Wei's address: 9-16-3-201 Xinjiu District, Sixth Oil Refinery, Daqing City
He Wei's pager: 86-191-9826011
Address of Daqing City Vocational School: Wangjiaweizi, Sawetu District, Daqing City
The principal's office: 86-459-5878885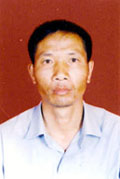 Photo: He Huajiang's photo
More information about He Huajiang's death can be found at
http://www.clearwisdom.net/emh/articles/2003/1/1/30430.html
http://www.clearwisdom.net/emh/articles/2003/11/8/42049.html