Falun Gong Practitioners in Singapore Celebrate World Falun Dafa Day (Photos)
May 16, 2009 | By a Falun Dafa practitioner in Singapore
(Clearwisdom.net) Falun Gong practitioners in Singapore gathered in Hong Lim Park on May 13, 2009, to celebrate the 10th World Falun Dafa Day and the 17th Anniversary of Falun Dafa's introduction to the public. Filled with gratitude, practitioners wished Master Li Hongzhi a Happy Birthday.

Falun Dafa practitioners in Singapore celebrate World Falun Dafa Day and wish Master Li a Happy 58th Birthday.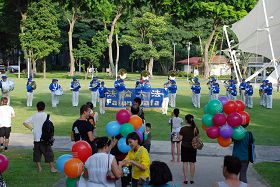 Tourists are drawn to the Divine Land Marching Band.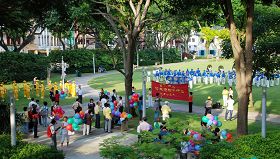 Celebration in Hong Lim Park
The Divine Land Marching Band opened the celebration with powerful music. A waist-drum team in golden uniforms performed a joyous drum dance. Some practitioners sang "Ode to the Lotus" and "Coming for You." A large banner stating, "World Falun Dafa Day"was unfurled. The park was filled with music and a holiday atmosphere.
Falun Dafa was introduced to Singapore in 1994. Master Li Hongzhi attended the inauguration ceremony of the Falun Dafa Association in Singapore on July 28, 1996, and gave a talk. In August, 1998, Master Li gave a lecture and answered questions at an experience sharing conference of thousands of Falun Gong practitioners from all over the world.
When the Chinese Communist Party launched the persecution of Falun Gong on July 20, 1999, practitioners in Singapore started their journey of truth-clarification and resistance to the persecution. They have faithfully spread the true story of Falun Gong to all circles. More and more people began to practice and follow the principles of Truthfulness-Compassion-Forbearance.
Falun Gong practitioners recount their experiences on World Falun Dafa Day.
76-year-old Mrs. Li attended two lecture series by Master Li Hongzhi. She had a lot to tell about her more than ten years of experience of cultivating in Falun Dafa and telling the true story of Falun Dafa. She said that, despite all the hardship, Falun Gong practitioners had overcome the difficulties under Master's care. They would continue their truth-clarification activities.
Ms. Shu Ye came from Mainland China and started practicing Falun Gong in Singapore in 1998. She is grateful that Master introduced Falun Dafa to the world. Thinking of her fellow practitioners still being persecuted in China, she felt a lot on her shoulders. She would like to work harder to bring the persecution to the end.
Hong Lim Park is close to Chinatown. The celebration attracted many people who came to find out more about Falun Gong and enjoy the celebration.
Lucien Noe, a 25-year-old movie producer from Germany, praised the band's group spirit. He said the music spread a message of hope. Having toured in Singapore for a few weeks, he wanted to pick Falun Gong practitioners' truth-clarification activity and World Falun Dafa Day celebration as his next production topic. He had seen Falun Gong practitioners' group exercise in Germany, but it was the first time for him to see a band performance and waist-drum dance. He said it was great!
Leigh-Ann Whittinghan, who works on city planning in the U.K., was also attracted to the music. She said she had never heard such exciting and happy music during her trips to Asia, Australi,a and New Zealand in the past two and a half years. After learning about the persecution, she said she would tell her family and friends about it. She happily joined Falun Gong practitioners in the group picture at the end of their activity.
14-year-old Bruno Crivelli and his 11-year-old sister, Dounia, saw the Falun Gong exercise demonstration when they passed the park. The peace and beauty of it impressed them. Bruno said that the park was filled with a spirit hard to describe. This was the first time the brother and sister had ever heard about Falun Dafa.
Ms. Chen is a student from China. She didn't know much about Falun Gong when she was in China. After she came to Singapore, her friend told her the facts and she learned the benefits of Falun Dafa. She said she must have a predestined reason to see the Falun Dafa Day celebration.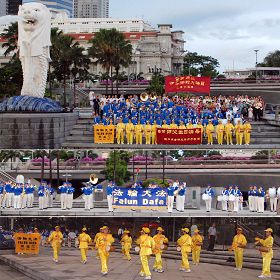 As part of the celebration, Falun Gong practitioners did the exercises in a group in Merlion Park on May 9. The waist-drum team and the Divine Land Marching Band played " Ode to Joy" and "Falun Dafa Is Good" in the park.