Ottawa, Canada: Celebrating World Falun Dafa Day (Photos)
May 16, 2009 | By Minghui Correspondent Ying Xin
(Clearwisdom.net) On May 13, 2009, Falun Gong practitioners in Ottawa, the capital of Canada, celebrated the 10th World Falun Dafa Day and the 17th anniversary of Falun Dafa's public introduction. Practitioners received a greeting letter from the Prime Minister and a proclamation from the Acting Mayor of Ottawa, announcing May 13 as Falun Dafa Day in Ottawa.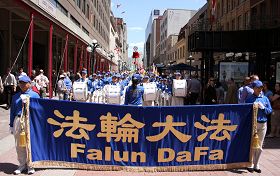 The Divine Land Marching Band, formed by Falun Gong practitioners from Ottawa and Montreal, performs on Spark Street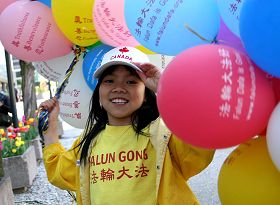 Falun Dafa Day is an unforgettable day for practitioners.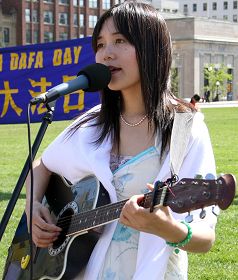 A practitioner sings a touching song.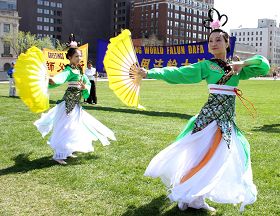 Fan dance
The Divine Land Marching Band, formed by Falun Gong practitioners from Ottawa and Montreal, performed on Sparks Street and Parliament Hill. Their music attracted many spectators. They also had a photo exhibition and distributed fliers.
Brian McAdam, a former senior diplomat, told the reporter, "Ultimately, great thoughts in the world that have kept the world going have been very simple words. Truth, forbearance, and compassion, of course, are the essence of all human values in the world. So, in three words, it sums up a great deal."
Li Xun, President of the Falun Dafa Association in Canada, said, "Countless Canadians have benefited from Falun Dafa since it was first introduced here in 1995. By 2000, it had been introduced all over the country, including Yukon and Yellowknife. The Canadian government was the first to stand out against the persecution. In 2005, 150,000 petition letters were sent to the Prime Minister to ask the Chinese government to stop the persecution. It was one of the top three concerns of Canadians that year. All levels of the Canadian government have expressed gratitude to Falun Dafa in different ways."
Mr. McAdam said, "The benefit they [Falun Gong practitioners] brought to Canada is to open Canadians eyes to what's really going on in contemporary China. The television, radio, and the Epoch Times have done a marvelous job of educating people about human right abuses in China and what the Chinese communist government is doing. It benefits not only Canada but everyone in the world."
Falun Gong practitioner Wang Hanna spreads the beauty of Falun Dafa through her songs. She has personally experienced the persecution in China. Her wish is to tell the world that Falun Dafa is great and that the persecution in China must end.