Ms. Hu Yanrong from Liaoyuan City, Liaoning Province, Persecuted to Death (Photos)
(Clearwisdom.net) Seven police vehicles were dispatched from Liaoyuan City in Liaoning Province on August 1, 2007, to arrest over 40 Falun Dafa practitioners meeting to share experiences. Ms. Hu Yanrong from Luoshu Village in Beilu Town, Lingyuan City, was among them. She was beaten into unconsciousness and she died on August 5, 2007, at Lingyuan City Prison Administration Sub-Bureau. Currently, there are still over 30 practitioners being "illegally detained" in Lingyuan City Detention Center.

Hu Yanrong's wedding picture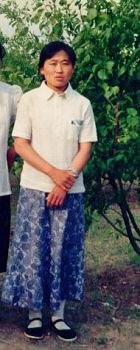 Hu Yanrong
It was about 10 p.m. on August 1, 2007, when Li Zhengua from the Lingyuan City police station had police officers with wooden batons, electric batons, picks, and other tools break into the home of practitioner Guo Fengxian's. They blocked the entrance to keep the large number of practitioners inside. About midnight, Deputy Director Li Xuebing of the Lingyuan City Police Bureau, the person in charge of the Wafangdian Township Police Station, and the person in charge of Songlingzi Township Police Station brought a dozen police officers to arrest more than 40 practitioners. They brutally beat the practitioners with electric batons and two-inch long metal rods while forcing them into police vehicles.
Ms. Hu Yanrong was brutally beaten. She jumped from the police vehicle, seriously hurt her head, and lost consciousness. She was taken to Lingyuan City Prison Administration Sub-Bureau Hospital. Police officers monitored Ms. Hu's family members and five other practitioners that were among those arrested. They were to take care of her in the hospital. Surgery was done on her head at the hospital. She died four days later at 2 a.m. on August 5, 2007, without awakening. An investigation into the details is needed.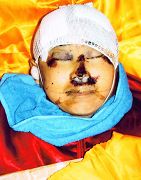 Ms. Hu passed away
After Ms. Hu passed away, Director of the Lingyuan City Police Bureau Yang Minghui and Deputy Director of Chaoyang City Police Bureau Zhang Minghua, as well as Beilu Town government officials, claimed that she was a leading Falun Gong practitioner who would've been sentenced to over 15 years if she had survived. Therefore, they claimed that her family members should be responsible for all the medical expenses of more than 20,000 yuan. They released her body to her family members for cremation.
There are suspicious events surrounding Ms. Hu's death. The police officers told the family they used a 120-type vehicle to take her to the hospital. However, the witnesses say she was taken to the hospital in a police vehicle. Police officers registered her under an anonymous name when first admitted to the hospital. Family members informed the hospital staff of her real name and the hospital staff made the correction. Her family members didn't agree to the proposed surgery. People from Chaoyang City Police Bureau and Lingyuan Police Bureau sent her her family members away and ordered the surgery to proceed anyway. The result was death "from injuries received after jumping from a moving vehicle." This conclusion is suspicious, because there were no visible injuries on the body. Ms. Hu was wearing summer clothes, and if she jumped from the vehicle, there would certainly have been abrasions, not just a head injury. Currently, there are no witnesses to supply the details of her death, and more investigation is needed.
Ms. Hu's sister, sister-in-law, and over 30 practitioners are still being detained. Police officers have ransacked practitioner Guo Fengxian's home three times. Her home was a mess, her cooking pot on the floor, and her garden vegetables ruined. Her husband was forced to leave home and wander about homeless. Practitioner Li Jingfang's home was ransacked by three police officers led by the deputy director of the police bureau, and a computer was taken away. Other practitioners' homes were ransacked. At around 3a.m. on the morning of August 5, 2007, a group of officers went to Ms. Cui Fenglan's home in Beilu Township and arrested her. An unknown practitioner was arrested as soon as he arrived home.
Song Jiulin, Secretary of the CCP Committee, had a meeting with the heads of the procuratorate, the judicial departments, and the police department demanding the serious and speedy detention of the 40 practitioners. The names of the detained practitioners and details regarding the relevant people in charge are yet to be disclosed
Attachment 1: Account of the persecution of Ms. Hu
Ms. Hu Yanrong, 42, was a resident of Luoshu Village in Beilu Township, Lingyuan City, Liaoning Province. She had two children at home, her daughter in high school and her son in primary school. Her father-in-law and husband were out of town all year-round to work. She did the fieldwork and the housework.
In early 1999, Ms. Hu began to practice Falun Dafa. Before that, she was unhealthy and short-tempered. After that, she began to show respect for her elderly father-in-law and her husband and take better care of her children. She brought harmony to her family.
She went to Beijing to appeal on behalf of Falun Dafa and asked the government not outlaw the practice. On December 30, 2000, she was arrested and detained at Lingyuan Police Station. Her left leg was beaten and bruised. Her lips were bruised and swollen. She was tortured by the guards for over three hours and sent to Lingyuan No.2 Detention Center for six months. They charged her 800 yuan. In June 2001, she was illegally sentenced to forced labor for two years and detained at Masanjia Forced Labor Camp, where she suffered severe mental and physical torture. Masanjia staff were afraid to take responsibility for her condition after 40 days. They let her family bail her out with 2,000 yuan. She returned home to her five-year-old son, 12-year-old daughter, and 70-year-old father-in-law. Her husband had to work out of town to support the family while she was in prison, causing him a lot of mental anguish.
Attachment 2: The suffering of Ms. Hu's family members since the CCP persecution began
Ms. Hu's father dies after being persecuted
On July 20, 1999, Ms. Hu's father, Hu Dianxin, and mother, Cui Yuzhi, were arrested, fined, and their home ransacked many times by people from Beilu Police Station. On December 30, 2000, they both were arrested and taken to Lingyuan Police Bureau. Mr. Hu Dianxin was slapped on the face, slandered, and detained after over three hours of torture. Police officers from No.2 Detention Center confiscated 380 yuan from this senior person, which was all the money he had. Ms. Hu's parents were both detained for 15 days. Hu's father was weak and ill after being tortured. People from the detention center were afraid of the responsibility. They blackmailed the couple's relatives for a lot of yuan to release him and his wife, so she could care for him. After that, police officers harassed them and ransacked their home many times. Hu Dianxin's health deteriorated. He became mentally confused and died on February 8, 2001, at the age of 62. Hu Yanrong and her sister were still at Lingyuan City No.2 Detention Center when their father passed away.
Hu Yanrong's sister was illegally detained and blackmailed.
Hu Yanrong's sister-Hu Yanli was illegally detained at Lingyuan City No.2 Detention Center for five and half months. She wasn't released until 400 yuan was paid. At that time, her son was only eight years old and her husband suffered a nervous breakdown. Her in-laws had a difficult time of it, being both over 70 years old.
Relevant workplaces and people in charge (area code 0421):
Deputy Director of Chaoyang City Police Bureau Zhang Minghua: 86-13904219999(Cell), 86-13904213999(Cell)
National Security Team Leader Wang Guilin: 86-421-6891665, 86-13704917349(Cell)
Assistant to the National Security Team Leader Chen Zhi: 86-13842156895(Cell)
Beilu Police Station: 86-421-6401004
Head of Beilu Police Station Li Zhenghua: 86-13904211141(Cell)
Secretary of Lingyuan City Municipal Committee, member of the standing committee of Chaoyang City Municipal Committee, Chairman of the General Worker's Union Song Jiulin: 86-421-6826789, 13304918105(Cell)