Update on Liu Haijian, Thirteen-Year-Old Surviving Son of Qing'an County Practitioner Mr. Liu Yan (Photo)
January 12, 2005 | By Falun Dafa practitioners in Heilongjiang Province
(Clearwisdom.net) Mr. Liu Yan was a Falun Dafa practitioner from Qing'an County, Heilongjiang Province, who died on July 21, 2002, at the age of 34 from severe, torture-induced wounds. The following is an update about Mr. Liu's son, Liu Haijian.
Liu Haijian has no permanent residence or telephone number. He is currently living in a rented room with his widowed mother, who works odd jobs from time to time to supplement her meager 120-yuan monthly stipend. She can barely make ends meet. Liu is a student in his second year at the Qing'an County No. 5 Middle School, and each semester's tuition has been selectively increased for Falun Dafa practitioners and their relatives.
Young Liu's mother, Ms. Chen Shiqin, 39, is also a practitioner. While her late husband was held in the forced labor camp, officers from the Qing'an County Police Department ransacked their home and arrested her. She resisted the persecution and was not intimidated by officials when they threatened to send her to the forced labor camp. With both parents held in custody, Liu Haijian went to stay at the home of his mother's parents. His elderly grandmother had fallen ill. His grandfather went to the police department numerous times demanding the release of Haijian's mother. Because Ms. Chen and her family steadfastly resisted the persecution, she was eventually released.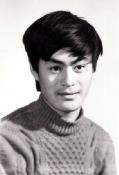 Liu Yan
Liu Haijian's father, Mr. Liu Yan, was born in 1969. He was formerly employed at the Qing'an County Metals Company. After he was laid off, he leased a street kiosk and made a living by selling small items. Mr. Liu began practicing Falun Dafa in 1996, and later became the deputy assistant at the Falun Gong assistance center in Qing'an County. After the persecution began on July 20, 1999, he was taken into custody for extended periods of time, during which he endured extremely cruel torture. He went on many hunger strikes and was persecuted with physical and psychological abuse. In January 2001, he was sentenced to one and a half years in the Suihua Forced Labor Camp. He held firmly to his belief in Falun Dafa and once stayed on a hunger strike there for twenty-one days. While in the labor camp, he suffered from swollen feet, fever, coughing, vomiting of blood and swollen lungs. The forced labor camp authorities were afraid of being held responsible for his impending death, so they notified his family to take him home. However, the leaders of the Qing'an 610 Office refused to allow him back into the community, so Mr. Liu was sent to the home of his elder brother and sister, located outside Heilongjiang Province in Changchun City, Jilin Province. His brother and sister immediately took him to a hospital, where Mr. Liu had to remain for several months. His medical expenses ran into the tens of thousands of yuan. On July 21, 2002, Mr. Liu Yan died from the injuries sustained at the forced labor camp. He was only thirty-four years old.
For more information about the death of Mr. Liu Yan, please refer to:
"More Details about the Death of Dafa Practitioner Mr. Liu Yan in Qing'an County, Heilongjiang Province"
"Dafa Practitioner Mr. Liu Yan from Heilongjiang Province Passes Away From Severe Torture-Induced Injuries"