Having Served 12 Years for His Faith, Hubei Man Faces Indictment Again
(Minghui.org) A 66-year-old man in Jingmen City, Hubei Province, was arrested on July 8, 2022, while talking to people about Falun Gong, a spiritual discipline that has been persecuted by the Chinese communist regime since 1999. 
Mr. Liu Deyu's latest arrest came only seven months after he finished serving a previous five-year term for practicing Falun Gong. He lost his pension and his home. His new rental place was also raided after his latest arrest and his Falun Gong books and other materials were confiscated. The police are now attempting to sentence him to prison again.
Mr. Liu's latest arrest was preceded by an earlier arrest in April 2022, for talking to people about Falun Gong. He was released the same day.
Over the past 23 years of persecution, Mr. Liu, a retired employee from the Jingmen City Epidemic Prevention Center, has been incarcerated multiple times. He served one forced labor term and two prison terms for a total of 12 years. He has also been forced to be displaced several times to avoid persecution, sleeping in caves, by the roadside, or under a bridge.
Three Years of Forced Labor
Mr. Liu went to Beijing to appeal for justice for Falun Gong days after the persecution began in July 1999 and was arrested. While officials from the Jingmen City 610 Office brought him back from Beijing, he escaped by jumping out of the train. One of his legs was fractured. The officers took him to the hospital, but due to the doctor's incompetence, the bones weren't set correctly and he has been disabled since. He was taken to the Shayang Labor Camp in January 2000 to serve a three-year term.
Because Mr. Liu talked to the guards about Falun Gong on July 22, 2000, instructor Dong Guoqiang and section head Shen Yanming instructed six inmates to monitor him around the clock. The guards promised the inmates major term reductions if they forced Mr. Liu to renounce his faith by any means possible. 
Mr. Liu was forced to work without pay at least 16 hours during the day. At night, he was ordered to stand or squat for hours and then sleep on the floor. He was also denied restroom use and given small rations for meals. One night, Tang Taoqian, a drug addict, punched Mr. Liu hard in the chest while he was squatting. Mr. Liu was knocked backwards more than a meter and slammed into a wall. He lost more than 20 pounds in just two months and was only skin and bones.
In March 2002, all the practitioners who upheld their belief were put into a new team dubbed the Strict Control Team for a new round of persecution. One day, all the practitioners in the new team were gathered in front of the labor camp's director, Party secretary and many guards. 
Every practitioner was forced to answer the question, "Who am I?" When it was Mr. Liu's turn, he answered, "I am a Falun Gong practitioner." Several guards swarmed him and shocked him with three electric batons on his face, waist, and heels. He shouted, "I am a Falun Gong practitioner being persecuted." The guards eventually stopped shocking him. But his body didn't stop twitching until half an hour later.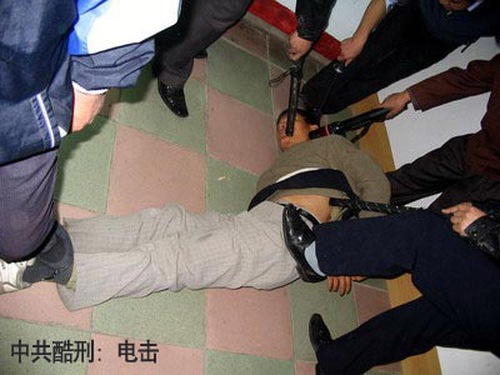 Torture reenactment: Shocking with electric batons
Brainwashing Center for One and a Half Months
Mr. Liu was arrested again in November 2006 for talking to people about Falun Gong. He was taken to the Tangxun Lake Brainwashing Center in Wuhan and held there for a month and a half.
After he was released, his workplace did not allow him to return to work and stopped his salary due to pressure from the 610 Office. Mr. Liu distributed appeal letters across his workplace. Many of his coworkers learned about his situation and voiced support for him. His workplace eventually let him go back to work.
Four Years of Imprisonment
When Mr. Liu told others about Falun Gong on June 23, 2009, police officers beat and injured him. He managed to escape but had to stay away from home to avoid being arrested. He made a living selling socks in the nearby Zhijiang City.
The police managed to find Mr. Liu and arrested him on July 20, 2009. He was taken back to Jingmen City and held at the Huyaguan Detention Center. The Dongbao District Court secretly sentenced him to four years in prison on February 3, 2010.
Mr. Liu was taken to Fanjiatai Prison in Shayang County, Hubei Province around May 25, 2010. Since he refused to renounce his faith, he was only given one meal a day for several months. 
At a prison-wide meeting of over a thousand people on September 30, 2010, Mr. Liu shouted "Falun Dafa is good." The guards violently beat him on the spot and then dragged him away. He was confined in a solitary cell, handcuffed and shackled for two and a half months.
Later, he was put in a separate room, monitored by four inmates around the clock. Despite the physical torture and brainwashing, Mr. Liu remained firm in his faith. The guards then locked him in a solitary cell and chained him to a wooden board in a spread eagle position. They put headphones on him and repeatedly played audio programs that defamed Falun Gong. When he still didn't give in, they hung him up.
Five Years in Prison 
Mr. Liu was arrested again while talking to people about Falun Gong in December 2016 and detained in the Huyaguan Detention Center. He was tried by the Dongbao District Court on May 2, 2017 and sentenced to five years by presiding judge Luo Jinhu months later. He was taken to Fanjiatai Prison on October 29, 2018.
To protest the persecution, Mr. Liu refused to wear the prison uniform, answer roll-call, write "thought reports," memorize the prison rules, or do forced labor. The guards retaliated with torture, including standing or sitting for long periods of time, sleep deprivation, solitary confinement, wearing shackles, electric shocks, starvation, exposure to the scorching sun or freezing temperatures, beatings, brutal forced-feeding, and brainwashing. Mr. Liu became emaciated and all of his teeth became loose and began to fall out.
Mr. Liu contracted tuberculosis in late 2020 and was detained in the prison hospital for over a year. When he was released on December 2, 2021, he was devastated to learn that his pension had been suspended. He had no source of income and no place to live.
More details of Mr. Liu's appalling ordeal can be found in the following reports:
Former Epidemic Prevention Official Tortured in Prison and Hospitalized for Tuberculosis
Man in His 60s Tortured in Hebei Prison
Mr. Liu Deyu from Jingmen City, Hubei Province Illegally Sentenced to Four Years of Imprisonment
All content published on this website are copyrighted by Minghui.org. Minghui will produce compilations of its online content regularly and on special occasions.