Belated News: Small Business Owner Falls to His Death After Police Push Him out of a Window
(Minghui.org)
Name: Yin ZhiboChinese Name: 尹志波Gender: MaleAge: 44City: YanjiProvince: JilinOccupation: Agricultural machinery rental company ownerDate of Death: March 16, 2021Date of Most Recent Arrest: N/AMost Recent Place of Detention: N/A
Minghui.org recently confirmed that a Yanji City, Jilin Province resident fell to his death after he was pushed out of the window by two police officers, when he tried to prevent them from confiscating his Falun Gong books. The 44-year-old is survived by his wife and teenage son.
Falun Gong, also known as Falun Dafa, is a spiritual discipline that has been persecuted by the Chinese communist regime since 1999.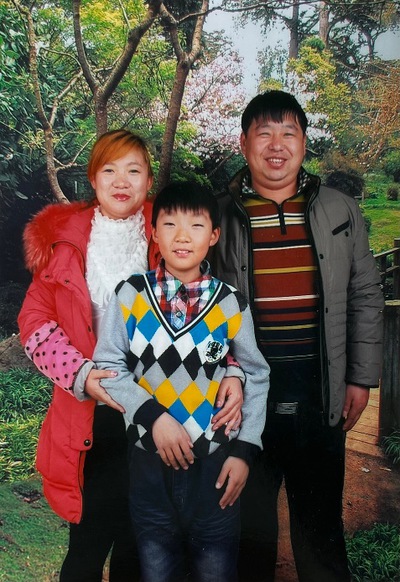 Mr. Yin Zhibo and his family
Mr. Yin Zhibo was born into a farmer's family. He opened a farming equipment rental company in 1996 and enjoyed good business.
Two officers, Piao Dongjie and Sun Haitao, broke into Mr. Yin's home on March 16, 2021, after he was reported for distributing informational materials about Falun Gong. When he tried to stop the police from taking away his Falun Gong books, they shoved him to the window and then pushed him out. He died immediately.
Mr. Yin's wife fainted several times upon learning of her husband's sudden death. Their son, Yin Dongdong, rushed downstairs, leaned on Mr. Yin's body and tried to wake him up.
Despite testimonies from Mr. Yin's neighbors who witnessed the incident, the Yanji City Police Department exempted the two officers from being held accountable for Mr. Yin's death.
His older brother, Mr. Yin Zhifeng, was harassed and threatened with seizure of his family land when he went to the local government to appeal for his brother's case. The brothers' nephew, Mr. Xu Xiaogang, was also arrested on July 15, 2021 and detained 15 days, after the police suspected that he also practiced Falun Gong.
In addition to Mr. Yin's death, another practitioner in Yanji City, Mr. Piao Guangxun, went missing in late February 2021. Weeks before his disappearance, several police officers threatened the disabled man that he wasn't allowed to go out to talk to people about Falun Gong.
All content published on this website are copyrighted by Minghui.org. Minghui will produce compilations of its online content regularly and on special occasions.