Paris, France: Raising Awareness of Falun Dafa with the Support of Locals
(Minghui.org) Falun Dafa practitioners gathered at Place Charles Michels for two Saturdays on August 13 and 20, 2022. They demonstrated Falun Dafa's five sets of exercises and collected signatures on a petition to end the ongoing persecution of Falun Dafa in China. 
Place Charles Michels is situated in the 15th district of southern Paris where many museums and theaters are located. Many passersby watched practitioners demonstrate the exercises and took photos. Some stopped to learn more about Falun Dafa and many signed the petition.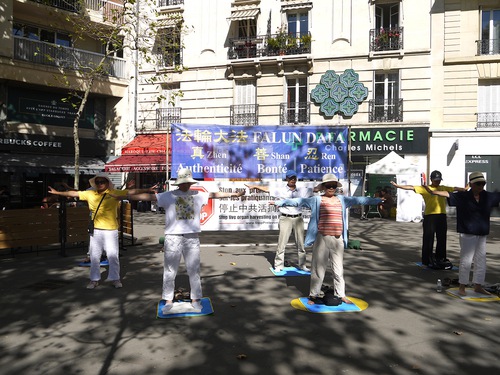 Practitioners demonstrate the exercises at Place Charles Michels.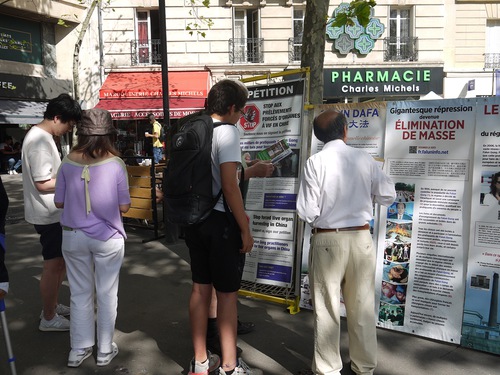 Passersby inquire about Falun Dafa and the ongoing persecution in China.
When passerby Catherine Le Moel, who once worked in the judicial system, learned that Falun Dafa practitioners are killed for their organs in China, she said, "I am very sensitive to news around the world, especially persecutions. Nothing is more serious than illegally selling human organs. This should not be happening in the 21st Century. Forced live organ harvesting is happening in China and it is terrible."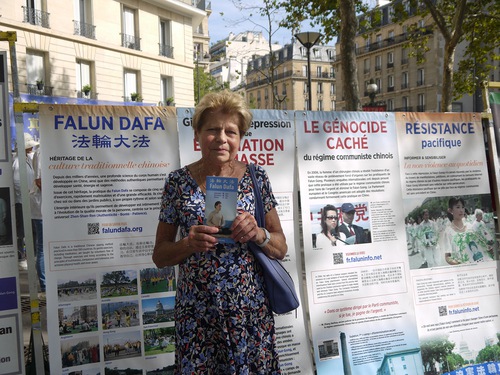 Ms. Catherine Le Moel
Another passerby, Anne-Marie Donce, stated, "Falun Dafa's princples of Truthfulness-Compassion-Forbearance are universal principles and a way of life. This is widely accepted around the world. It is unacceptable that the Chinese Communist Party (CCP) is stripping away people's freedom and rights."
François Colson was happy to see practitioners. He said, "The CCP has been a disaster for humankind. It is tyrannical and no one can openly express their thoughts and ideas. There is no trust among humans and everyone is in danger. They are afraid of being sent to jail so no one dares to express their thoughts. It is sad to see that not every Chinese realizes that this is happening to them."
A Falun Dafa practitioner chatted with a doctor for a long time. The doctor said, "Falun Dafa and the ideals of Buddhism are alike in many ways. They awaken people's conscience and that is why the CCP is afraid, hence, they persecute Falun Dafa practitioners." The doctor said that practitioners are very courageous and should keep up their efforts to tell more people about the persecution of Falun Dafa. 
All content published on this website are copyrighted by Minghui.org. Minghui will produce compilations of its online content regularly and on special occasions.