Germany: People in Aschaffenburg Call for End to CCP's Persecution of Falun Dafa
(Minghui.org) Falun Dafa practitioners participated in a local multicultural festival in Aschaffenburg, Germany July 15-17, 2022. They introduced Falun Dafa, a self-cultivation practice based on Truthfulness, Compassion, and Forbearance, and told people how the Chinese Communist Party (CCP) has persecuted it for 23 years. Many people signed a petition calling for an end to the CCP's violation of human rights, especially harvesting organs from practitioners while they were still alive.
With a history of over 40 years, the festival resumed this year after a two-year hiatus due to the pandemic, and over 100 groups participated. Practitioners decorated their booth with lotus flowers. Many visitors stopped by to learn about Falun Dafa and how to make paper lotus flowers.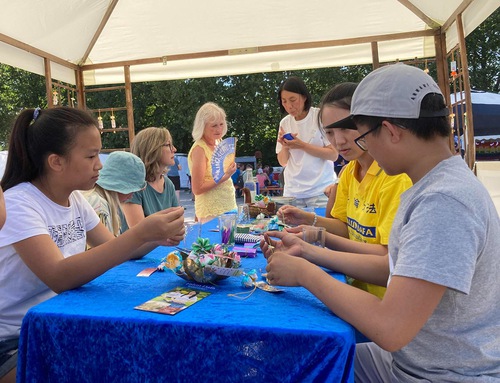 Visitors learn how to make paper lotus flowers.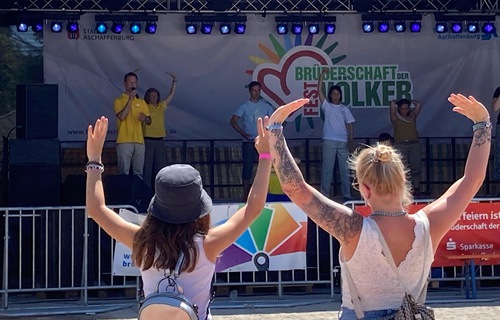 People at the festival followed along as practitioners demonstrated the exercises.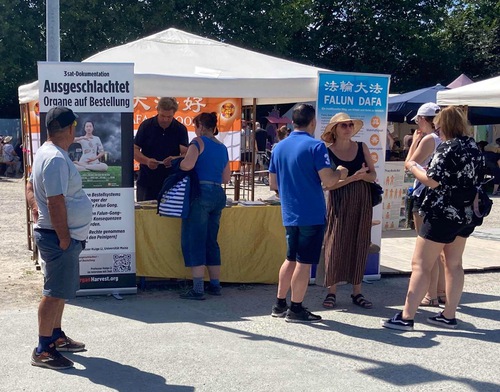 Visitors learn about Falun Dafa.
A local man, Certes, told a practitioner that he had seen a documentary online titled Hard to Believe that exposed the CCP's organ harvesting from prisoners of conscience. He was surprised that he hadn't heard about such an appalling crime before. "The media should follow it," he said.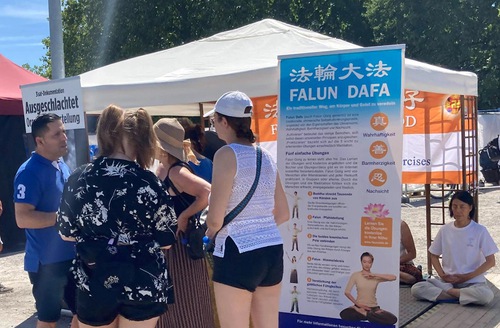 Julitta and her daughters learn about Falun Dafa.
Local resident Julitta told a practitioner that she heard about Falun Dafa during a previous festival. She brought her daughters this year so that that practitioners could tell them about the persecution. "I hope all Europeans can know about the persecution in China," Julitta said. She praised the benefits of meditation, including giving people inner strength and fighting depression.
"These great values (Truthfulness-Compassion-Forbearance) are answers in our lives," said Julitta. "The only way to return to a truly good life is to restore universal values. We still have a long way to go!"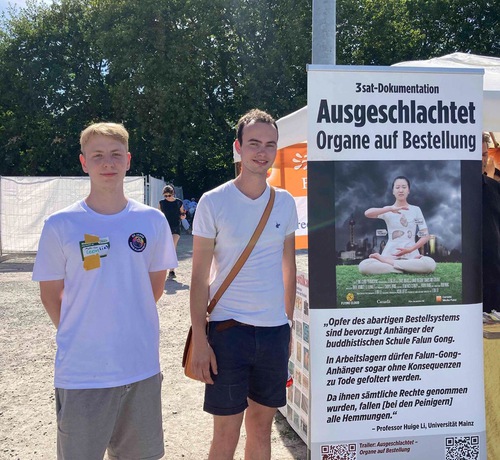 Leon (left) and Etienne
Leon and Etienne, both college students, signed the petition. Etienne said, "The authoritarian government is so greedy for power and money that it funds its political goal by killing people and selling their organs!" Leon said he would suggest to a youth radio channel that they report on this topic.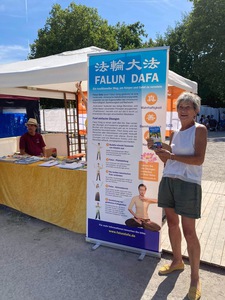 Ms. Kernbach praises Truthfulness-Compassion-Forbearance.
Ms. Kernbach signed the petition while her children learned how to make paper lotus flowers. She said, "I know that the persecution of Falun Dafa has been going on for over 20 years. That's why I came to sign. I wish you success!" She praised the principles of Truthfulness-Compassion-Forbearance and said they "are the cornerstones of humanity."
Background: What Is Falun Dafa and Why Is the CCP Persecuting It?
Falun Dafa (also known as Falun Gong) was first introduced to the public by Mr. Li Hongzhi in Changchun, China, in 1992. The spiritual discipline is now practiced in over 100 countries and regions worldwide. Millions of people who have embraced the teachings, which are based on the principles of Truthfulness, Compassion, and Forbearance, and have learned the five exercises, have experienced improved health and well-being.
Jiang Zemin, former head of the Chinese Communist Party (CCP), perceived the spiritual discipline's growing popularity as a threat to the CCP's atheistic ideology and on July 20, 1999, he issued an order to eradicate the practice.
Under Jiang's personal direction, the CCP established the 610 Office, an extralegal security organization with the power to override the police and judicial systems and whose sole function is to carry out the persecution of Falun Dafa.
Minghui.org has confirmed the deaths of thousands of practitioners as a result of the persecution over the past 23 years. The actual number is believed to be much higher. Countless practitioners have been imprisoned and tortured for their faith.
There is concrete evidence that the CCP sanctions the harvesting of organs from detained practitioners, who are murdered to supply China's organ transplant industry.
All content published on this website are copyrighted by Minghui.org. Minghui will produce compilations of its online content regularly and on special occasions.