Seattle: Falun Dafa Practitioners Participate in the Marysville Strawberry Festival
(Minghui.org) The 90th Marysville Strawberry festival kicked off at 7:30 p.m on June 18, 2022 amid applause and eager anticipation by an estimated 180,000 spectators and television viewers.
The strawberry festival is made up of a series of festivities led off by a golf competition. There were parades, booths, and large scale entertainment events. The festival was suspended for two years due to the COVID pandemic. The atmosphere was especially celebratory this year. The Washington State Falun Dafa Association was invited to participate in this year's parade. Practitioners from Seattle and Vancouver carried banners and gave waist drum performances.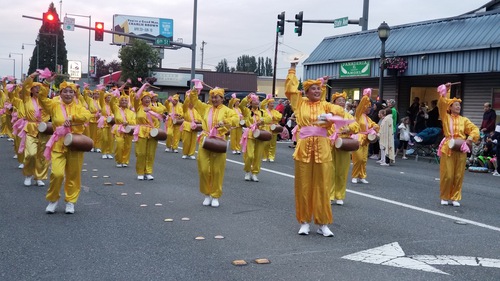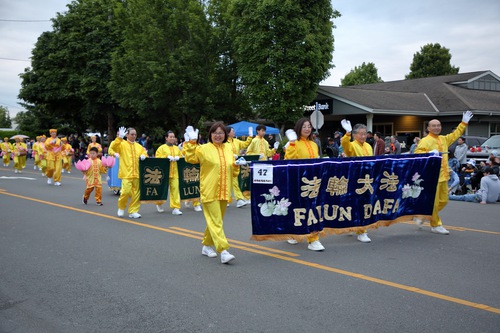 Falun Dafa Group composed of practitioners from Seattle, and the waist drum team from Vancouver participated in the Marysville Strawberry Festival on June 18, 2022.
Around 80 groups took part in the parade this year and many people said that the Falun Dafa group was especially eye catching. The waist drum performers interacted with spectators. Young practitioners holding lotus flower lanterns waved, and people applauded as they walked past. Many people took photos and videos with their mobile phones.
A father brought along his children and heshi bowed to the waist drum performers. Several children ran up to practitioners and gave them a high five.
As practitioners marched past the main organizer's stand, the MC introduced them: "Falun Gong, also known as Falun Dafa, is a cultivation practice that improves one's physical and mental well being. It includes standing as well as sitting meditation exercises and guides one to improve moral values following the principles of Truthfulness, Compassion, Forbearance. It originates from China. Now there are people in over 100 countries and regions practicing Falun Gong. Everyone can learn Falun Gong for free. To learn more about this, please go to the website falundafa.org"
The festival organizers said, "Due to the recent weather conditions, we postponed this event for around two weeks. So we are thrilled to have Falun Dafa practitioners join us in the parade."
Other participants in the parade expressed their support for Falun Dafa after learning about the persecution in China. They said they would love to help end it.
A woman from California who came to see a friend also said she supports Falun Dafa and was delighted to see practitioners participating in the event.
After the parade, practitioners met many spectators along the way who gave them a thumbs up and shouted, "Amazing! You were great! Thank you!" A girl said to a waist drum performer: "Wow! Everyone in our family loved your performance!"
An elderly man who met practitioners at the car parking lot said, "You were great! I recorded your performance." A practitioner gave him a lotus flower. He was overjoyed and hugged her.
All content published on this website are copyrighted by Minghui.org. Minghui will produce compilations of its online content regularly and on special occasions.