Beijing Resident and Mother of a UK Resident Faces Ongoing Harassment and Surveillance for Her Faith in Falun Gong
(Minghui.org) Although Ms. Han Fei was released one day after she was arrested for practicing Falun Gong, the Beijing resident and mother of a U.K. resident faces continued surveillance. Prior to her latest arrest on April 22, 2022, she has been repeatedly harassed in the past three years for upholding her faith.
Her daughter, Ms. Li Hui, who currently resides in the U.K., is calling on the Chinese authorities to stop harassing her mother.
Falun Gong, also known as Falun Dafa, is a spiritual discipline that has been persecuted by the Chinese communist regime since 1999.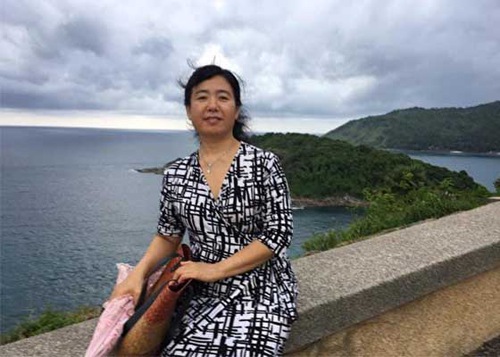 Ms. Han Fei
Xu Yong of the Chaoyang District Domestic Security Office and two officers from the Pingfang Police Station broke into Ms. Han's home at around 11 a.m. on April 22. They tore up the Falun Gong-themed painting and calendar on the wall and took away a photo of Falun Gong's founder.
Xu opened Ms. Han's drawers with a master key and confiscated her Falun Gong books, cellphone, iPad, and computer. Around 300 yuan in cash was taken away. The police later returned her electronic devices but withheld her Falun Gong books.
Several officers handcuffed Ms. Han and took her to the hospital for a physical examination and a COVID-19 test. When she refused to comply, the police chief Zhang Hao ordered the medical workers to do it forcibly. When taking her blood sample, a police officer choked her neck with his elbow, with her hands cuffed behind her back. She nearly suffocated.
Even with Ms. Han's strong protest against the violence, the police didn't stop the physical examination and they videotaped the entire process.
At around 2 p.m., the police called Ms. Han's husband and asked him to report to the police station after work. When he went there, the police asked him when he and Ms. Han got married, what she did every day, the people she had contact with, and the situation of their daughter Ms. Li, who also practices Falun Gong.
When Ms. Li called Ms. Han's cellphone (which had been returned to Ms. Han's husband) that evening, her father told her about her mother's arrest. Ms. Li said she sensed that her father was being intimidated by the police and under tremendous pressure.
The next morning, the police asked Ms. Han to identify a relative to be her guarantor for her bail release. She refused to acknowledge the bail release or her arrest, saying that the police had been violating the law all along. The police later found a staff member of her local residential committee to sign her case documents and released her at around 4 p.m.
Even after the police had released Ms. Han, they stayed outside of her home to monitor her daily life. She isn't allowed to leave home freely.
It's reported that the police arrested Ms. Han because she wrote a letter to the chief of Chaoyang District Police Station and urged him not to participate in the persecution. During her arrest, one officer said to her, "I know you [Falun Gong practitioners] are good people, but we still have to do it [arresting you]. If I don't do it, others will."
Ms. Han was previously arrested on December 4, 2019, and held in the Chaoyang District Detention Center for 23 days. Since then, she has been constantly harassed by the police.
The residential committee called her husband on July 22, 2021, the 22nd anniversary of the onset of the persecution, and warned him not to let his wife go out [to spread information about Falun Gong]. They arranged for a security guard to stay outside her apartment building to monitor her.
Ms. Han called the residential committee the next day and said that she would file lawsuits to protest the unlawful surveillance. After that, the security guard left.
She received similar harassing phone calls on other Falun Gong anniversaries or during major events in the city. The police usually called her husband to check on her and asked him if she went out.
Beginning in September 2021, the authorities started to monitor Ms. Han again. She was followed when she went out, including when she was doing grocery shopping. The people who monitored her included her neighbors, residents in her neighborhood, and unemployed people.
The harassment and surveillance became even more intense during January and February 2022, when Beijing was hosting the Winter Olympics. Ms. Han told her daughter that people stayed outside of their home around the clock. Plainclothes officers followed her when she went out and they also took her photos and videotaped her.
In addition to the harassment around the Winter Olympics, Ms. Han was also arrested during the Beijing Olympics in 2008 and given two years of forced labor.
Perpetrators' contact information:
Wang Peng (王鹏), head of Pingfangxiang Police Station: +86-10-85574138Tian Kangning (田康宁), head of Chaoyang District 610 Office: +86-10-52018695, +86-13901093098Niu Guoquan (牛国泉), head of Chaoyang District Domestic Security Office: +86-10-85225000
(More perpetrators' contact information is available in the original Chinese article)
Related reports:
CCP Intensifies Persecution of Falun Gong in Advance of Winter Olympics
Mother of UK Resident Arrested for Practicing Falun Gong, Lawyers Dare Not Represent Her
Related report in Chinese:
Views expressed in this article represent the author's own opinions or understandings. All content published on this website are copyrighted by Minghui.org. Minghui will produce compilations of its online content regularly and on special occasions.