How Falun Gong Practitioners Are Tortured in Shenyang City's Dongling Prison
(Minghui.org) Falun Gong, also known as Falun Dafa, is a spiritual discipline that teaches Truthfulness, Compassion, and Forbearance. The Chinese communist regime launched the persecution of Falun Gong in July 1999. Since then many Falun Gong practitioners have been detained and tortured for refusing to renounce their faith.
This report focuses on the persecution of Falun Gong practitioners jailed in Dongling Prison in Shenyang City, Liaoning Province. Liu Jian, the head of the No. 7 Division, is responsible for "transforming" practitioners (making them give up their belief). He arranged for several inmates to participate in the persecution.
When Falun Gong practitioners first arrived at the prison, inmates tried to transform them. Those who refused to write the guarantee statements would be locked in solitary confinement and subjected to various torture methods. In addition to depriving the practitioners of sleep or poking them if they closed their eyes, the inmates also slapped them in the face, beat them, and pushed toothpicks into their nails or excretory organs. In an extreme torture, they connected the practitioners' excretory organs with metal wire and then electrocuted them.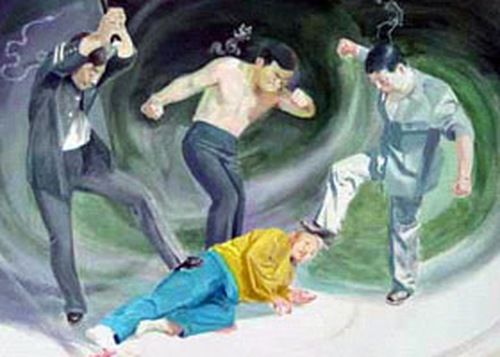 Torture illustration: Beatings
The inmates also force-fed the practitioners with human waste and doused them with ice-cold water. For every meal, the practitioners were given very small corn buns, two pieces of pickled vegetables, and vegetable soup that tasted like waste water used to scrub the pots. The ultimate aim was to force the practitioners to renounce their faith.
Below are snapshots of some cases.
Mr. Zhang Youjin of Qingyuan County was arrested in 2004 for distributing Falun Gong materials. He was sentenced to three and a half years in prison.
In early October 2007, a guard notified Mr. Zhang's family that he was sick. Mr. Zhang's family was shocked to see him. When he was first admitted to the prison, he was strong, his hair was dark and shiny, and there were not any wrinkles on his face. His cellmates even thought his visiting son was his brother. However, when his family saw him again, he was as thin as a skeleton, his hair all turned white, he could not stand still, and his hands were shaky. Mr. Zhang died on October 22, 2007.
Mr. Zheng Shoujun of Liaozhong County was arrested and detained in February 2006 for explaining the facts about Falun Gong. He was interrogated overnight and later sentenced to four years in prison.
On August 19, 2008, the guards suddenly called his family, and asked them to go and see Mr. Zheng at the prison hospital. When they arrived, however, all they saw was his lifeless body. His head was swollen and misshapen by injuries. His face was covered with bruises, and his abdomen was swollen. He was wearing only his underwear. Family members noticed that his hands were tightly balled as if in a struggle. He was 44.
Mr. Jin Junbo worked at the Benxi Steel Group Corporation. He was arrested in February 2014 for putting up flyers bearing information about the Chinese communist regime's persecution of Falun Gong. He was initially sentenced to 12 years in prison, but the sentence was reduced to 9.5 years upon his appeal.
Mr. Jin was ordered to serve time at Dongling Prison. He was tortured so badly that one side of his body was paralyzed. The prison authorities not only refused to render him proper medical attention, but also ordered an inmate to torture him.
Mr. Jin was persecuted to death in March 2017. He was 56.
Mr. Shao Minggang of Jinzhou City was arrested on March 4, 2016 and later sentenced to six years in prison. Later that year, he was sent to Dongling Prison. Mr. Shao's health deteriorated in the prison. His blood pressure remained high. He became incontinent and had difficulty walking.
He was given medical parole on April 28, 2018 and returned home on May 2, 2018. At home, his health gradually recovered through his practice of Falun Gong.
Between late 2018 and the first two weeks of 2019, police and local officials came to Mr. Shao's home many times to harass him. The constant harassment and threats caused great mental pressure for Mr. Shao. He died at the age of 62 on February 27, 2019, nine months after he was released on medical parole.
Mr. Li Zhendong, 68, of Shenyang City, was sentenced to 3.5 years and imprisoned at Dongling Prison. Less than a month after his incarceration, his belly was severely swollen and he had to have a daily procedure to remove the excess fluid. Despite his condition, the prison guards still handcuffed him to the hospital bed and watched him around the clock. He passed away on November 13, 2021.
Mr. Liu Xiyong of Dalian City was supposed to be released on April 9, 2021 after his three-year term ended. His family went to pick him up that day at Dongling Prison, but prison officials told them that he had been taken away by officers from the Shihezi Police Station. He was sent for a medical examination and later held at Sanli Detention Center in Jinzhou District. He was later sentenced to four years in prison and was subsequently persecuted to death on December 29, 2021 at the age of 80.
Mr. Li Quancheng of Dandong City was arrested at a checkpoint on June 29, 2018, after the police found Falun Gong materials in his motorcycle. The police ransacked his residence, interrogated and kept him at Kuandian Detention Center. He was sentenced to a three-year prison term with a 5,000 yuan fine by the Zhen'an District Court on March 27, 2019.
Mr. Li was taken to the Dongling Prison on August 14, 2019. Because he refused to give up Falun Gong, the prison guards ordered inmates to torture him using various means, including hanging him up by his wrists, submerging his head into water, depriving him of sleep, and denying him restroom use.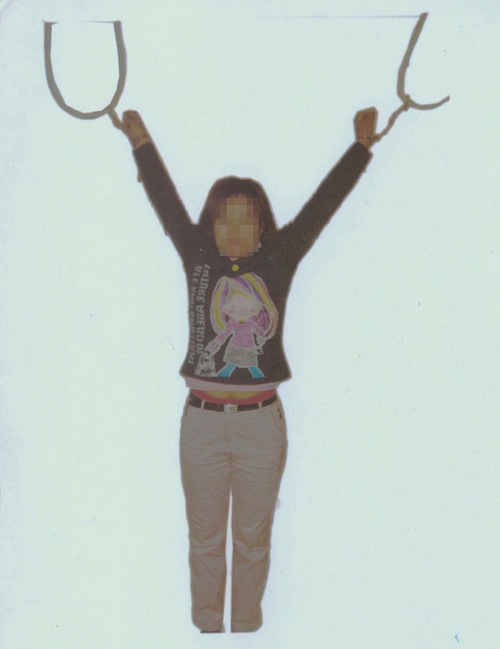 Torture re-enactment: Hanging up by the wrists
All content published on this website are copyrighted by Minghui.org. Minghui will produce compilations of its online content regularly and on special occasions.