Nine-day Falun Dafa Workshop in South Korea: New Practitioners obtain a Precious Treasure
(Minghui.org) Once every month, the Tianti Bookstore in Yongsan District, Seoul, South Korea, organizes a "Nine-day Falun Dafa Workshop." Falun Dafa is a cultivation practice that advances physical and mental health for its practitioners. These Nine-day Falun Dafa Workshops introduce Falun Dafa to the public, which includes Falun Gong (also called Falun Dafa) exercises and how to follow the principles of the practice free of charge. Several students who participated in the workshop agreed to share their personal experiences.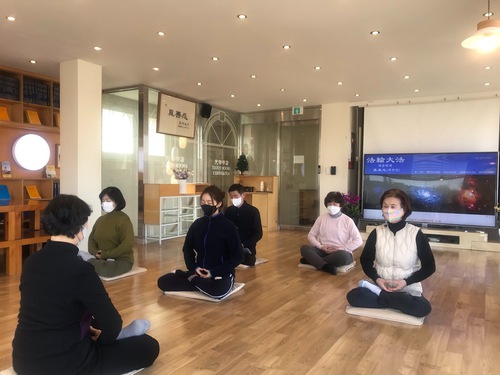 Participants in the February 2022 workshop were introduced to the fifth set of Falun Dafa exercises.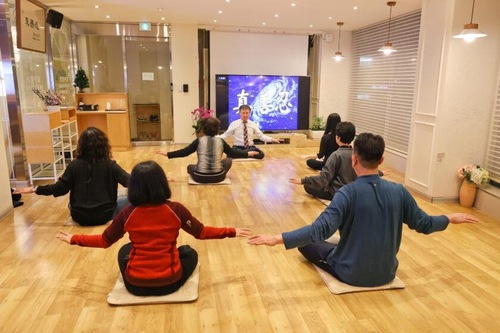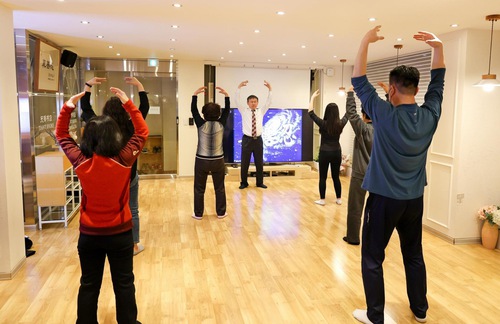 Participants in the March 2022 workshop learn the second set of Falun Dafa exercises.
Encountering Falun Dafa after a Thirty-Year Search
Ms. Seo Dong-rim, who lives in Cheonnong-dong, Dongdaemun-gu, Seoul, had been looking for a cultivation practice since 1992. Despite her keen interest and constant search, she had not been able to find a cultivation system that interested her.
One time she came across Falun Gong. Upon learning that the practice also taught the cultivation of the heart and mind, Ms. Seo immediately submitted her application to attend the Nine-day Falun Dafa workshop. As the workshop for that month had already started, Ms. Seo had to attend the following month's workshop. In the meantime, she began to read the main book of Falun Dafa, Zhuan Falun.
"After reading Zhuan Falun, I concluded this was the righteous cultivation method I had been looking for. In the past, I had done things which were against my conscience, creating a lot of karma for myself. . Now, I am determined to change my ways, and get rid of my karma as soon as possible."
"As I was reading Zhuan Falun, its contents triggered memories of difficulties I had encountered in the past when volunteering at our local welfare center. This made me realize my volunteer work provided a good environment to work on improving my character and paying off my karma."
Continuous Waterfall of Stamina
Mr. Zhao Hanji, 61, was climbing Seoul's Umyeonsan Mountain one morning in February of this year. He met Falun Gong practitioners distributing Dafa informational brochures. Despite the chilly weather, Falun Gong practitioners' kind demeanor and behavior put him at ease. After hearing about the Nine-day Falun Dafa Workshop, he immediately signed up for the class.
During the third day of the workshop, Mr. Zhao was practicing the second set of exercises when he experienced the sensation of energy entering his body, just like a waterfall.
Soon after, he received a call from his previous employers. Although Mr. Zhao was retired, his previous company asked if he would consider returning to work for them. Mr. Zhao welcomed the opportunity as a good thing, as it already benefited from his interest in practicing Falun Gong.
A few days later, while learning the fifth set of exercises, Mr. Zhao again felt the sensation of his energy being replenished. Afterward, he discovered that he no longer was fatigued, and his whole body was light and relaxed. "I obtained many benefits from the workshop. My wife was similarly impressed, and decided to participate in the upcoming workshop."
After resuming work at his previous company, located near Tianti Bookstore, Mr. Zhao said, "I want to practice at Tianti every day after work."
Learning to Practice Falun Gong Through the Minghui Website
Wu Hanmin, 31, first encountered Falun Gong by surfing social media. While searching online for more information about Falun Gong, he chanced upon the Minghui website. He read the cultivation stories of Falun Gong practitioners and gradually started learning how to practice it by himself.
"I read on the Minghui website that Falun Gong practitioners had to let go of worldly attachments. So when I joined my current company, I let go of my attachment to monetary benefits. I quoted the lowest amount for my expected annual salary. Amazingly, the company president not only raised my initial salary but gave me a pay raise a year later. From this, I understood the Dafa principles of no loss, no gain."
"It is not easy to maintain a good cultivation state when practicing on one's own. So I signed up for the Nine-day Falun Dafa Workshop. I have come to understand many Dafa principles. I also was shown the correct exercise movements. Overall, this was a beneficial class."
Obtaining a Precious Secret
Quan Minxiu, 46, a traditional Chinese medicine practitioner, had a keen interest in spiritual practices since his early 20s. His earlier research caused him to develop prejudices and fixed notions regarding qigong practices.
One day while reading a book, Mr. Quan noticed that the author had criticized every qigong practice, except Falun Gong. Curious, Mr. Quan searched online for information and eventually attended a Nine-day Falun Dafa Workshop. He was deeply impressed by what he learned during the workshop. "If I were to use cars as an analogy, it feels like I was given a Porsche. If I draw parallels with traditional Chinese medicine, it feels as though Falun Gong gave me a very precious, secret prescription for free. I think it is really amazing."
A few days ago, Mr. Quan fell from a truck in a car accident and broke his ankle. In severe pain, while recovering after the accident, he remembered the second set of Falun Gong exercises. He practiced the exercise movements for 30 minutes. Afterward, he noticed that his pain had significantly lessened.
While listening to Master Li's video lectures during the Nine-day Falun Dafa Workshop, he both saw and felt the Falun (law wheel) rotating. He said, "I urge anyone interested in learning a beneficial cultivation practice to come and learn Falun Gong."
The Power of Compassion
Ms. Han operates the World Color Art Psychology School in Bangbae-dong, Seocho-gu, Seoul. As a consultant who lectures and teaches art therapy, Ms. Han had heard about Falun Gong some time ago. She had encountered Falun Gong practitioners exercising in a park in Cheonho-dong, Gangdong District, Seoul. But because of her prejudice against China, she avoided the group.
During her quest to achieve peace of mind, an acquaintance recommended Falun Gong. Interested, Ms. Han temporarily suspended her teaching commitments in order to participate in the Nine-day Falun Dafa Workshop.
"Falun Dafa holds that everyone has compassion in their hearts. I am the fourth generation of a deeply devout Christian family, and this belief resonated deeply within me. I believe God arranges for prophets to descend and guide us. Master Li Hongzhi is like a prophet from heaven. This discovery was like a ray of hope illuminating the gloom in my life."
"I suffered from a frail and weak body since childhood. After practicing Falun Gong, I feel younger and have more stamina. Even the chronic pain in my knees has greatly eased."
Health Science Professor: Health Benefits are Unquestionably Real for Dafa Practitioners
Shen Zaiping is a visiting professor specializing in health sciences at the Graduate School of Industry, Myongji University. "Through media reports, I came to hear about Falun Gong some time back. However, news of its persecution allowed me to develop misunderstandings about Falun Gong. I thought, "For China to persecute the practice so heavily, doesn't it imply a problem with the practice itself?" Yet recently, it was strongly recommended that I practice it."
"While facts can speak for themselves, the reality is that fake news remains rampant in society. To address my curiosity about the beneficial effects of Falun Gong, I attended the Nine-day Falun Dafa Workshop."
After the workshop, Professor Shen was no longer fatigued, and his body felt light. "I enjoyed remarkable benefits, even though I currently am not bothered by illnesses. Ill patients who practice Falun Gong would certainly observe marked improvement in their conditions. This workshop taught me that Falun Gong is not a religion. It educates people on the moral principles behind the cultivation of Buddhahood, many of which deeply touched my heart."
Tianti Bookstore Particulars
The Tianti Bookstore in Seoul, South Korea holds Nine-day Falun Dafa Workshops once every month. Each workshop lasts nine consecutive days, with options for either morning or evening classes.
Morning classes are from 9:30 am to 12:00 noon, while evening classes are from 7:15 pm to 9:30 pm. The workshop is conducted free of charge.
All content published on this website are copyrighted by Minghui.org. Minghui will produce compilations of its online content regularly and on special occasions.