Ohio: Practitioners Celebrate World Falun Dafa Day in Cincinnati
(Minghui.org) Falun Dafa practitioners from Ohio and Kentucky gathered in Cincinnati's city center on May 13, 2022, to practice the exercises and celebrate the 30th anniversary of Falun Dafa's public introduction. They expressed their gratitude to Master Li, the founder of Falun Dafa, for his compassionate salvation and wished him a happy birthday.
Falun Dafa practitioners demonstrate the exercises in Cincinnati's city center.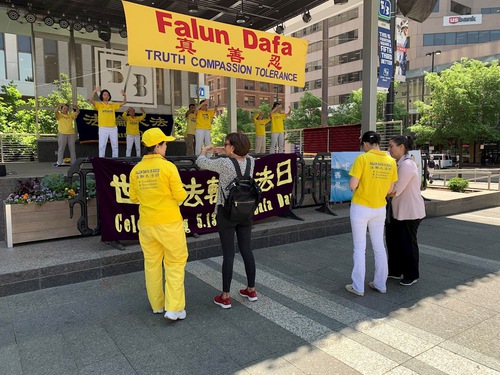 Practitioners interact with passersby who paused to learn more. 
The new mayor of Cincinnati, Aftab Pureval, issued a proclamation naming May 13, 2022, World Falun Dafa Day. Three of Cincinnati's previous mayors had also issued many proclamations for Falun Dafa. Mayor Pureval said that Falun Dafa benefits people from all ethnicities and promotes a better, more harmonious society. 
Spectators experienced the peaceful and calm environment created by the practitioners. One woman was very happy to learn about Falun Dafa and expressed an interest in learning more.
Two men came to the practitioners' booth and asked to take pictures with practitioners. They also expressed their support to end the persecution. 
Many people stopped to watch practitioners do the exercises, and many read all of the truth-clarification materials placed on the table. They gladly took handmade lotus flowers and some even learned the exercises.
When the activity had ended, a security officer came over to the practitioners and said, "I have been observing you for some time and agree with the principles of Falun Dafa. Perhaps you do not realize the changes you've made to the environment with your silent actions." 
The officer also said that Falun Dafa has ancient wisdom while the cultures of Western society are still very young. He said, "I will attend Falun Dafa's group practice with my wife."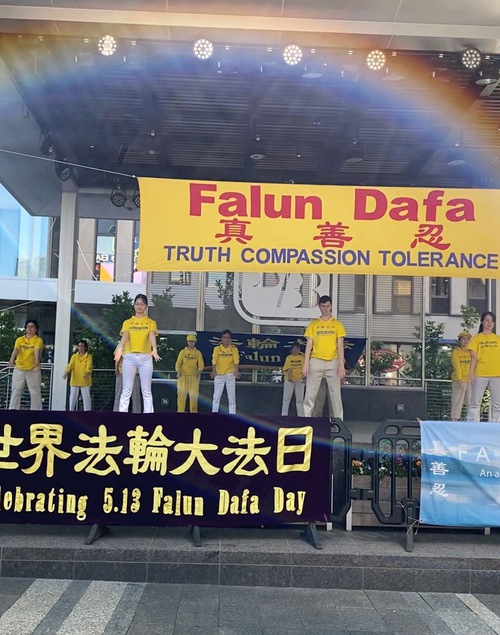 A picture of a rainbow was captured during the exercise demonstrations.
Practitioners experienced a strong energy field on the day of the activity. One practitioner said, "My legs were in discomfort because I took a fall on the stairs. I was unable to put my legs up for meditation for months and had trouble walking down stairs. I was able to put my legs up when I demonstrated the exercises onstage today and my legs no longer hurt when I walk downstairs." She was grateful for being able to attend the activity.
All content published on this website are copyrighted by Minghui.org. Minghui will produce compilations of its online content regularly and on special occasions.